May rainfall brought welcomed drought relief to much of the Florida Panhandle.  The National Weather Service estimates for May rainfall across the Florida Panhandle ranged from 3-10″, with most of the region in the 4-8″ range.  Only the coastal portion of Franklin County had less than 3″, while portions of Escambia, Santa Rosa, and Leon Counties received more than 8″ for the month.
The University of Florida's Florida Automated Weather Network (FAWN) rainfall totals ranged from a low of 2.6″ in Carrabelle to a high of 7.3″ in Jay.  Only the Carrabelle station recorded less than historic average for the month.  The average for all six stations was 5.1″.  While May rainfall was higher than normal, all six locations are well below historic average for the year.  Through the first five months of 2017, both the Jay and DeFuniak Springs stations have recorded over 20″, but the Carrabelle station has only recorded 12.9″ for the year.  The average 2017 rainfall for all six locations was 17.6″, which is 5.5″ below average for the region.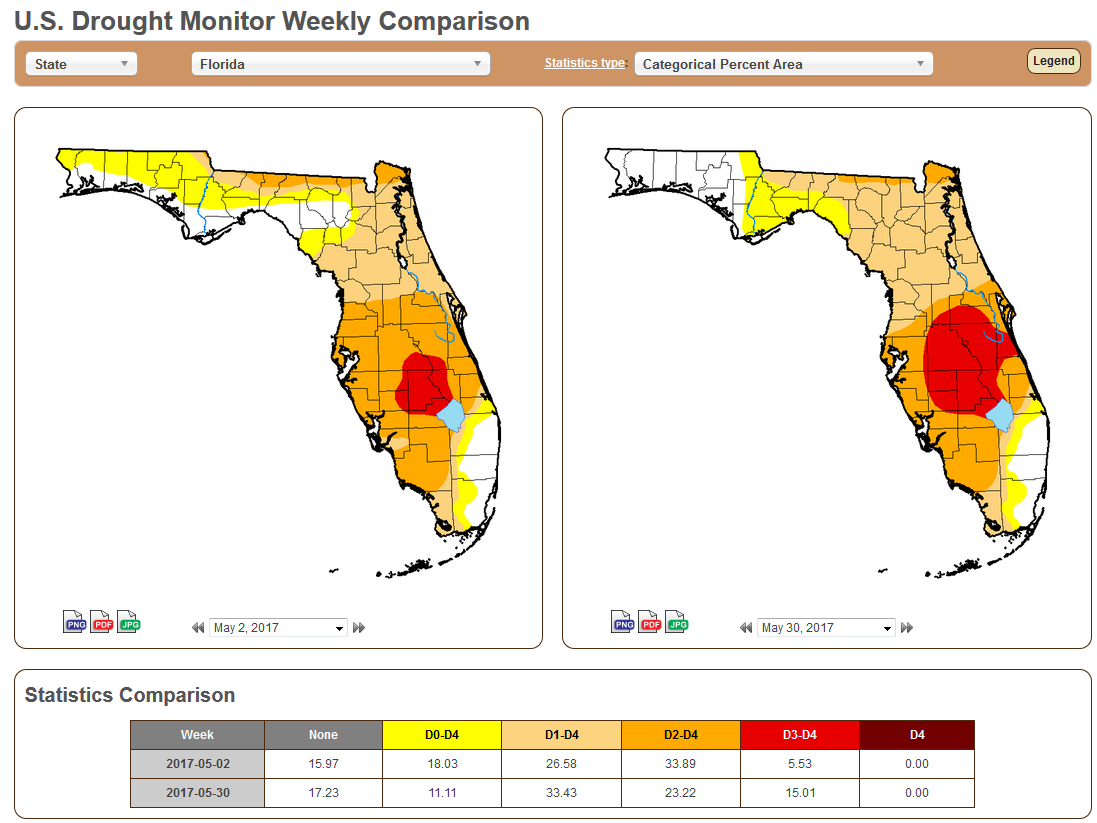 The Florida Drought Monitor shows the results of the rainfall in the Western Panhandle Counties in the Month of May.   Comparing the Drought Monitor from May 2 (left)  to May 30, 2017 (right) you can see that while conditions certainly improved in the Western Panhandle Counties, it grew much worse in Central Florida as 15% of Florida was in considered D4 Extreme Drought.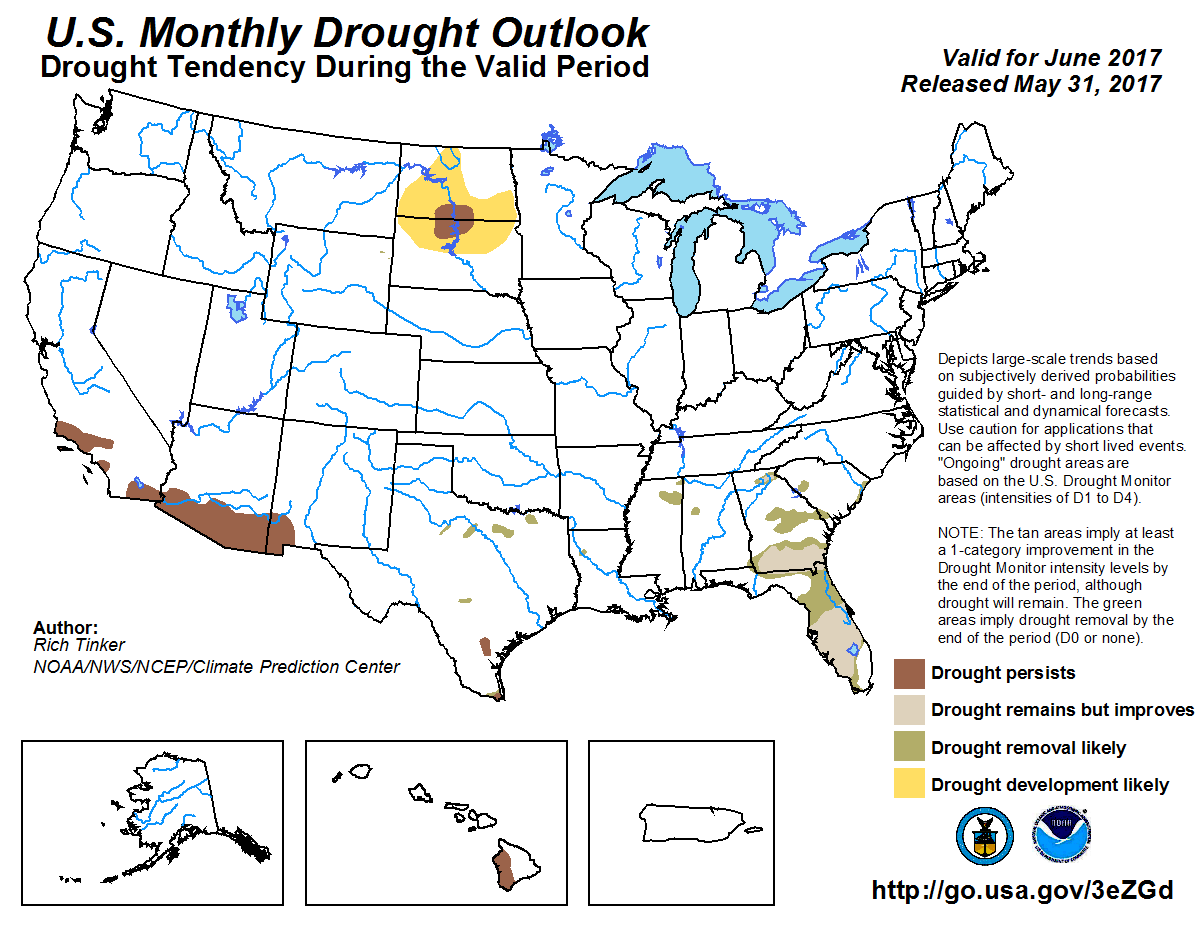 The Drought Forecast for June is pretty positive for this region of the US.  The Climate Prediction Center (CPC) is expecting improvement in drought conditions all across the Southeast.
Temperatures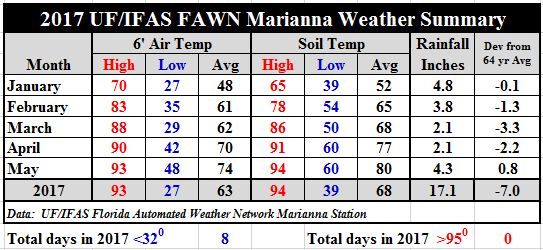 Temperatures did warm up a little in May, as is normal.  The average air temperature rose 4° from 70° in April to 74°in May, and the average soil temperature rose 3° from 77° to 80°.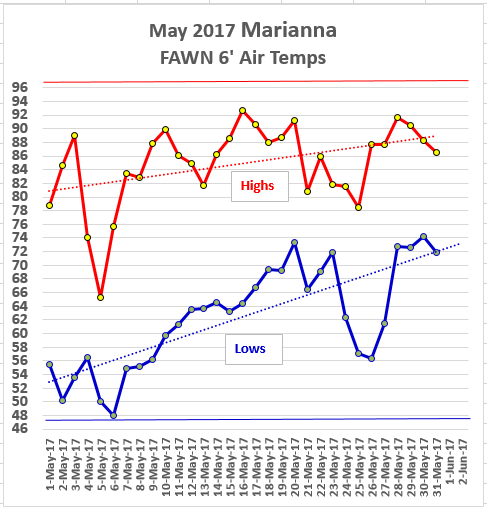 The high in Marianna in May was 93° on May 16, and the low of 48° on May 6.  As is normal, temperatures rose as the month progressed, but notice how much more the nights warmed up than the days as indicated by the angle of the trend-lines.
June Outlook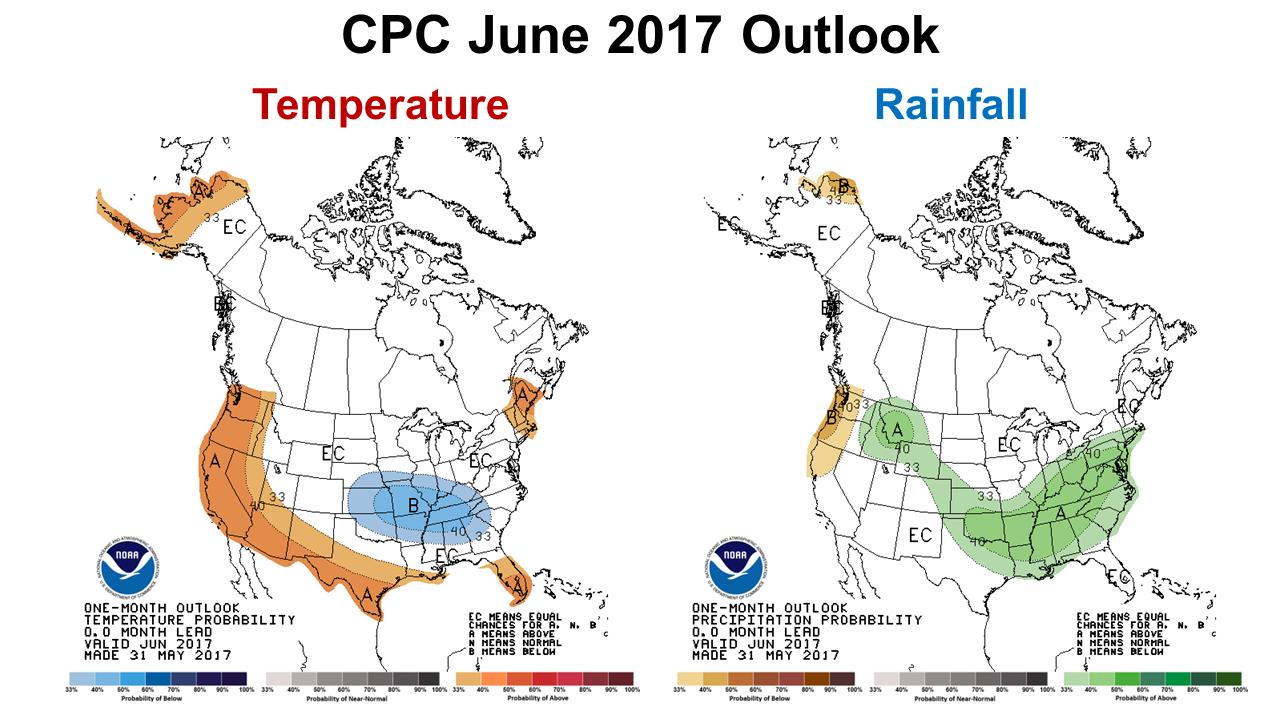 The CPC June Outlook anticipates above average rainfall across much of the Southeast for the month of June with normal temperatures expected.
El Niño Watch
An El Niño forecast for the end of the year is less certain than in previous reports.  The CPC now gives equal chances for an El Niño verses a Neutral ENSO phase at summer's end.
Relative to last month, the forecaster consensus reflects slightly lower chances of El Niño (~45%), in part due to the conflicting model guidance and lack of a clear shift toward El Niño in the observational data.   In summary, while chances are slightly lower than 50%, ENSO-neutral and El Niño are nearly equally favored during the Northern Hemisphere summer and fall 2017- CPC