Rainfall
July was more typical than the previous month with scattered summer showers that were anything but uniform.  For the most part, coastal areas received higher totals than further inland.  While there were isolated areas in hot pink that received over 10″ for the month, most of the region ranged from 3-8″.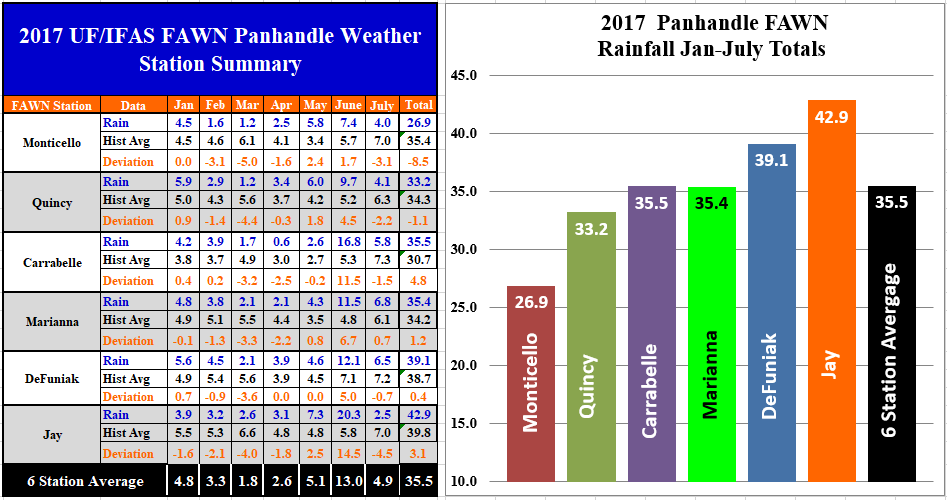 The six Florida Automated Weather Network (FAWN) stations also recorded considerable variation in rainfall totals.  The wettest location was in Marianna, with 6.8″, while only 2.5″ were recorded in Jay.  The Marianna station was the only one that recorded above historic average for the location in July.  For the year, the six station average of 35.5″ is right at the historic average for all six locations.  Only the Monticello and Quincy stations have recorded less than historic average through the first seven months.  The Jay station still has the highest yearly total with 42.9″, and the Monticello station the lowest total of only 26.9″.
Temperature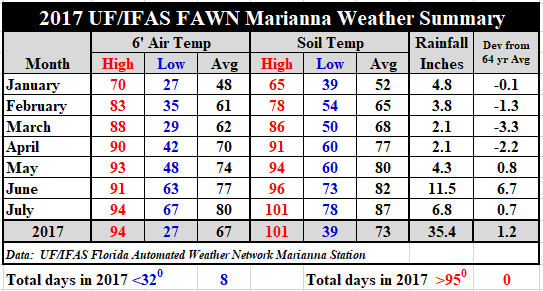 Temperatures certainly heated up in July with five days reaching a high of 94° (July 4,5,6,20,& 21).  The cold front that passed through at the close of the month cooled things off with the low of 67° on July 31.  The average air temperature rose three degrees from 77° in June to 80° in July, and the average soil temperature rose five degrees from 82° to 87°.
For a daily summary of temperatures and rainfall, use the following link: 17 Jan-July Jackson County Weather Summary
August Outlook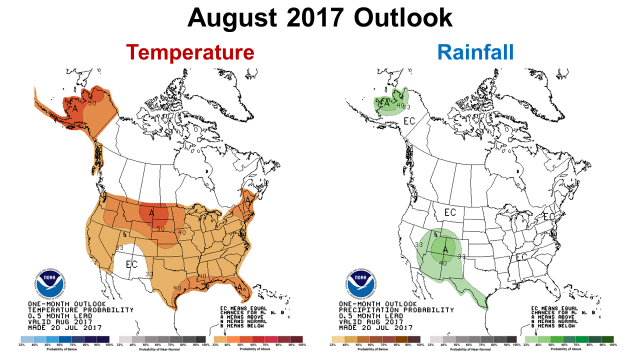 The Climate Prediction Center (CPC) is expecting the warming trend to continue in August with higher than normal temperatures for this region.  Normal rainfall is expected for the month.
ENSO Alert
CPC forecasters are still expecting a neutral winter, but there is still a chance of an El Nino (35-40%).  It is still too early to call it yet, so we will have to wait to find out.  At this point, farmers and ranchers should plan on a normal rainfall for their cool-season crops.
Neutral conditions are present. Equatorial sea surface temperatures (SSTs) are near-to-above average across the central and east-central Pacific Ocean. ENSO-Neutral is favored (50 to ~55% chance) into the Northern Hemisphere winter 2017-18.  Climate Prediction Center