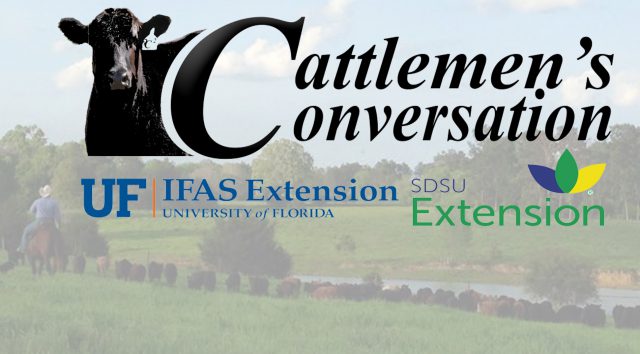 Cattle producers are required to navigate a diverse range of management challenges, and make decisions that impact not only their current production cycle, but have lasting impact for years to come. For this reason, producers need to be current on trends, technologies, markets, nutrition, health, reproduction and more! In order to create a convenient, and relevant source of information for cattle producers across the nation Cattlemen Conversations was developed.
Cattlemen Conversations is a weekly video that is produced through collaboration between the University of Florida/ IFAS Extension Holmes County Agent, Kalyn Waters and South Dakota State University Extension Cow/Calf Field Specialist Adele Harty. Each month 4 topics will be presented in a 10-minute video featuring an expert from the industry or academia. Speakers are represented from across the United States. These videos are available on social media, and through other electronic channels to cattle producers around the globe.
Videos are hosted on YouTube and also in the Facebook group called Cattlemen Conversations. At the conclusion of each video, viewers are asked to complete a brief survey. Each video survey completed will also be an entry in a drawing to win a high-end cooler, with drawings taking place every six months.
We invite you to take advantage of this unique opportunity to learn from experts across the nation without leaving your ranch/operation!
For more information about this program, please contact Kalyn Waters at 850-547-1108.