Rainfall
April was another cool month, only slightly warmer than March, with below normal rainfall for much of the Panhandle.  Most of the region received 2-5″, with isolated areas over 5″.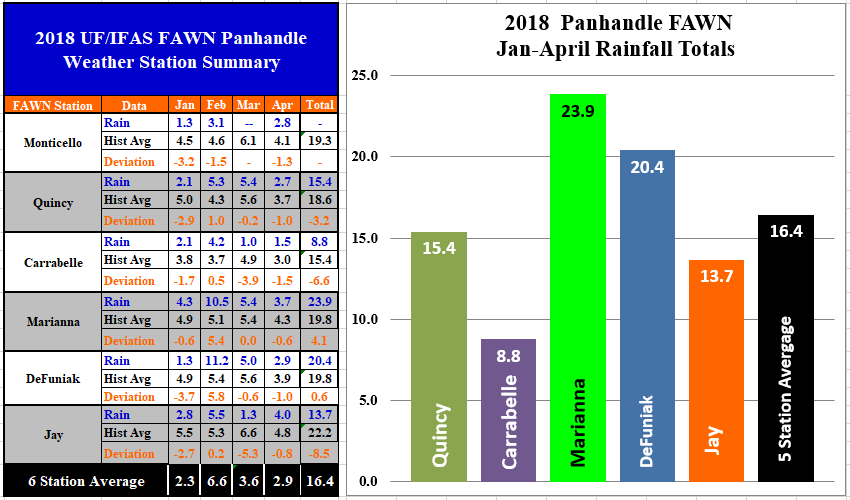 All six Florida Automated Weather Network (FAWN) stations in the Panhandle recorded below historic average rainfall in April 2018.  The Carrabelle station recorded the lowest total with only 1.5″, while the wettest location was in Jay with 4″ for the month.  Through the first four months of 2018, the highest rainfall total was in Marianna with 23.9″, in contrast with Carabelle which only received 8.8″ in 2018.
Across the Southeast, April was cooler than normal for most of the region according to the Southeast Regional Climate Center.  Rainfall, however, was more varied with only the counties in yellow and tan below average.  While most of the Panhandle was below average, North Central Florida was well above average in April.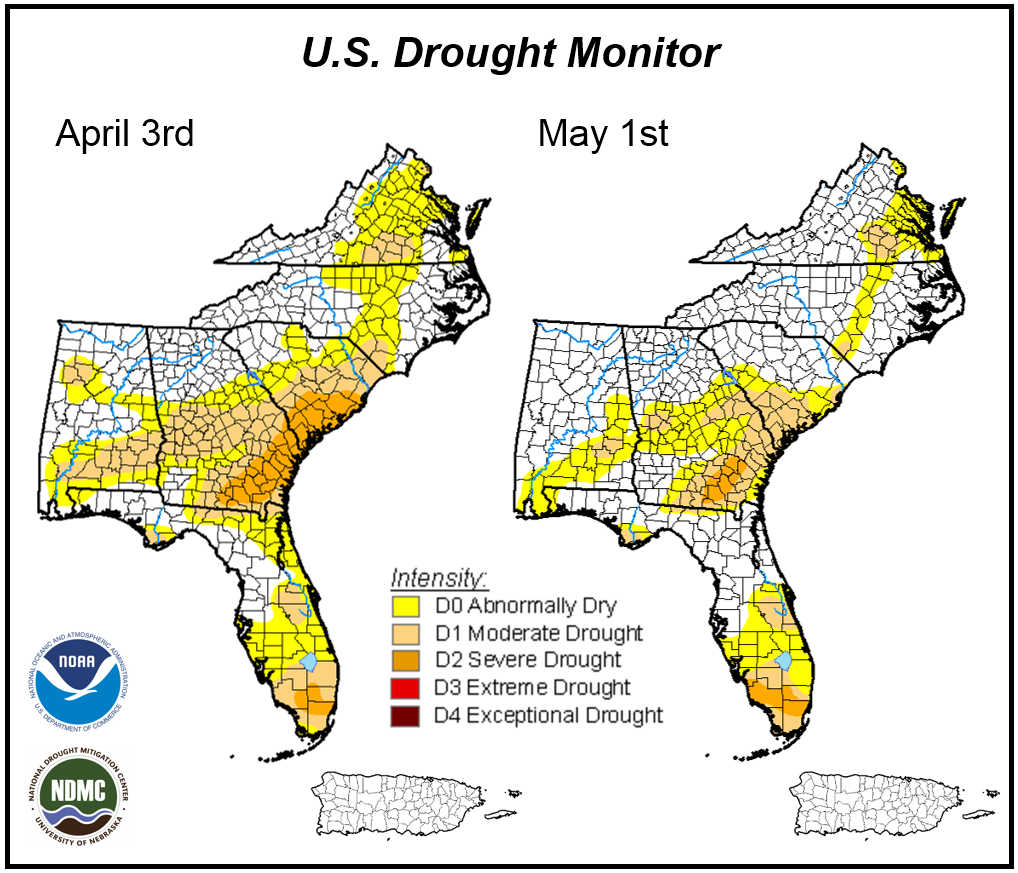 Even though the April rainfall totals were below average, there was enough moisture to show improvement on the drought monitor, as compared to the end of March.  Even so, there is still a high percentage of the peanut and cotton belt in the Southeast that remained short on soil moisture at the end of April.
Temperatures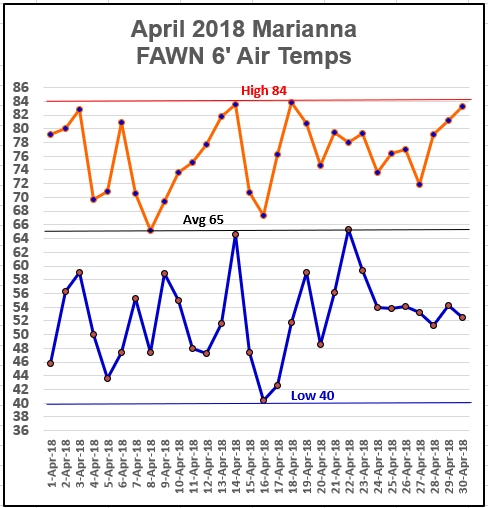 When you look at the air temperature highs and lows recorded at the Marianna FAWN station, you can see the movement up and down with each passing front.  What was truly strange was the 44° temperature swing from April 14-18.  Over this five-day period temperatures ranged from a high of 84° on April 14, to a low of 40° on April 16, then back to 84° on April 18.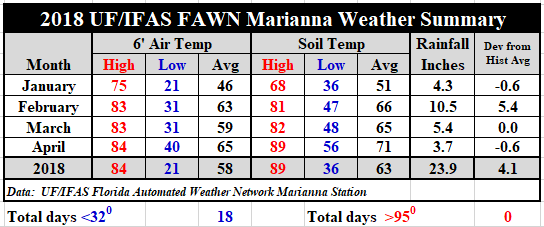 Overall, April was 6° warmer than March with an average air temperature of 65°, as compared to the March average of 59°.  Soil temperatures were similar, warming from 65° in March to 71° in April. For a complete record of daily rainfall and temperatures recorded at the Marianna FAWN station, use the following link:  2018 Jan-Apr Weather Summary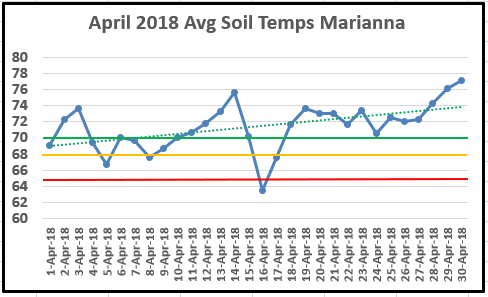 While the average soil temperature was warmer for the month, most of this change came at the end of April.  The soil was warm enough (70°) for optimal peanut and cotton seed germination from April 19 through the end of the month (green line). The red line highlights 65°, which is the minimum temperature for planting peanuts and cotton, and the yellow line highlights 68°, which is the recommended minimum temperature for planting these crops.
Three Month Outlook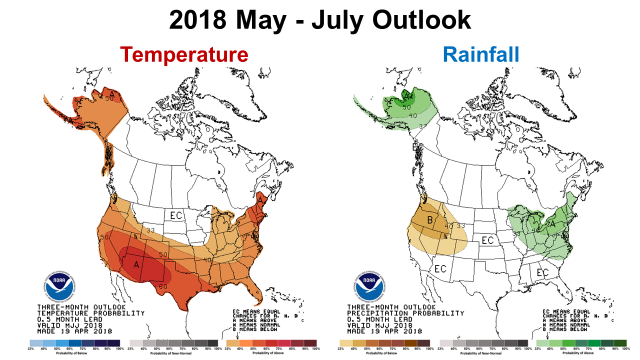 The Climate Predication Center is expecting temperatures to continue to warm over the next three months, but makes no trend forecast for rainfall in the Southeast.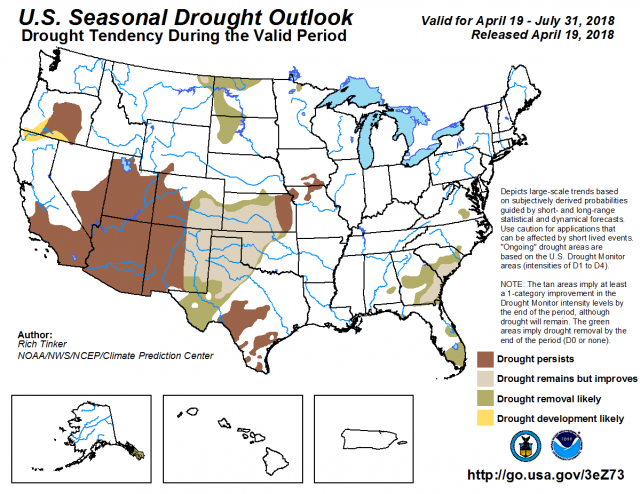 The CPC's Seasonal Drought Forecast through the end of July, however is positive for the Southeast.  Much of the region is expected to either improve or be removed from drought status over the coming months.
La Niña Update
At the end of April, the CPC released their latest discussion of the current ENSO Phase.  La Niña has weakened as sea surface temperatures along the Equator continue to warm, but it is still not back to normal.  Normal or Neutral conditions are expected by the end of May.  The following was an excerpt from the April 30 CPC Summary:
La Niña conditions are present.  Equatorial sea surface temperatures (SSTs) are near-to-below average across the east-central and eastern Pacific Ocean.  La Niña is expected to transition to ENSO – neutral during May,  with ENSO – neutral then likely (greater than 50% chance) to continue through the Northern Hemisphere summer 2018. The majority of models predict ENSO-neutral through summer 2018, with an elevated chance of El Niño by fall/winter 2018. Climate Prediction Center