Rainfall
For the Central Panhandle, October 2018 will never be forgotten by the people that lived through Hurricane Michael.   Overall though, October was a dry month outside of the path of the storm.  The graphic above shows that 8-10+" fell where the eye of the storm crossed, but to the east and west October 2018 was 1-2″ below historic average.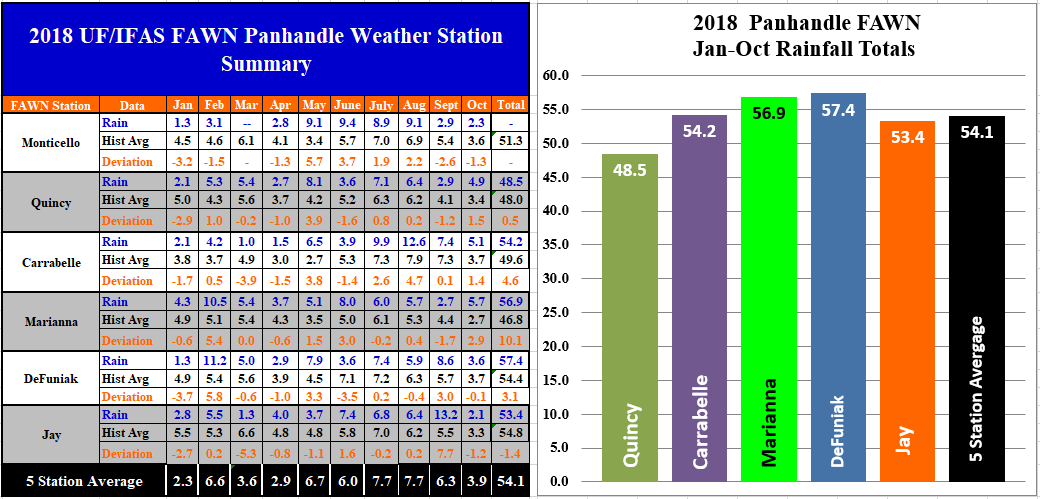 The Florida automated Weather Network stations show the variation across the region in October, which is traditionally the driest month of the year in the Panhandle.  There were 5.7″ of rain recorded at the Marianna station, but only 2.1″ in Jay.  Monticello, Defuniak, and Jay received below average rainfall in October, while Quincy, Carrabelle, and Marianna were above average, mostly due to the Hurricane.  For the year the Defuniak station has received the highest rainfall through 10 months of 57,4″, while only 48.5′ has been recorded in Quincy.  The averagge for the 5 stations with 10 months of data was 54.1″.
Temperatures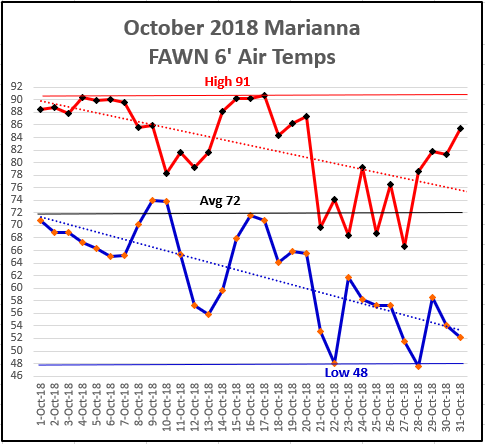 The trend of warm wet months continued in October, but finally cooled off at month's end.  For those of us without power and AC, this was a welcomed change.  The high for the month was 91° on October 17, and the low of 48° on October 28.  The average temperature was 72° in October.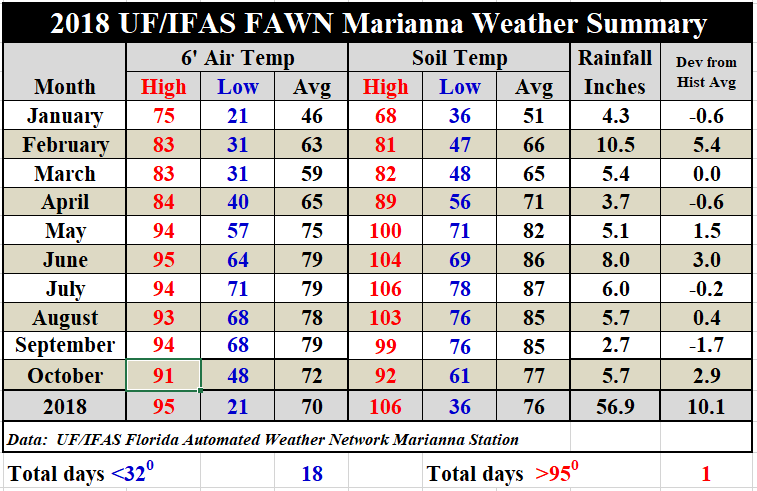 Compared to September, the average air temperature dropped 7° from 79° to 72°.  The soil cooled off even more, dropping 8° from an average of 85° in September to 77° in October. If you would like a complete daily rainfall and temperature report from the Marianna FAWN station, use the following link:  2018 Jan-Oct Weather Summary
November Outlook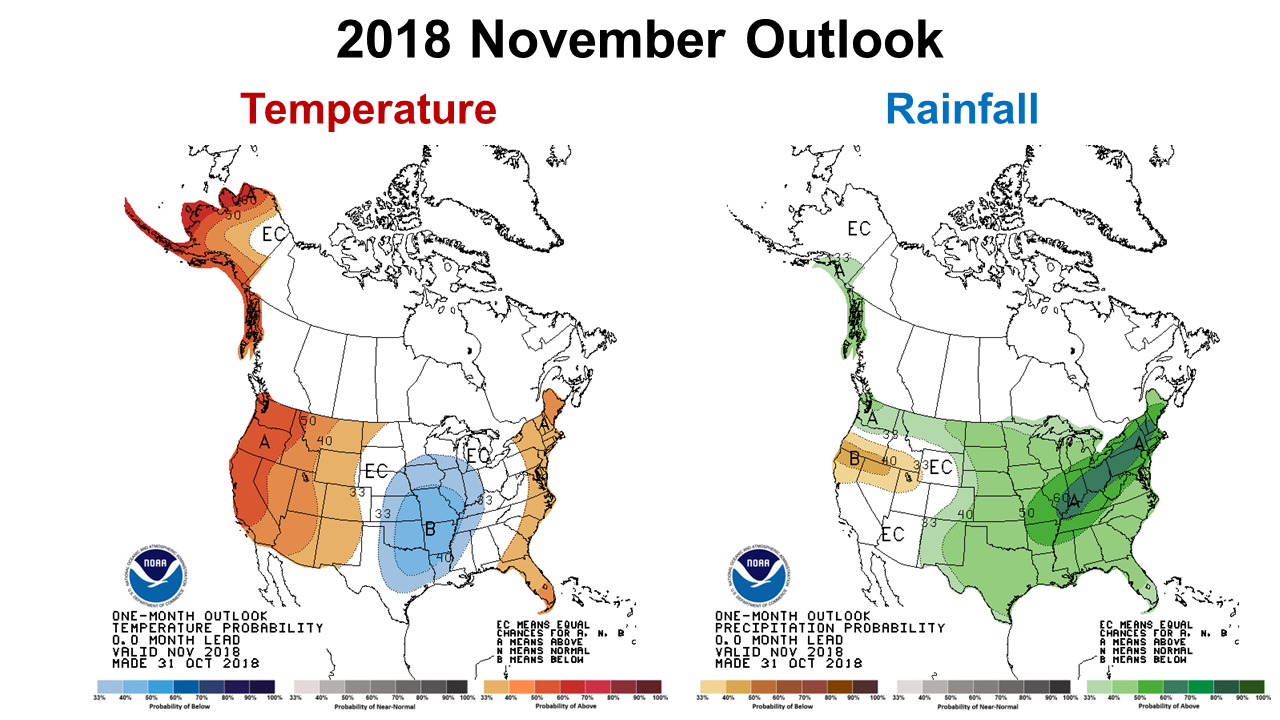 The Climate Prediction Center (CPC) is once again forecasting a warm wet month ahead, so the wet year is expected to continue.  Hopefully our peanut and hay farmers will get a week or two soon before frost to make their final harvests.
El Niño Watch
The CPC is still anticipating an El Niño winter, although the signals are still mixed and we are technically still in a neutral phase of the ENSO oscillation.  Here is the latest November 5 El Niño forecast from the CPC:
ENSO-neutral conditions are present.  Equatorial sea surface temperatures (SSTs) are above average across most of the Pacific Ocean.  El Niño is favored to form in the next couple of months and continue through the Northern Hemisphere winter 2018-19 (70-75% chance)
Lead Editor for Panhandle Ag e-News - Jackson County Extension Director - Livestock & Forages Agent.My true expertise is with beef cattle and pasture management, but I can assist with information on other livestock species, as well as recreational fish ponds.Follow me on Twitter @UFCowman, or Facebook https://www.facebook.com/UFJacksonCoFL/
Latest posts by Doug Mayo (see all)