Florida Forest Service Press Release, July 8, 2019
Contact: Joe Zwierzchowski (850) 206-2675 Twitter: @FLForestService @FFS_Blackwater
The Florida Forest Service announced that applications are now being accepted for the 2019 Southern Pine Beetle Assistance and Prevention Program. Applications will be accepted through Aug. 16.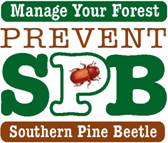 "The southern pine beetle is one of the most economically devastating forest pests of the southeast," said Jim Karels, State Forester and Director of the Florida Forest Service. "Our desire is to help landowners take preventative action now, significantly reducing the risks and impacts associated with the southern pine beetle and improving the health and productivity of their pine forests."
The last major southern pine beetle outbreaks occurred between 1999 and 2002, resulting in an estimated $59 million in timber losses. Since its inception in 2005, the Southern Pine Beetle Assistance and Prevention Program has helped approximately 2,500 landowners on more than 187,000 acres.
The Southern Pine Beetle Assistance and Prevention Program, supported through a grant from the USDA Forest Service, is available to non-industrial private forest landowners in 44 Florida counties, the known range of the southern pine beetle. The program provides incentive payments to landowners who conduct a first pulpwood thinning. The program also offers partial cost reimbursement for activities such as prescribed burning, mechanical underbrush treatments, and the planting of longleaf or slash pine, which are less susceptible to southern pine beetle infestations.
Eligible landowners can apply for up to two practices per year. Funding requests may not exceed $10,000. All qualifying applications received during the submission period will be evaluated and ranked for approval.
To obtain an application or to learn more about the Southern Pine Beetle Assistance and Prevention Program, visit FloridaForestService.com/SouthernPineBeetlePrevention.  For more information on the Southern Pine Beetle Prevention Program contact your county forester.
2019 Guidelines and Forms
All applicants must also register their W-9 information at the State of Florida Vendor Website: File Substitute W-9 Here. Vendors are required to have a verified Substitute Form W-9 on file with the Department of Financial Services. A print out of the Substitute Form W-9 must be included with the registration materials.