Rainfall
July rainfall provided some drought relief for the eastern portion of the Panhandle.  According to the NOAA Regional Climate Centers, Rainfall totals in July in this region ranged from 2-4″ in tan, 4-6″ yellow, 6-8″ light green, and 8-10″ dark green.  There was even a pocket of Liberty County that received 10-12″ in blue.  Looking at the map to the right you can see how these rainfall totals compared to historic average.  Everything yellow, tan or red was below average for the month, and the areas in green were above average.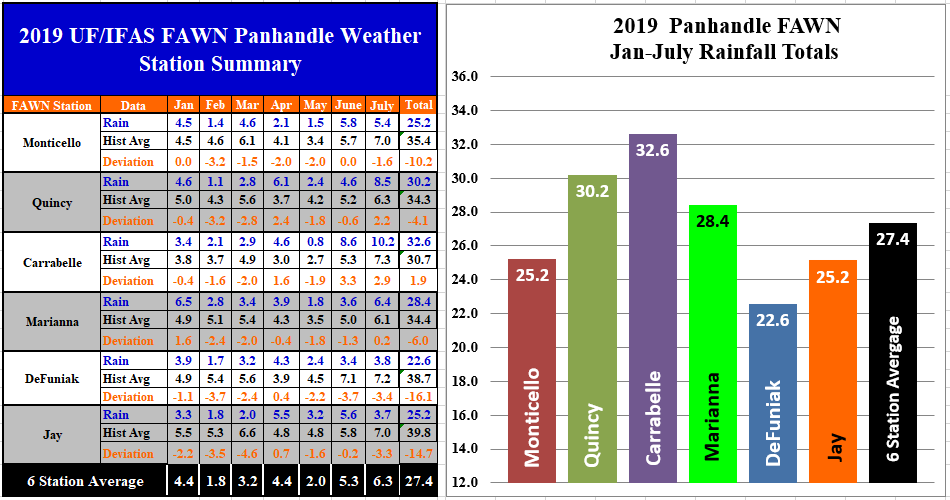 The Florida Automated Weather Network (FAWN) stations provide more precise measurements of rainfall.  The wettest location in July was in Carrabelle with 10.2″, while the station in Jay only recorded 3.7″.  The July average for all six stations was 6.3″.  The Quincy, Carrabelle, and Marianna stations were above average for the month, while Monticello, DeFuniak and Jay were all below historic average for July.
Rainfall in 2019 has been highly variable, and this really shows up in the totals from January through July.  The DeFuniak Station has only recorded 22.6″ thus far, while 32.6″ has been recorded at the Carrabelle station.  DeFuniak is 16.1″ below normal in 2019, while the Carrabelle station was 1.9″ above average.  The average for all six stations was 27.4″, which is 8.2″ below historic average for the six stations.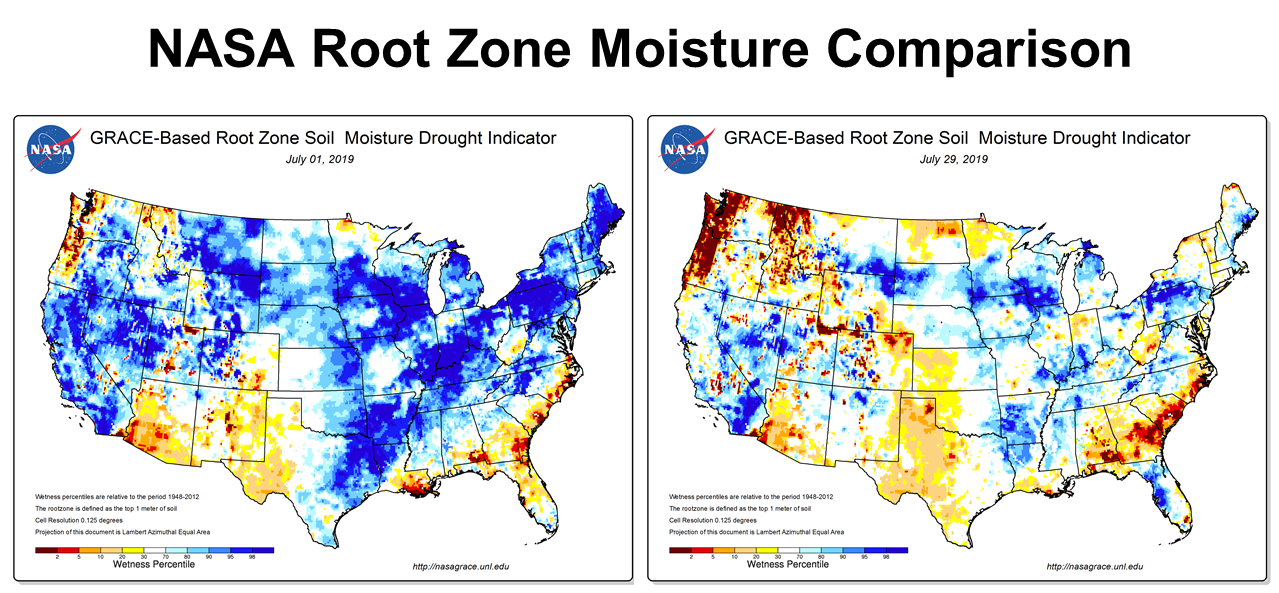 Comparison of the NASA Root Zone Moisture at the beginning and end of July shows the improvement in soil moisture for much of the peninsula of Florida, but a considerable decline for much of the peanut & cotton belt of the Southeast.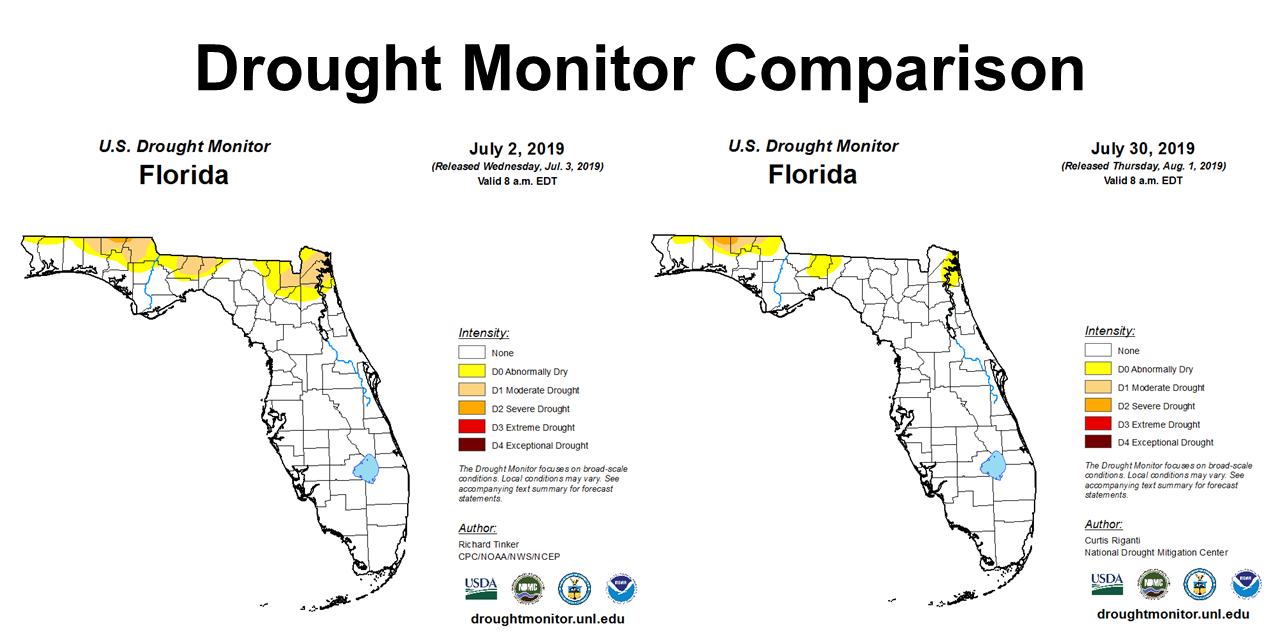 When you look at the Drought Monitor for Florida you can see significant improvement in Northeast Florida and the Eastern Panhandle, but the northern portions of Santa Rosa, Okaloosa, Walton, Holmes, and Jackson Counties are still abnormally dry (D0), or are in moderate (D1) to severe drought (D2).  So while there was some improvement, the drought is not over yet.
Temperature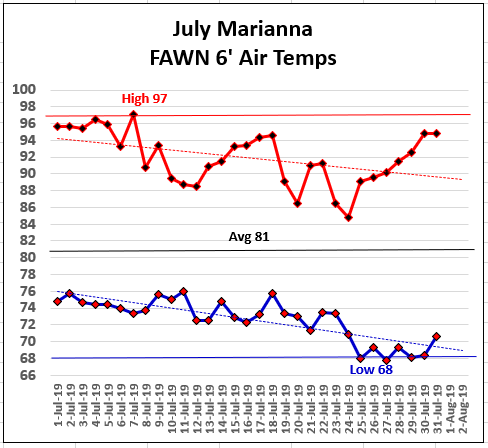 After a scorching hot start to the month, rain and a cold front eased the heat in mid-July, before heating back up again at the end of the month.  The high temperature of 97° occurred on July 7th, and the low of 68° occurred on July 25, 27, 29, and 30.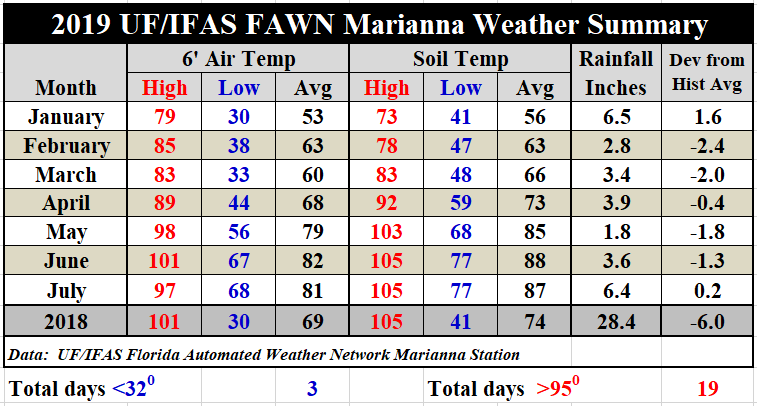 As compared to June, July was 1° cooler than June with an average 6′ air temperature of 81° and an average soil temperature of 87°.  In addition to the cold front, there were 15 days with some level of rainfall in July, as compared to only 8 in June.
August Outlook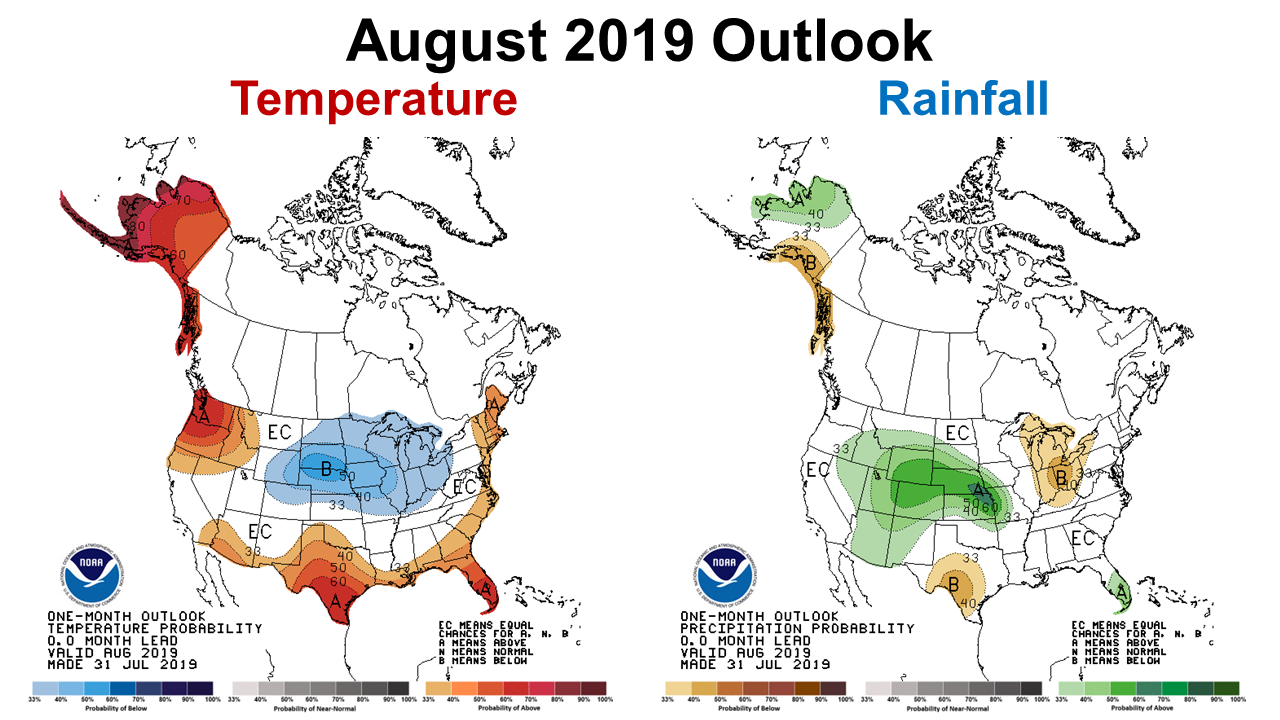 The Climate Prediction Center (CPC) is expecting warmer than average temperatures to continue in August, but does not make a prediction for rainfall.  This is in part due the diminishing effect of the current El Niño.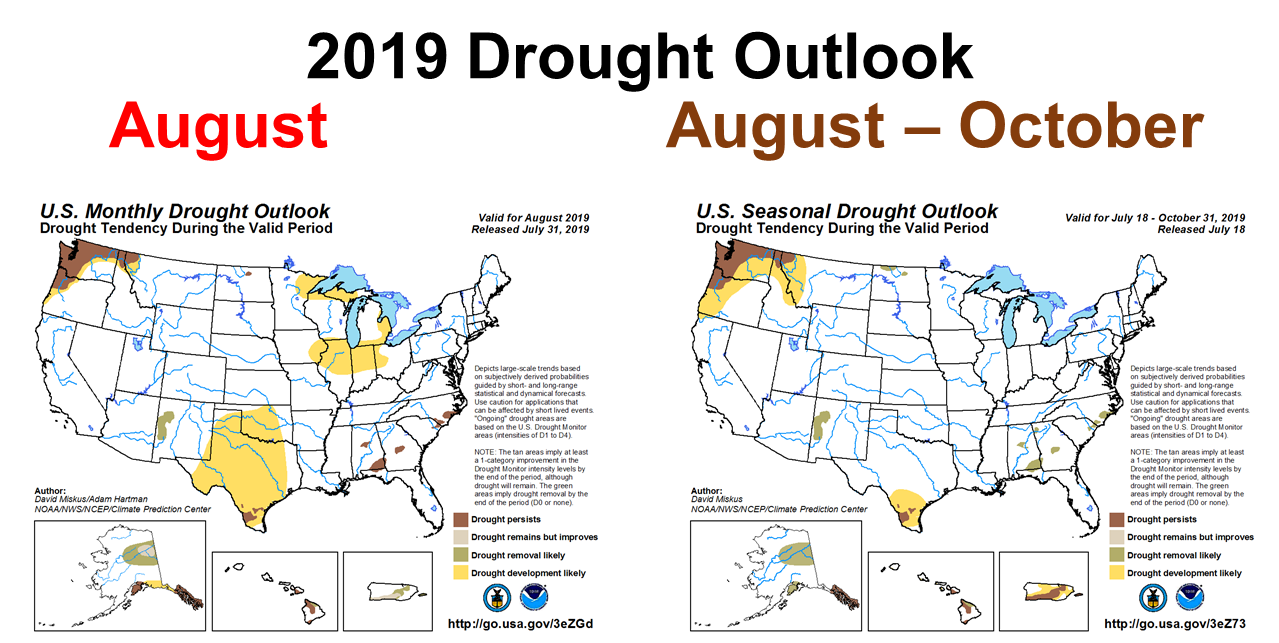 Based on the monthly drought outlook, NOAA is expecting the drought in the Southeast corner of Alabama, and the bordering Panhandle counties to continue through the month of August.  However, in their longer range outlook through the end of October, they expect this area to be removed from the drought monitor.  Unfortunately, if we have to wait until September for drought relief, that is too late to boost production on most of our crops. If their predictions hold true, farmers will have to deal with drought stressed crops on dryland farms almost until harvest time.  We can only hope that drought relief comes sooner to at least boost forages and a late crop of peanuts and cotton bolls to compensate for reduced production earlier in the summer.  But at this point in the season, even if average precipitation returns, it may be too late to have a significant impact. Irrigated fields will be ok, but dryland fields will likely have lower than normal yields this season.
El Niño Watch
It seems that weak El Niño that has influenced weather patterns this year has ended.  After months of expectations that it might influence our fall and winter weather, sea surface temperatures in the Pacific cooled and returned to near normal in July.  The 2018-19 El Niño is officially over.
The weak El Niño of 2018-19 has ended. Sea Surface Temperatures in the east-central Pacific declined to ENSO-neutral levels during July, and have remained neutral to present. Temperature anomalies of subsurface waters have been near-average. Patterns in most atmospheric variables also are showing ENSO-neutral conditions. Collective model forecasts favor ENSO-neutral through autumn and winter, but with higher chances for El Niño than La Niña. The official CPC/IRI outlook, no longer carrying an El Niño advisory, generally agrees with the model forecasts through winter. International Research Institute for Climate and Society

So what does this latest forecast mean for farmers and ranchers in the months ahead?  Drought conditions should gradually improve, but perhaps not soon enough.  With the current forecast for a neutral fall-winter, there is no influence to guide a long-term forecast other than normal.  After the past decade, it is really hard to identify normal, so it is difficult to say at this point what to expect?  But from all indications it appears that fall harvest/planting climate and winter precipitation should be closer to average for those months than they have been lately.  Experienced farmers know how to manage normal, so that would be a good thing.  Since it has been dry to very dry from February through July, average would be welcomed in the Southeast.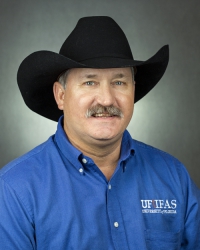 Lead Editor for Panhandle Ag e-News - Jackson County Extension Director - Livestock & Forages Agent.My true expertise is with beef cattle and pasture management, but I can assist with information on other livestock species, as well as recreational fish ponds.Follow me on Twitter @UFCowman, or Facebook https://www.facebook.com/UFJacksonCoFL/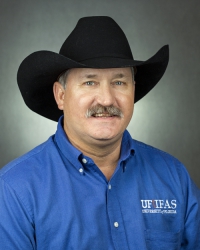 Latest posts by Doug Mayo (see all)