Rainfall
The weather in 2019 has been very different than 2018. Thankfully there has been no major hurricanes, but it has been much drier all year.  July rainfall brought temporary drought relief, but August and September got progressively worse.  The entire Panhandle received less than 1″ in September, and most of the counties in the red above had less than 0.5″.  The entire state of Florida received below average rainfall in September, as there is no green or blue on the departure from normal map above.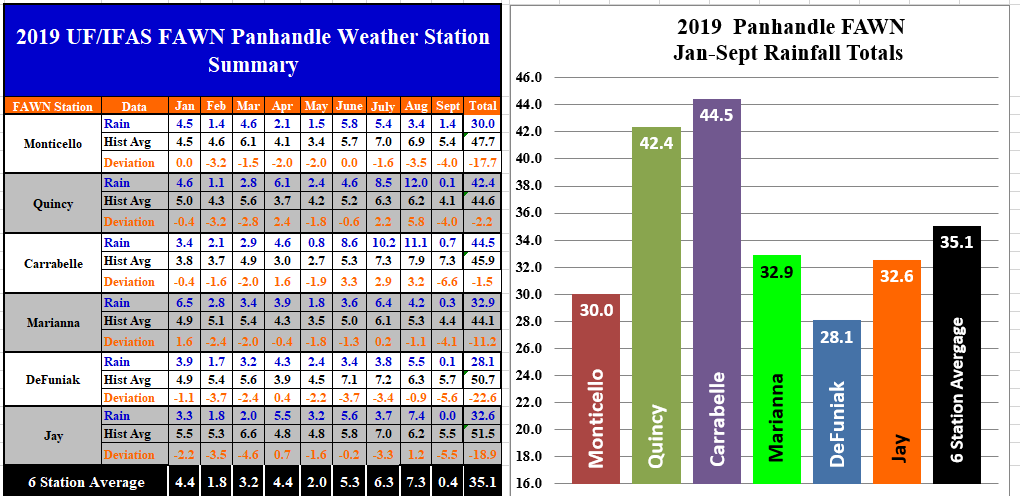 The Florida Automated Weather Network (FAWN) stations showed that there was considerable rainfall variation in August, but all six stations were 4-6″ below historic average for September.  In August the Quincy station recorded 12″ and there was 11.1″ recorded at Carrabelle, while the driest location was not that far away in Monticello, where only 3.4″ of rain fell.  The highest total in September was 1.4″ in Monticello, while the Jay station had no recorded rainfall for the month.  The six station average went from 7.4″ in August (0.8″ above normal), to 0.4″ in September (5″ below normal).  For the year thus far, the driest location has been at DeFuniak Springs with only 28.1″ in 2019, but Monticello, Jay and Marianna were not much better.  Carrabelle and Quincy have received more than 42″ thus far, so you can really see that that there were areas in the Big Bend that got some rain that other ares did not in August.
As you would expect the root zone of the soil has progressively dried out over the past two months.  We just thought we were getting dry in August, but it got much worse in September.
Temperatures
Not only has the Panhandle been dry, but has also dealt with the type of high temperatures that are more normal in June and early July.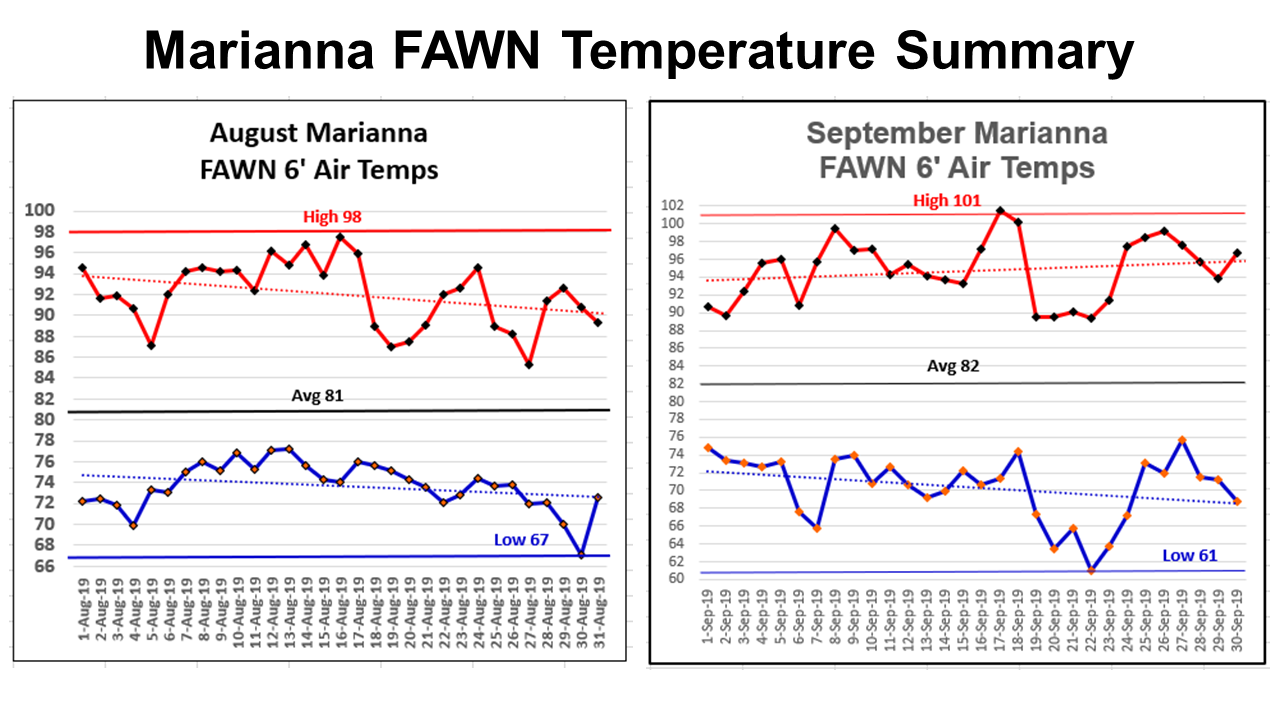 The high in August was 98° on August 16 and the low was 67° on August 31.  The high in September was 101° on September 17, an the low was 61 in September 22.  Temperatures cooled through August, but then ramped back up again in September.  There were only three days in September with high temperatures below 90°.  It certainly did not feel like fall at month's end.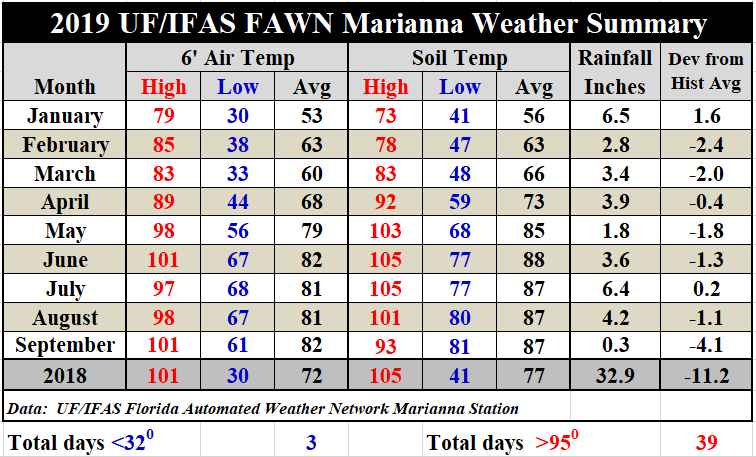 Flash Drought
Drought is the main weather story facing much of the Panhandle as the month of October begins, which is historically the direst month of the year.  Just recently I heard a new weather term that I was not familiar with called, "Flash Drought."  Basically flash drought is when it does not rain and it is scorching hot at the same time.  So, I would concur with Dr. Pam Knox, UGA Agricultural Climatologist, who said this week that the Southeast is experiencing a flash drought.
A flash drought is a severe drought which comes on suddenly, usually through the combination of a near total lack of rainfall and much warmer than normal temperatures. We are seeing a flash drought in the Southeast now, and conditions are rapidly worsening because of the July-like weather. Flash droughts are hard to predict and then often don't show up very quickly on the Drought Monitor, which has to combine short- and long-term drought impacts into one map for the whole country. Pam Know, UGA Agricultural Climatologist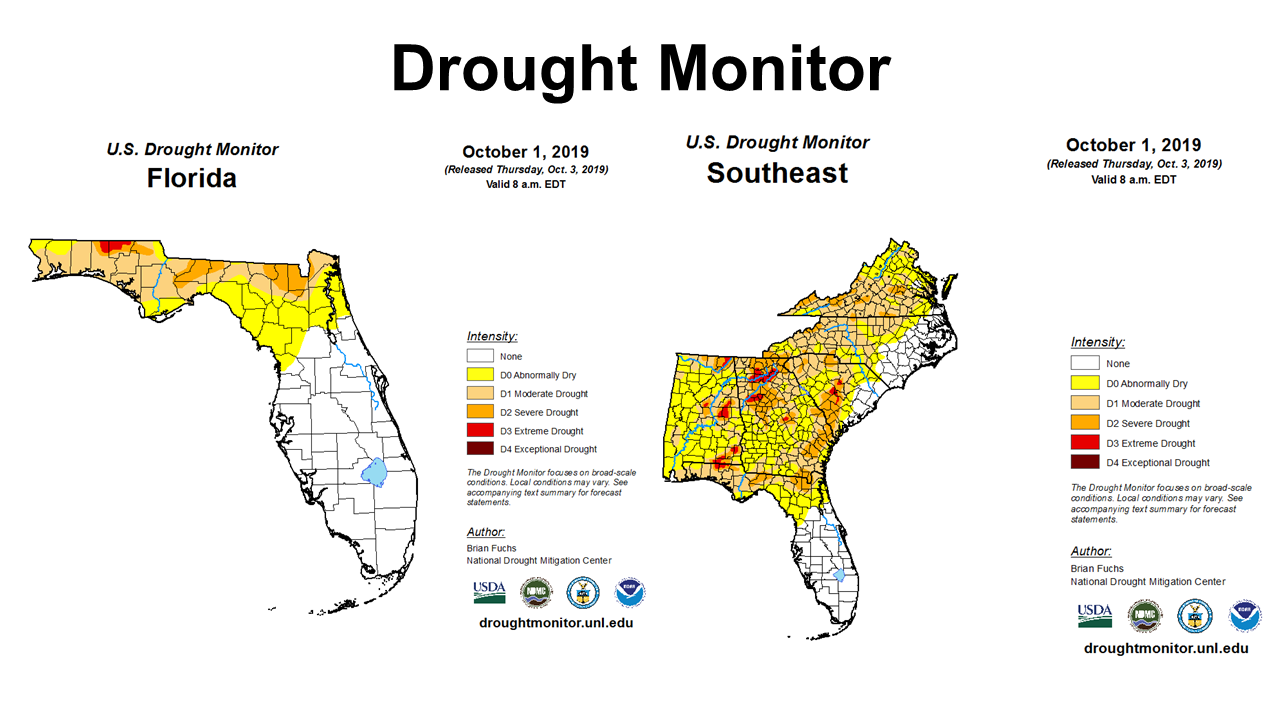 There has not been a county in the Panhandle in the red "D3 Extreme Drought" category of the Drought Monitor since the Fall of 2016.  As of October 1, Walton and Holmes County have portions of each county designated in that category, and it may get worse before we see improvement.
October Outlook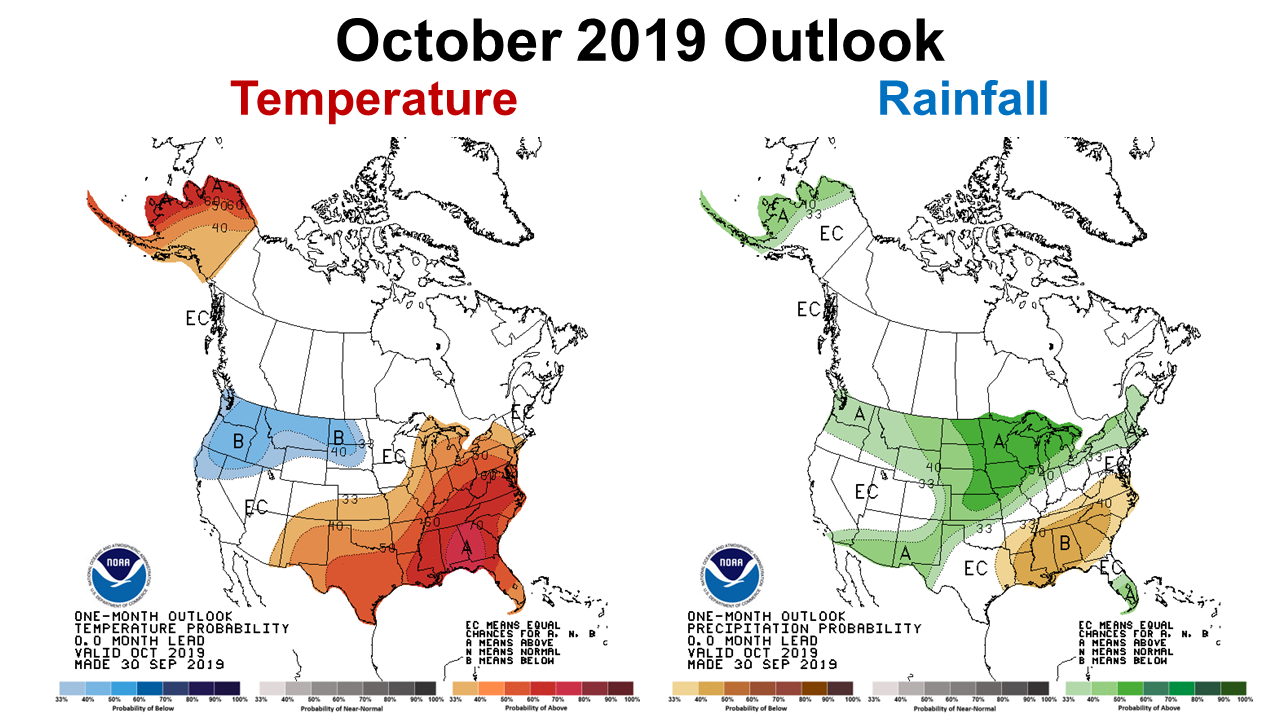 The Climate Prediction Center (CPC) is forecasting the trend of well above average temperatures and below average rainfall to to continue through the month of October.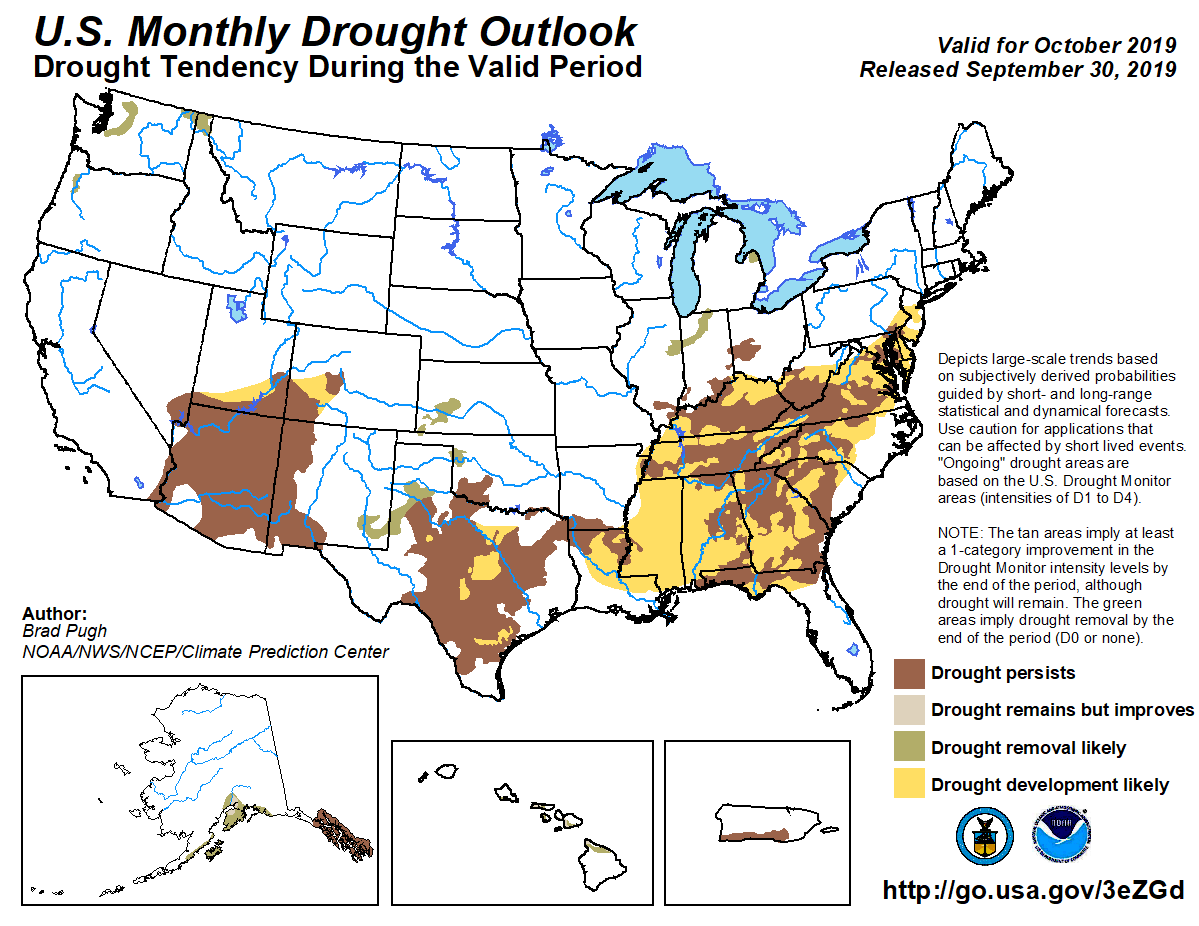 Not too surprisingly, based on the CPC Outlook, the Monthly Drought Outlook for October is forecasting further expansion of severe and extreme drought across North Florida. This forecast does not look good for digging peanuts on clay soils or timely planting of cool-season forages.
Last Quarter Outlook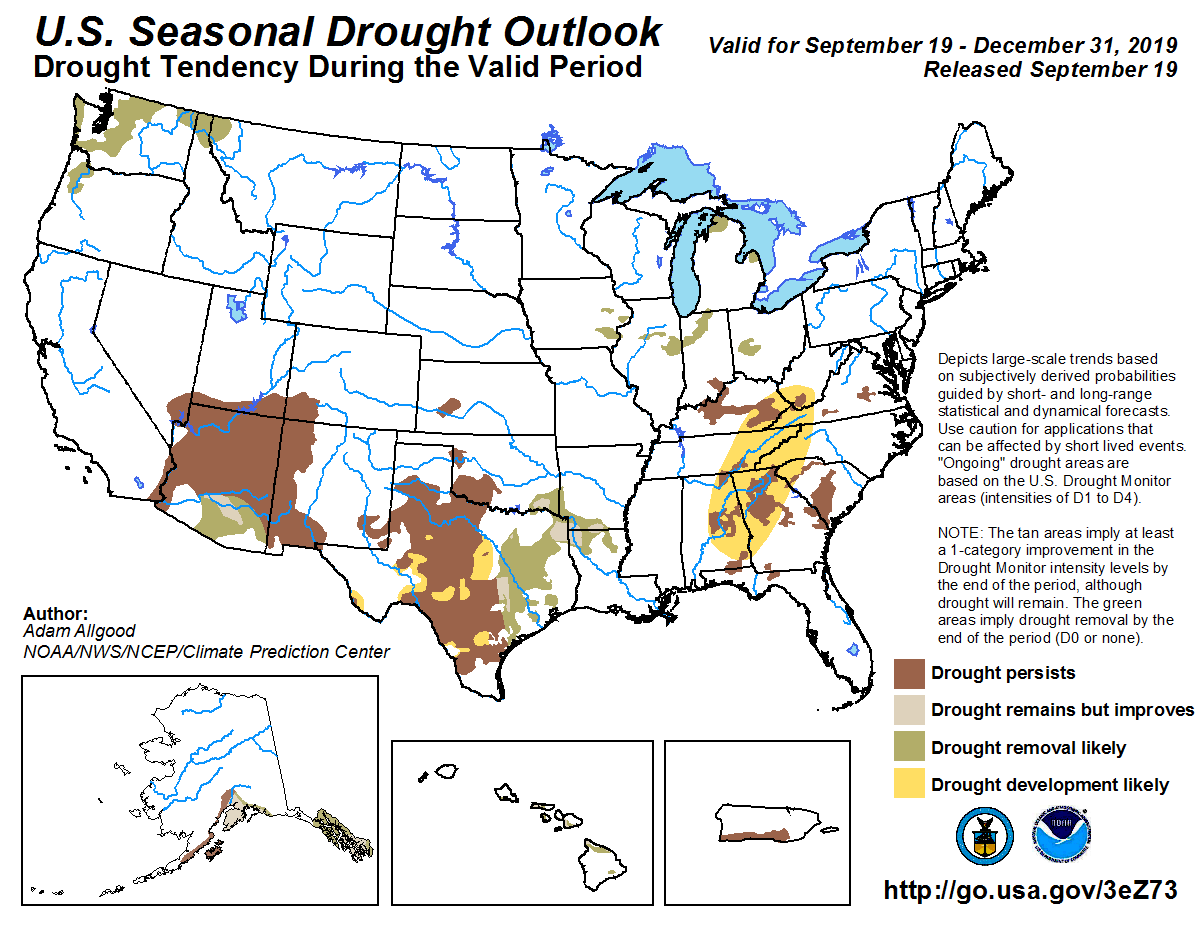 There is hope for the last two months of 2019.  The Seasonal Drought Outlook predicts possible improvement at the end of 2019.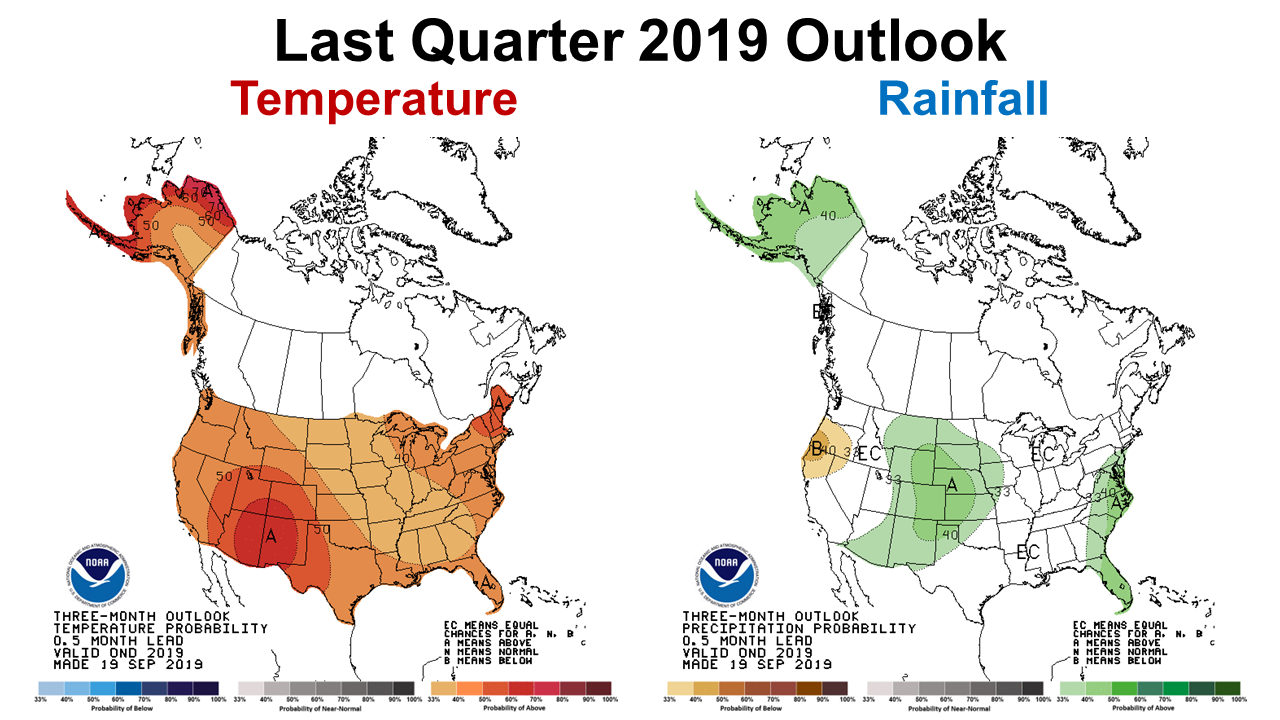 Without an El Niño or La Niña to guide their forecasting, the CPC provides no indication for rainfall in November and December with equal chances for above, normal, or below, but they are expecting the warmer than average trend to continue through the end of the year.  Maybe November and December will bring improvement to the drought situation.
Equatorial sea surface temperatures (SSTs) are above average across the western and central Pacific Ocean and are below average in the eastern Pacific. The pattern of anomalous convection and winds are generally consistent with ENSO-neutral.  ENSO-neutral is favored during the Northern Hemisphere fall 2019 (~75% chance), continuing through spring 2020 (55-60% chance).  Climate Prediction Center

So what does all of this mean for farmers and ranchers in the Panhandle? 
The best estimates provided by the climate experts is that October will not provide drought relief for the Panhandle.  October is historically the time when peanut harvest is winding down and cotton harvest begins.  Peanut farmers on red-land clays may not get the moisture they were hoping for to soften the soil up for digging.  Cotton harvest will probably not be interrupted by heavy rainfall this year, but the plants will be in rapid decline and the danger of fire will be great.
Speaking of fires, all of those debris piles left from the hurricane will have to sit a little longer, because it may be too risky to burn them in October, so don't expect permits to be issued until conditions improve.  Jackson County has issued a burn ban for all residents, and other counties may do likewise.
Historically October is a primary month for hay harvest.  But with very limited rainfall, there may not be enough hay to harvest in some areas.  Hay supplies may be tight again this year, so make sure you have what you need for the winter as soon as possible.  Some of the hay fields I have visited lately look like frost hit them, but it simply so dry the plants have shut down to survive.
October is also the time of year recommended for cool-season forage planting.  The later you wait to plant, the slower the early growth because the days get shorter and shorter the later in the year you plant.  However, nothing grows without moisture. I have a saying that definitely holds true here, "If it is dry as a bone, POSTPONE!"  As Chris Prevatt shared with us in his recent article, The Economics of Grazing Cool-Season Annual Forages, cool-season annual forages are one of the cheapest winter feeding options, so even if you have to wait until November for adequate moisture they are probaly still worth the investment.  But, I would definitely suggest making that investment in the fields that are historically more productive in dry years.  This is probably not the year to  invest in extensive pasture overseeding, but it still may be a good option on tilled fields, once there is enough moisture to plant.
I know everyone is praying for rain, keep the faith.  It will rain again, but based on what I read from the experts to prepare this article, relief may not come in October.  They could be wrong, as they have been wrong quite a bit trying to predict 2019, but not lately.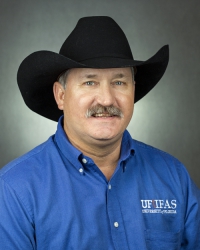 Latest posts by Doug Mayo
(see all)