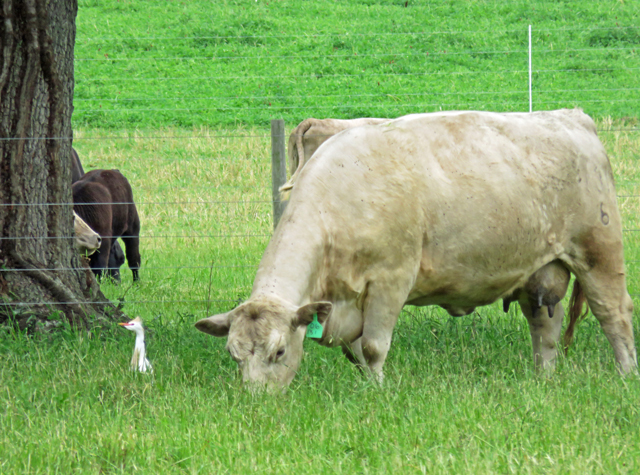 The Panhandle Agriculture Extension Team will be hosting the Northwest Florida Grazing School on Friday, September 14, 2019, from 8:00 AM to 3:30 PM central time.  This Grazing School will all be taught in the field with demonstrations.  There will be no PowerPoint lectures in a classroom, but instead will consist solely of field demonstrations and small group discussions with participants.
Every livestock producer that relies on grazing as the primary means of feeding their herd needs a set of skills that are challenging to learn from text books, YouTube videos, or webpages.  This Grazing School will provide participants the opportunity to learn directly from state specialists and county agents who assist livestock producers every day who make key grazing management decisions.  What are the best forage varieties that are adapted well for this area?  What are the best methods to use to establish pastures?  Should I fertilize?  If so what should I order?  Do I have enough pasture to feed my animals for 8-10 months of the year?  What should I be feeding when there is not enough forage to graze? How can I control grazing to make the most of the annual forages I plant?  How do I calibrate my planter and sprayer to apply the correct amount of seed or chemicals when I use them?  These are the types of questions that will be discussed during the Grazing Management School.  Whether you raise cattle, horses, sheep or goats, if you depend on pastures as the primary means to feed your herd, these are key skills you need to hone to improve your grazing management.
Agenda
8:00 – 8:45 am Registration
Field Demonstration and Discussion Topics
Pasture Establishment: Seeding Rate, Depth, Timing, and Varieties
Pasture Fertility: Fertilizer Management & Economics
How much forage do we have? How many animals can we stock?
Supplementing Grazing Animals with Hay and Feed-stuff Options
Temporary Fencing Tools & Technologies
Calibration of Pasture Equipment
3:30 pm Adjourn
Registration through Eventbrite is required for participate in the Grazing School.  The cost or registration is $20 per participant and includes lunch and handout materials.
The Grazing School will be held at the UF/IFAS North Florida Research and Education Center's Beef Unit, north of Marianna, Florida.  (4925 Highway 162, Greenwood, FL)