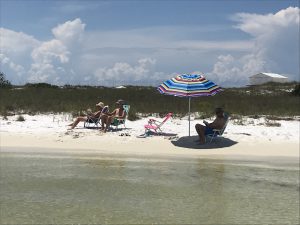 DID YOU KNOW that the sunniest place in Florida is Apalachicola?  It sees an average of 241 days with sun…just one of the many reasons I love calling the Florida panhandle my home.  I'm not exaggerating when I say I love being outdoors in the sun – going to the lake, fishing in the bay, kayaking down the creek, mowing the grass, picking blueberries, reading a book – I don't want to imagine living anywhere else.
Along with my love of the sun comes the need for protection from its harmful rays.  I've had my share of sunburns and learned the hard way how uncomfortable they can be.  Sunburns happen quickly on summer days when the sun is closer to the earth – within the first 15 minutes of exposure.  So check out these home remedies and tips to soothe your scorched skin when you've overdone it in the sun.
SOOTHE YOUR SCORCHED SKIN
Take a cool shower or bath to calm your skin.
Pour apple cider vinegar, witch hazel or cool milk on a soft cloth and gently apply to your sunburned skin.
Add a cup of apple cider vinegar to a cool bath.
Chill cucumbers, mash them into a paste and apply to a sunburned face.
Drink lots of water to re-hydrate your body.
Take an over the counter pain medicine like ibuprofen or naproxen.
RE-MOISTURIZE and RE-HYDRATE
Once you've soothed your aching skin, be sure to frequently re-moisturize your skin with aloe vera gel, petroleum jelly, coconut oil or lotions containing aloe vera or dimethicone.  My brother, who is quite fair complected, even keeps aloe vera gel in the refrigerator.  If your skin peels or blisters, leave it alone and allow it to heal!  Never pick at or further peel your sunburn and certainly don't pop blisters.  Re-moisturize, cover your skin, allow it to heal and continue to drink plenty of water.
LIVING HEALTHY
In 4-H, we believe in living healthy and equipping our youth with the knowledge and skills to prepare them physically, emotionally and socially to meet life's challenges.  To learn more about participating in 4-H healthy living projects, visit the Florida 4-H Projects Page or contact your local UF/IFAS Extension office.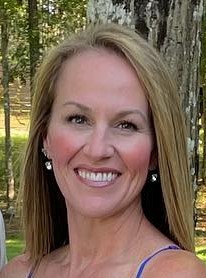 Latest posts by Julie Pigott Dillard
(see all)