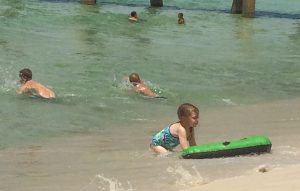 Summer is here!  As the long, hot days of summer move forward, there are many things to consider when it comes to children and water safety. Each summer we hear of tragic incidents of children drowning in pools, spas, and other bodies of water.  These tragedies may be avoided by following a few simple tips to keep your child safe while letting them enjoy their summer break.
The U.S. Consumer Product Safety Commission (CPSC) is the agency charged with protecting the public from unreasonable risks of injury or death from thousands of types of consumer products under the agency's jurisdiction. In addition to Pool and Spa Safety, the CPSC is committed to protecting consumers and families from products that pose a fire, electrical, chemical, or mechanical hazard. CPSC launched the campaign, PoolSafely.gov, which provides Pool Safely: Simple Steps to Save Lives, a national public education campaign to reduce childhood drownings, submersion injuries and entrapments. Review these tips below.
 Tips from PoolSafely.gov and CPSC:
Never leave a child unattended in or near water.
It is recommended to designate an official "Water Watcher", this is an adult assigned with supervising the children in the water. This should be their only task – they should not be reading, texting or playing games on their phone. Have a phone close by at all times, in case you need to call for help, and if a child is missing, check the pool first. Even when a lifeguard is present, parents and caregivers should still take the responsibility of being a designated "Water Watcher". When the lifeguard chair is empty, the other lifeguards may not be able to see the entire pool and when lifeguards are sitting in low chairs; other people in the pool can block their view.
Teach children how to swim.
Swimming is fun, great exercise and it is a lifesaving skill, so why would you not instill this skill in your child? Be sure to enroll children in swimming lessons – the earlier the better.  A few swimming lessons may just save their life.
Teach children to stay away from pool drains.
Show your children where the pool drain is located and remind them of the dangers of those drains. Remind them not to play or swim near drains or suction outlets, especially in spas and shallow pools, and never enter a pool or spa that has a loose, broken or missing drain cover. Sadly, children's hair, limbs, jewelry or bathing suits, etc. can get stuck in a drain or suction opening. When enjoying time in a spa, be sure to locate the emergency vacuum shutoff before getting in the water.
Ensure all pools and spas – both in your backyard and any public pool you may visit – have compliant drain covers.
The powerful suction from a pool or spa drain can even trap an adult, let alone a child.  The Pool and Spa Safety Act is named after Virginia Graeme Baker, a child that tragically died from drowning due to a suction entrapment from a faulty drain cover. Do to this act, it is now required by law that all public pools and spas must have drain grates or covers that meet safety standards to avoid incidents like the one that took Virginia's life.
Install proper barriers, covers and alarms on and around your pool and spa.
One of the biggest dangers with pools or spas is when they are left open without any proper fences, barriers, alarms and covers.  Each of these can be lifesaving devices. A fence of at least four feet in height should surround the pool or spa on all sides and should not be made of a climbable material. The pool should only be accessible through a self-closing, self-latching gate. Teach children to never climb over a pool gate or fence. Always remove portable pool ladders when not in use, just so your child is not enticed to enter the water. It is also highly recommended to install a door alarm from the house to the pool area, and keep pool and spa covers in working order.
Know how to perform CPR on children and adults.
CPR can be the reason a drowning victim survives. With all of the possible locations of CPR trainings, why not get CPR certified as an extra precaution in case there is a water emergency? CPR classes are available through many hospitals, community centers, or by contacting your local American Red Cross.  Once certified, be sure to keep the certification up to date.
Finally, take the Pledge!
Before heading to the water with your family, remember to take the Pool Safely Pledge. This online call to action is a reminder to stay safer around the water. This pledge for you and your child can be found at https://www.poolsafely.gov/pledge/. The pledge is supported by CPSC and the PoolSafely.gov initiative and Olympic swimmer Michael Phelps along with over 60,000 other pledge takers. Parents, you can also download coloring sheets and other fun PoolSafely.gov child friendly apps and songs.
With the large variety of water related summer activities available it does leave a chance for risky incidents. Some work and preparation ahead of time will make for a less anxious and more fun-filled summer.  Planning for risk will lessen the high-risk stakes and make sure everyone is prepared in case of an emergency.  So remember, Simple Steps Save Lives. Enjoy a safe, fun, and water filled time this summer!
Resources: For more information be sure to visit Pool Safely: Simple Steps Save Lives – https://www.poolsafely.gov
Latest posts by Melanie Taylor
(see all)