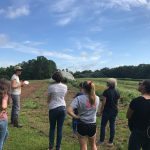 Cooking with Florida Produce
Knowing how to cook and being comfortable in the kitchen is an important life skill that has enduring benefits. Leon County 4-H hosted a culinary day camp with a unique twist:  educating youth about Florida produce and local agriculture.  In addition to teaching culinary techniques and nutrition, youth learned foundational cooking skills and took things a step further by building connections between local farms and their kitchens.
Teaming up with Fresh from Florida Kids
Chef Paula Kendrick co-led the camp. featuring Florida-grown produce.  The importance of nutrition and incorporating healthy foods into the diet was an ongoing theme during the camp.  Lessons on how to read food labels, the importance of whole grain and limiting sugar intake were also featured.  A salsa cooking competition using local products ended the camp.  Chef Paula is from Florida Department of Agriculture and Consumer Services – Fresh from Florida Kids.
Local Farm Highlighted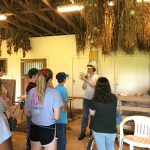 A visit to Full Earth Farm in Quincy helped youth see how a small local farm operates. Owners Katie Harris and Aaron Suko warmly welcomed the group to their farm and gave them a tour.  Florida seasonality, composting benefits and how local farms provide fresh produce to businesses and homes in our area were tour highlights.  The group left with a box of fresh summer squash to deliver to their next stop – Damfino's Cafe and Market. Damfino's sources local products for their menu items. Owner Lucy and Chef Max spoke to the group about their restaurant's mission of connecting the local community to local farmers.
During the camp, youth were eager to try all the recipes and many of the campers tried new food items for the first time. Fresh herbs from the 4-H garden were used in a number of the recipes. Rosemary was added to honeydew sorbet, and basil was added to sautéed summer squash.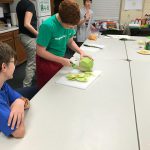 Healthy Eating is Best Learned in the Kitchen
Chef Paula Kendrick shared, "The students got to visit a Florida farm, eat at a local Florida farm to table restaurant and learn how to handle and cook fresh Florida produce. I love helping them to make that farm to table connection while teaching them about Florida agriculture. Cooking is one of the best ways to actually get them to try new things and to understand the importance of healthy eating and nutrition."
For more information on healthy living 4-H projects such as cooking, contact your local UF/IFAS County Extension Office.
Latest posts by Allison Leo
(see all)