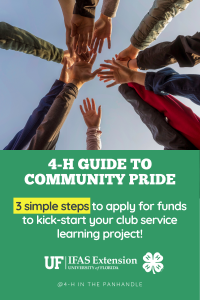 4-H clubs and individual members of all ages are eligible to participate in a Community Pride Project. This project is a great way to directly impact your community through a special service learning project of your choice. Service learning is an experiential learning activity and you can read more about what service learning is here or here.
Community Pride is a service learning program. The objectives of the Community Pride Program are:
Youth learn about their community and the impact the community has on their lives.
Youth understand how to relate to their community as individuals and through group cooperation so they can effectively work in community activities, programs, and organizations.
Youth develop skills and knowledge in community leadership.
Youth gain experience carrying out community projects to improve their environment.
Youth develop an interest in and love for their community.
How Does Community Pride Work?
During the project a community issue is identified, a service project is selected, a plan is implemented by the group, and reflection and reporting take place.
What types of projects can you complete through the Community Pride Grant?
That is up to you! The best thing about the project is that you get to select your service learning project based on you community's need. There are five main steps to the Community Pride Project and those are listed in detail below. Martin County 4-H members received a Community Pride Grant to help combat feral cats in their neighborhood and you can read more about it here. Broward County 4-H members have completed a variety of projects through this program and you can see the variety of projects here. If you would like to receive a Community Pride Grant to complete a service project of your choice, follow the steps below and contact your county 4-H Agent for assistance.
Step 1: Community Needs Assessment
A Needs Assessment might sound intimidating and complicated, but it is a very simple step. Think of a needs assessment as a brainstorming session with the club members. They will share their input from their personal experiences in the community to figure out what project should be selected. It is important for this part to be youth-led because you want to select a project that has a community need and an interest from the youth. During the brainstorming session you will also come up with potential solutions to the problem.
Step 2: Creating a Project Plan
The next step is to create a project plan based on the ideas that were generated during the brainstorming session. Youth will select a solution that they can work towards and this solution will be the project. It is important to consider what steps will need to be completed to make the solution a reality (i.e. supply needs, work days, locating community partners, and more).
Step 3: Submit a Project Proposal 
Your next step is to submit a proposal. All 4-H groups (or individual members) who would like to participate in this program must submit a proposal for funding of their Community Pride Project. Proposals accepted from the county must be emailed to 4hcontests@ifas.ufl.edu at the State 4-H Headquarters by the January 11, 2021 deadline date to be considered for the current 4-H years funding. Groups that are awarded funding will be notified via email in February with further instructions on your n
Step 4: Implement your Project
Now for the fun part! This is where you get to put your project plan into action and complete your community project. You will create your own timeline and schedule for the project and it will need to be completed between February through May 2021.
Step 5: Evaluate and Report
After your project is complete, it is time for you to reflect on all your hard work. During this time you will also evaluate the project and submit an official report to the state office by June 1, 2021. The state 4-H Office will conduct judging of all the completed projects during the first week of June. Participants in the Top Five Projects will be invited to a recognition breakfast!
2021 Community Pride Grant Important Dates:
January 11th, 2021 – Project Proposals Due
February 2021 – Grant Monies Disbursed
February to May 2021 – Project Implementation
June 1st, 2021 – Project Reports Due
Looking for COVID-19 "friendly" Service Project Ideas?  Check out this earlier post for suggestions!
Latest posts by Allison Leo
(see all)