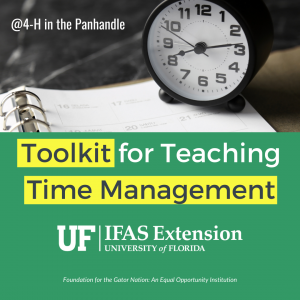 The "secret sauce" for successful 4-H clubs is often the not-so-secret time management skill of the club leader.  Time management is a learned skill.   This week's  blog post will explore strategies for time management. One important detail about time management – what works for one person may not work for everyone.  Choosing time management strategies that suit the person increases the likelihood that these skills will become permanent, frequently used tools in a personal "toolbox."
Teaching Time Management Skills
One strategy to learn a time management skill is to teach it.   Both club members and volunteer leaders can benefit from learning and practicing time management skills. Youth and adults alike can begin with some basic elements of planning to start developing time management skills.
To complete a time management activity during a club meeting, the following items will be needed: a weekly schedule template, a Post It adhesive flipchart or a white board/chalkboard, pencils/pens, scratch paper for note taking.
Write the five elements of S.M.A.R.T goals on the flipchart or white board:
S – Specific
M – Measureable
A – Attainable (or actionable)
R – Relevant (or realistic)
T – Time-bound
During this activity, participants will learn about time management, scheduling, and goal setting.   Begin the activity with a task.  Ask adults and youth to consider and write out their schedule for an average week. Use a weekly schedule template so that everyone can use a visual organizer to describe their individual schedules.  There are a number of free schedule templates online.   One free option is available from Microsoft office: https://templates.office.com/en-us/schedules.
Once everyone has completed their schedule, ask each participant to write down a personal goal related to school or 4-H.   Then, explain the S.M.A.R.T goal concept.   Next, ask everyone to consider their goal within the S.M.A.R.T framework.  Does their goal fit the five elements of a S. M.A.R.T goal? Why or why not? If their goal needs to be adjusted, what changes should be made?
After discussing several different goals, ask everyone when the time is scheduled to work on achieving this goal.  Spoiler alert: very few of the participants will include anything related to the goal in the initial weekly schedule draft.
During the next phase of this activity, introduce one or more time management strategies from the blog resource list to the group. Engage participants in discussion about which strategies might be effective for them than others.
Setting Individual Member and Club Goals
Conclude the meeting by setting short and long term goals.  What do members want to accomplish by the next club meeting?  What goals do club members want to achieve for the year?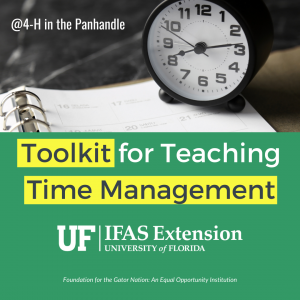 Time management is a skill that can be practiced and improved throughout the 4-H club year.  Be sure to schedule in time to report on progress toward goals as part of 4-H club business meetings.
Resources
Latest posts by Rachel Pienta
(see all)