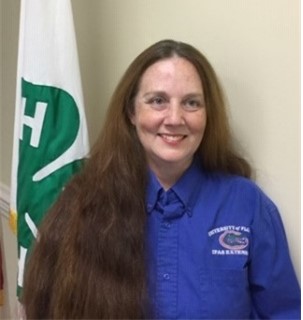 Paula Davis is the 4-H Youth Development Faculty in Bay County, Florida since 2000.   She earned her doctoral degree in Adult Vocational Education from Auburn University, master's degree in Ruminant Nutrition from the University of
Tennessee and her bachelor's degree in Agriculture from Berea College. Her work has focused on 4-H youth development, plant science, military programming and camping. She worked with the military partnership program since 2004, and became the state liaison in 2015. She has been a part volunteer training teams, both stateside and internationally throughout her career.
Paula grew up in 4-H in Eastern Kentucky, interned while in college with Kentucky Extension, she has also held Extension positions in Illinois, Alabama and Ohio before moving to the Florida Panhandle when she married her husband Jim Moyers and began her family. Now both of their daughters are in high school. The family resides in Panama City.
Paula works in Bay County with Families, Faculty and local community organizations to build a strong 4-H program. She works with military and afterschool programs to enable youth to find their passion while building life-skills to help them become productive citizens. As the state military liaison, she also trains Air Force Staff in Europe and Navy Staff in Cuba. It has been a very rewarding career working with volunteers to make the best better with 4-H. For more information on 4-H, please contact your local 4-H office.  You can find your local office here.