As summer approaches and the days grow longer, it's the perfect time to engage 4-H youth in outdoor activities that blend fun, learning, and teamwork. One exciting way to accomplish this is to organize a tailgating (grilling) camp and grilling exhibition in preparation for your District 4-H Tailgating Contest.  4-H Agents and volunteers have a unique opportunity to guide young participants in the art of grilling while instilling valuable life skills and fostering a sense of camaraderie. In this blog post, we will explore the benefits of incorporating a tailgating (grilling) competition into your summer programming.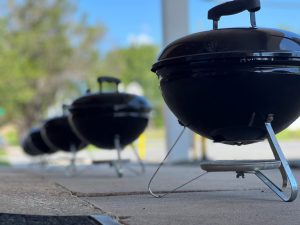 Building Life Skills: Grilling is not just about cooking delicious food; it also teaches various life skills that are essential for personal and professional growth. By incorporating a tailgating competition into your summer programming, you can help young participants develop skills such as teamwork, leadership, communication, time management, and problem-solving. These skills are valuable in all aspects of life and will benefit them in the long run.
Fostering Creativity: Tailgating competitions offer a platform for youth to unleash their creativity. Encourage participants to come up with unique recipes, experiment with flavors, and showcase their grilling techniques. This will not only boost their confidence, but also stimulate their culinary imagination. Remember to emphasize the importance of food safety and hygiene throughout the process.
Encouraging Healthy Eating: While contest participants are limited to pork, beef, chicken, and shrimp during the actual competitions, you can use the tailgating competition as an opportunity to promote healthy eating habits among youth. Encourage participants to incorporate nutritious ingredients such as lean proteins, fresh vegetables, and whole grains into their recipes. Teach them about the benefits of balanced meals and provide resources on how to make healthier choices when grilling.
Creating a Sense of Community: Organizing a tailgating competition brings people together and creates a sense of community among participants. Encourage teams or individuals to share their grilling experiences, techniques, and recipes with one another. This fosters a supportive environment where everyone can learn from each other and build lasting connections.
In June 2023, Holmes County 4-H added another element to their annual 4-H Tailgating Summer Day Camp by including a public grilling exhibition and competition.  The event was held in conjunction with Peppertown Market, a monthly community-wide street market in downtown Bonifay.  Holmes County 4-H youth had an opportunity to hear constructive criticism and words of encouragement from judges and volunteers as they competed for a spot at the Northwest District Tailgating Contest.  The grills and youth were strategically placed to create a high impact opportunity to boost awareness of Holmes County 4-H.  Event attendees had the opportunity to speak with 4-H volunteers and the 4-H Agent to obtain resources and learn more about Holmes County 4-H.  Volunteers also utilized the event as a fundraising opportunity by selling peach cobbler made in a Dutch oven on location near our 4-H youth that were grilling.  Proceeds were used to offset the costs associated with the Tailgating Camp and Grilling Exhibition.
Incorporating a tailgating camp and grilling exhibition into your summer programming offers numerous benefits for youth development. By teaching grilling skills, fostering creativity, promoting healthy eating, and creating a sense of community, you can inspire young participants to embrace outdoor cooking as a lifelong hobby. Remember to prioritize fire safety, provide access to reliable resources, and encourage participants to explore various grilling techniques. With your guidance, they will light the fire for grilling success and create memorable experiences that extend beyond the summer months.
The 2023 Florida 4-H Northwest District Tailgating Contest will be held in Chipley, Florida on July 22, 2023.  Winners from the each of the District contests will be invited to compete at the State Contest on Saturday, September 23, 2023 in Gainesville, Florida.
Contact your local 4-H Agent and visit Tailgate Contest – Florida 4-H – University of Florida, Institute of Food and Agricultural Sciences – UF/IFAS (ufl.edu) to explore a wide variety of informative resources that can help "spark" a passion for food science and fire safety.
Region 1 | Northwest District Contest

| Key Questions | Information |
| --- | --- |
| When | Saturday, July 22, 2023 |
| Where | Washington County Agricultural Center, 1424 Jackson Ave, Chipley, FL 32428 Counties |
| Registration | May 5 to July 15, 2023 |
| Grill Setup | Grill setup will be from 9:15 a.m. CDT to 10 a.m. CDT with grills starting at 10:15 a.m. CDT. |
| Counties | Bay, Calhoun, Escambia, Franklin, Gadsden, Gulf, Holmes, Jackson, Jefferson, Leon, Liberty, Okaloosa, Santa Rosa, Wakulla, Walton, Washington |
| Coordinators | Mark Mauldin, mdm83@ufl.edu, & Brian Estevez, bestevez@ufl.edu |