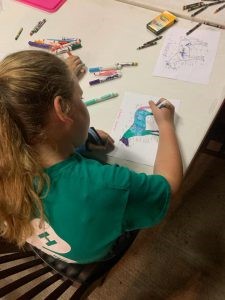 Across Florida, 4-H clubs have adopted creative ways to stay connected while social distancing
practices are in place. The Wakulla 4-H Bits and Bridles Horse Club, like other 4-H clubs across Florida, ceased in-person activities in mid-March.  During the regular program year, the Wakulla 4-H Bits and Bridles Club met monthly for a club meeting that included activities focused on equine science, leadership development, and hands-on skill building. While horseback riding was not a part of every club meeting, most club meetings included some sort of hands-on activity with horses.  Club leaders who already had an active Facebook group for their club families, considered how to stay engaged in the face of a prolonged pause in hands-on, face-to-face meetings.
Staying Connected
In Wakulla, the 4-H Bits and Bridles Horse Club has established a welcoming, inclusive environment for both youth with and without horses of their own. After the pause on in-person programming went into effect, Bits and Bridles volunteer leader, Julie Dennis, communicated with youth members and their families via email, sending the following message: "Given the current need to promote safety in our community, we'll be taking a pause from in-person Bits and Bridles Meetings. Don't worry though, as soon we can, we'll get back to our monthly meetings. In the meantime, let's use our Facebook group as a way to stay connected!"
Julie's communication was followed by a series of video and photo sharing by adult volunteers and youth members in the private Facebook group for the club, including a challenge to demonstrate a horse-related skill with or without a horse at home.  Youth were asked to post, with parent permission or assistance, at least one thing to the Facebook group that they were doing while at home to learn more about horses. The instructions urged youth to post a picture or video engaged in an activity to learn more about horses.
Group members responded by sharing videos demonstrating how to practice several skills with items they had at home: roping livestock and how to use different types of tack. Other youth shared videos demonstrating how to properly care for horse hooves and how to groom a horse. Several youth demonstrated riding activities.
Four Ideas to Stay Engaged with 4-H at Home
Activity ideas were provided to parents to share with youth members. The ideas below were collected  by club leader, Julie Dennis, and reviewed by 4-H Agent, Rachel Pienta. Each activity is shared below using language close to or similar to what was shared with 4-H families via email.

Learn a new drill or pattern.
If you have a horse, work on riding in a circle and just the same steps every time at a walk, trot and then collected lope. Dirt lots make a great place to do this because you can retrace your steps and see where your horse has been. Once you master this exercise, work on a serpentine or start by making a small circle and then gradually get bigger. For ideas, get your parents to help you use Pinterest and type in "Horse Drills." The possibilities are endless. Get someone to take a video and share with us on Facebook!
If you don't have a horse, you can participate too! Now is the time to get that barrel pattern down. This website has a great summary of the barrel pattern. You can also try your hand at the pole bending pattern. Find some objects at your house (rocks, chairs, whatever you can find outside) and set up these patterns. Then run them yourself & ask a parent to take video for you!

Learn how to clean your tack while practicing the parts of a saddle.
Spring cleaning! Break out your tack with some good saddle soap and get to cleaning. Remember, this is an important part of being safe when you ride. Dry leather can get cracked and brittle. Anyone who has been around horse shows long enough has seen what happens when an off billet strap breaks. You wind up in the dirt! Not only is this a safety hazard but it can cost you an otherwise very nice run.  These are two very good reasons to make sure your tack stays clean.
If you don't have a horse – there are still ways to learn! There are videos that you can learn from online.  Ask a parent to help you search for videos on YouTube.
Start your 4-H Horse Project Record Book!
Now is the time to start on horse projects. A very popular and great project for all kids whether or not you own a horse, is to complete the 4-H Horse Project Record Book. This can be downloaded online. If you don't have a horse, you can still participate. Make up your horse's name and then research the information you'll need to complete each section.
In the case of our club youth, members were encouraged to use online resources to research prices for supplies. Youth without a horse were offered a match with a 4-H Bits & Bridles mentor.

Build Horse Curriculum into Homeschooling.   
The National 4-H program has great curriculum available for all age ranges online. Try building in one horse lesson a week and then keeping a journal about what you've learned. This activity can be a great way to keep learning through the summer too!
For more information about 4-H clubs and activities in your community, or to volunteer with 4-H, please contact your local UF/ IFAS County Extension Office.
*"Please note the picture was taken prior to our challenges with Covid-19 and we encourage people to social distance and wear a mask for the personal safety of self and others."