Meatless Burger Alternatives

If you have been watching television lately, you may have seen commercials for meatless burgers that are making a splash. Many restaurants including Burger King and Red Robin are now offering this alternative meat source on their menus. https://www.bk.com/menu-item/impossible-whopper, https://www.redrobin.com/burgers/impossible-burger.html,
Beyond Beef™ and Impossible Burgers™ are two of the meat alternatives created by The Beyond Meat ™ https://www.beyondmeat.com/products/ and The Impossible Foods https://impossiblefoods.com/ companies. The Beyond Burger™ and Impossible Burger™ are similar in ingredients, color and texture, and they actually taste like…meat!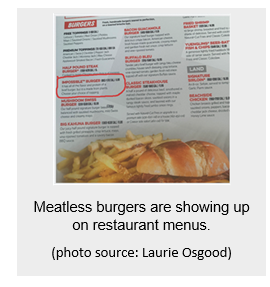 According to Emily Gelsomin, in the August 19th edition of Harvard Health Publishing, "Plant-based burgers are not a novel concept. But new products designed to taste like meat are now being marketed to vegetarians and meat-eaters alike". Gelsomin suggests that meatless burgers are a good source of protein, vitamins, and minerals.
But What Are They?
Keep in mind that meatless burgers are created in a lab, not in a pasture. Meatless burgers look, sizzle, and even "bleed" like a regular hamburger. But they contain no animal protein and are a completely plant-based patty. This plant-based protein is a blend of potato and soy proteins. Meatless burger alternatives get their red color and "bleeding" effect from beet juice. Meatless burgers sizzle while being cooked because of sunflower and coconut oils, the meatless burger's fat sources. To hold everything together, meatless burgers contain methylcellulose, a bulk-forming fiber source.
Are Meatless Burgers Safe?
Yes, meatless burgers are safe to eat, unless you are allergic to soy, coconut or sunflower.
The Good News:
Meatless burgers contain less sodium, cholesterol and fat than traditional beef or ground turkey patties do. Meatless burgers contain 2-3 grams of fiber per serving, whereas traditional hamburger patties contain no fiber.
The Bad News:
Just because they are a plant-based alternative to meat, doesn't mean that they are healthier for you. The calories found in a meatless burger are similar to a traditional beef patty and meatless burgers are heavily processed and high in saturated fat.
How Do These Meatless Burger Alternatives Compare Nutritionally to Ground Beef and Ground Turkey Patties?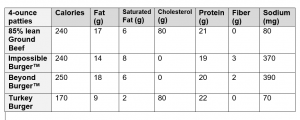 Source: Harvard Health Blog. Impossible and Beyond: How healthy are these meatless burgers? August 15, 2019.
The Bottom Line:
Meatless burgers such as The Impossible Burger™ and Beyond Burger™ are unique alternatives, although nutritionally not that different from a traditional hamburger patty. However, due to its popularity, companies such as Impossible Foods and Beyond Meat have struggled to keep up with the demand.
Contact your local Family & Consumer Sciences Extension Agent to learn more about meatless alternatives.
Sources
https://www.health.harvard.edu/blog/impossible-and-beyond-how-healthy-are-these-meatless-burgers-2019081517448
Shopping for Health, Vegetarian Diets https://edis.ifas.ufl.edu/pdffiles/FS/FS16700.pdf
Latest posts by Laurie Osgood
(see all)