Doug Mayo, Jackson County Extension & Ann Blount, UF/IFAS Forage Breeder
Cool season forages have long been the very highest quality feed that can be grown on the ranch for winter livestock supplementation in the Southeast.  Land preparation, seed, and fertilizer costs have risen to the point that ranchers should be very selective to ensure the type of cool season forages used fit their management system, and that the varieties of seed purchased have been tested in the region, for performance and disease resistance.
Forage Species
There are a number of choices as to the type of annual cool season forages to grow.  There is no single best choice, but blends can be used to provide longer seasons of grazing, and also some protection against variable climate and weather conditions.  Within each forage species, there are even specific varieties that offer a range of production outside the averages provided in the charts to follow.  Cool season forages are most productive when planted on tilled land set aside for annual forage crops, or following warm season row crops, immediately after harvest.  While the majority of cool season forages are grown for grazing, they can also be used to make excellent quality hay and silage, which may be an alternative for crop land without fencing, or not convenient for animal grazing.

Small Grains
Small grains, such as oats, rye, triticale, and wheat offer rapid growth, vigorous growth and early grazing after planting.  Most small grain varieties have been developed for grain production; however, there are forage types that are recommended in the guide that follows.  Because they are a large seeded crop, small grains should be planted 1-2" deep, and are most productive when planted on a prepared seedbed with a drill.  Small grains grown for hay or silage have greater risk of disease, and should be scouted and treated as needed using labeled pesticides.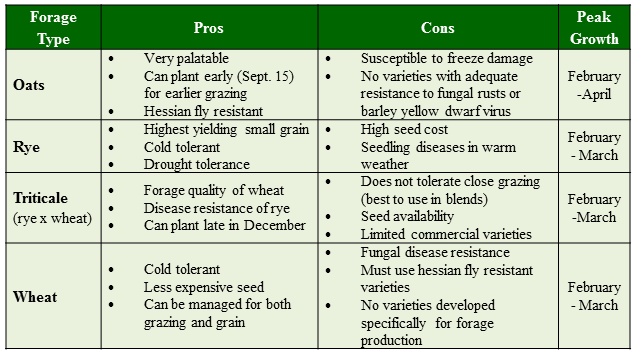 Ryegrass & Brassicas
Ryegrass and the brassicas are small seeded cool season annual forages with wide adaptability to Florida soils.  Ryegrass provides high quality forage and is excellent for grazing, hay, or silage.  The brassicas:  turnips, kale, and rape are actually winter vegetables that provide rapid growth for quick, but limited grazing.  Ryegrass and turnips can be planted with a drill, cultipacker seeder, or broadcast and lightly covered, and can even be planted with a no-till drill or aerator in dormant sod.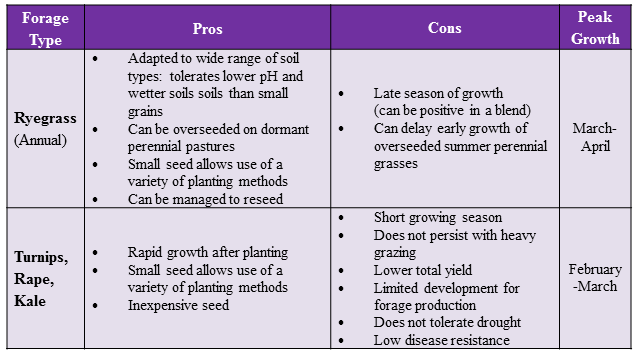 Legumes
Cool season legumes are small seeded plants that do not require nitrogen fertilizer, and will provide some residual nitrogen for warm season crops that follow.  Legumes generally require higher soil pH than perennial grasses. Legumes do require specific inoculants or bacteria that produce nitrogen on their roots.  Most commercial legume seed comes coated or pre-inoculated, but some need the inoculant mixed with seed just prior to planting.  Legumes can be overseeded into dormant perennial grass pastures, or planted in blends with small grains or ryegrass to improve forage quality and extend the grazing season.  If allowed to mature and produce seed, there are several legume varieties that will reseed. (be managed to come back from seed in future years)  Legumes are sensitive to many of the broadleaf herbicides used in pastures, so you may be forced to decide which is more valuable, a weed free pasture or the legumes.
References and sources of more information:
UF/IFAS 2013 Cool-Season Forage Variety Recommendations
Alabama Planting Guide for Forage Grasses ANR-0149
Alabama Planting Guide for Forage Legumes ANR-0150
UGA Georgia Forages:  Grass Species
UGA Georgia Forages:  Legume Species
Latest posts by Doug Mayo
(see all)