The management of early and late leaf spot in peanuts is an essential task for growers each year. Currently, there are a number of fungicide products available for leaf spot control that can adequately manage this disease. However, as Dr. Kemerait indicated in his recent blog post, there are reports suggesting that the important leaf spot fungicide chlorothalonil may have limited stock in 2015. Dealing with the challenges related to this possible shortage means utilizing different fungicide chemistries and paying close attention to resistance management practices (e.g. proper rotation of fungicide mode of actions).
While there are many products available for leaf spot control, two products that will be important to keep an eye on are azoxystrobin (e.g. Abound®) and pyraclostrobin (i.e. Headline®). Both of these products have been effective management tools for leaf spots in the past, but with azoxystrobin's recent patent expiration there are more products currently available with this chemistry (e.g. Azaka, Equation, and others). The addition of these products will be useful to many peanut and vegetable growers, however, the risk for pathogens to develop resistance to these fungicides is high. Monitoring the effectiveness of these as well as other fungicides is important for developing sustainable leaf spot management programs.
Small plot research data from trials using cultivar Georgia-06G at the University of Florida Plant Science Research and Education Unit (PSREU) in Citra, FL indicated that the products azoxystrobin and pyraclostrobin as well as tebuconazole, commonly called generic Folicur, exhibited reduced efficacy against early and/or late leaf spot (Figures 2 & 3). Comparisons of these three fungicide products shows that tebuconazole was the best early leaf spot product, pyraclostrobin provided maximum control of late leaf spot, and both azoxystrobin and pyraclostrobin limited rust in the peanut plots (Figure 3). However, all 3 products produced comparable yields at the end of the season (Figure 4). Overall, these results indicate the importance of how the excess use of one fungicidal product can lead to reductions in efficacy of leaf spot control.
Despite the loss of efficacy of disease control with solo applications of these products in the field, no resistant isolates were detected in laboratory assays. Thus, while this research indicates the importance of monitoring for resistance within peanut fields, it also suggests that these products can still be effective components of an integrated control strategy. Further work is being conducted on pathogen isolates collected from the 2014 PSREU trial and research plots in Marianna and Quincy, FL. Similar field trials to the 2014 PSREU trial will also be repeated during the 2015 growing season.
Ultimately, there are a multitude of products available for leaf spot control in peanuts. The effectiveness of some of these products has decreased with time, but through proper planning (e.g. Peanut Rx-Android and-iPhone) and product rotation many of these products can still be effective components of a disease management program. Monitoring the efficacy of fungicide products during 2015 will be key in identifying resistant populations present in Florida, if any.
Should concerns arise about a product application, please contact your local extension office for more information.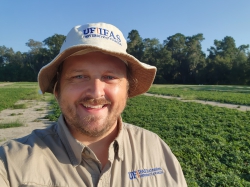 Latest posts by Nicholas Dufault
(see all)