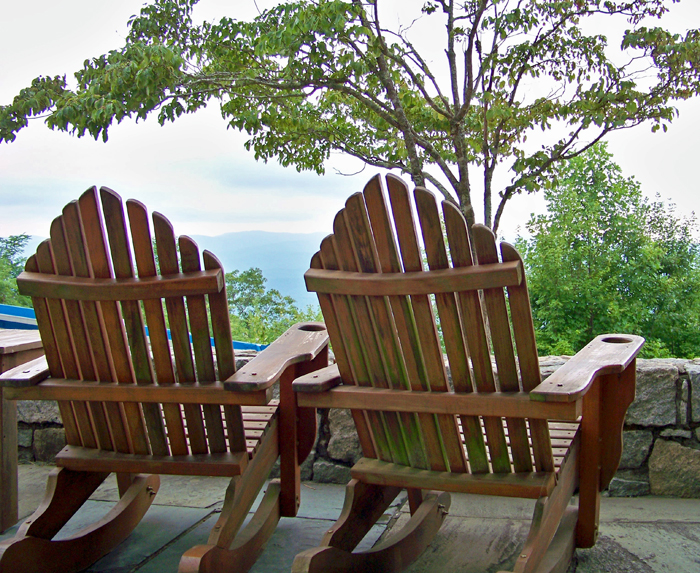 After 55 years of married life a farmer passed away and left the farm to his dear wife and sons.  Like many farm couples, there was never much time or money for fancy vacations.   After a few years went by, as the widow was approaching her 80th birthday, her sons decided it was time for Mom to enjoy the good life, even if only for a weekend.  They decided to send her to stay at a fancy Bed and Breakfast Resort in the North Georgia Mountains.
When the Friday finally came to travel to Georgia, the widow was up early and was really excited about the trip.  It had been years since she had left the farm, and had only distant memories of the beautiful mountains in North Georgia.  The Bed and Breakfast was truly a fabulous place, with a wonderful restaurant, a deck with a wonderful view, and all sorts of amenities.  The widow truly enjoyed just sitting on the deck and soaking in the view at such a lovely place.
When she was ready to check out on Monday, the desk clerk handed her a bill for $750.00.  She demanded to know why the charge was so high. "I agree it's a nice resort, but the rooms aren't worth $250.00 per night!  I didn't even have breakfast this morning."  The clerk told her that $250.00 is the 'standard rate', and breakfast had been included had she wanted it.
She insisted on speaking to the Manager.  The Manager appeared and, forewarned by the desk clerk, announced: "This Resort has an Olympic-sized pool, a hot-tub, guided hikes, a golf course, and a spa and which were available for your use."  "But I didn't use them," she said.  "Well, they are here, and you could have," explained the Manager.  He went on to explain that she could also have seen one of the dinner shows for which they were so famous.  "We have the best entertainers from the world over performing here," the Manager said.  "But I didn't go to any of those shows," she said.  "Well, we have them, and you could have," the Manager replied. No matter what amenity the Manager mentioned, she replied, "But I didn't use it!" and the Manager countered with his standard response.
After several minutes' discussion, and with the Manager still unmoved, she decided to pay, wrote a check and gave it to him.  The Manager was surprised when he looked at the check.  "But madam, this check is for $250.00."  "That's correct I deducted $500.00 for sleeping with me" she replied.  "But I didn't sleep with you!" exclaimed the shocked Manager. With a wry smile she winked and said, "Well, too bad, I was here, and you could have." And out the door she went.
****************************************************************************
Farm folks always enjoy sharing good jokes, photos and stories.  If you have a good, clean joke, particularly one that pertains to agriculture, or a funny photo that you took on the farm, send it in and we will share it with our readers:
Latest posts by Doug Mayo
(see all)