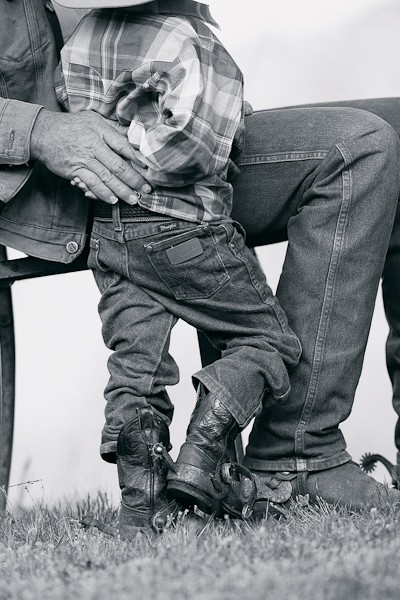 A rancher always enjoyed having the grand kids spend time with him on the ranch.  It was an opportunity to share with them his love of the land and the cattle under his care.  While he was not that much help, his 5-year-old grandson could open gates, and help with the feeding, but mostly was just along for the company.
One particular fall weekend, the rancher took his grandson with him to check the calving heifers.  One heifer was having a hard time calving, and from the look of things had been trying for more than an hour to have her calf.  The heifer was on the ground and would not get up, and after close examination he knew the calf was coming backwards.  The rancher could only see one rear foot sticking out, and the heifer was groaning and pushing, but the calf was not moving.  There just was not enough time to take his grandson back to the house, so he was just going to have to pull that calf right then and there.  The rancher striped off his shirt, put on a glove and got out the OB chains and worked for several minutes to get the calf pushed back so he could release the other rear foot. He hooked the chains on the calf's feet and began rearing back and pulling with every contraction.  After working for more than half an hour, he finally pulled the calf out of the heifer with a gushy plop.  The calf was wobbly but still alive!  The heifer slowly got up, but then immediately started cleaning him off.  The heifer just needed a little help getting that calf out.
As the rancher was cleaning up, putting the OB chains away and putting his shirt back on, he was watching his wide‑eyed grandson sitting on the tailgate of the truck.  The man thought, "Great he's 5 and I'm gonna have to start explaining the birds and bees. No need to jump the gun. I'll just let him ask, and I'll answer."  So he sat down beside his grandson and said, "Well, do you have any questions?" "Just one." The still wide‑eyed boy blurted out, "Just how fast was that calf running when he ran into the back of that cow?"
****************************************************************************
If you enjoyed that joke, you might also enjoy other  Friday Funnies from previous weeks.
Farm folks always enjoy sharing good jokes, photos and stories.  If you have a good, clean joke, particularly one that pertains to agriculture, or a funny photo that you took on the farm, send it in and we will share it with our readers:
Latest posts by Doug Mayo
(see all)