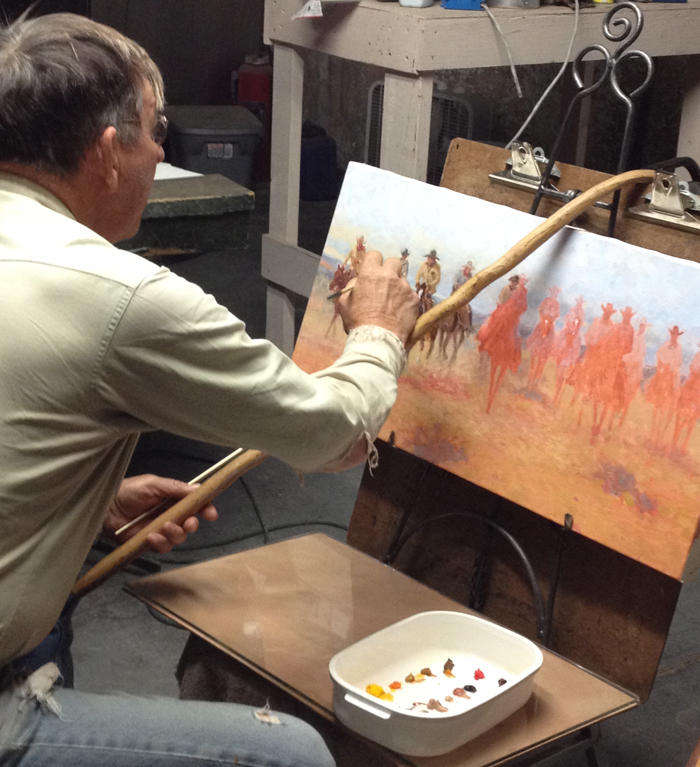 A cattle rancher in the Florida Panhandle had a natural artistic talent.  He just had a knack for capturing scenery, animals and people in his mind and painting what he envisioned.  After many years of tinkering with painting, his wife and friends encouraged him to actually get some training and take an art class at the local community college.
The cowboy almost dropped out of the class when he was told to paint bowls of fruit,  flowers in vases, and landscapes around the college, but then they moved up to painting portraits of people. The cowboy was really good at it right from the start.  The professor was amazed at his natural talent.  He quickly progressed from painting portraits of friends and family to being paid to create portraits of prominent people in the area.  Over a short number of years, his fame grew and soon people from all over the Southeast sought him out to get him to him to paint their likenesses.
One day, a beautiful young woman from South Florida arrived at his house in a stretch limousine and asked if he would paint her in the nude.  This being the first time anyone had made such a request, he was a bit perplexed, particularly when the woman told him that money was no object; in fact, she was willing to pay up to $10,000.00.
Not wanting to get into any serious trouble, he asked her to wait while he went into the house to talk to his wife. In a few minutes he returned. "Ma'am, it would be my pleasure to paint yer portrait," he said . "The wife says it's okay. I'll paint you in the nude all right; but I have to at least leave my socks on, so I have a place to wipe my brushes."
*************************************************************************************************************
If you enjoyed this joke, you might also enjoy other Friday Funnies from previous weeks.
Farm folks always enjoy sharing good jokes, photos and stories.  If you have a good, clean joke, particularly one that pertains to agriculture, or a funny photo that you took on the farm, send it in and we will share it with our readers.

Latest posts by Doug Mayo
(see all)