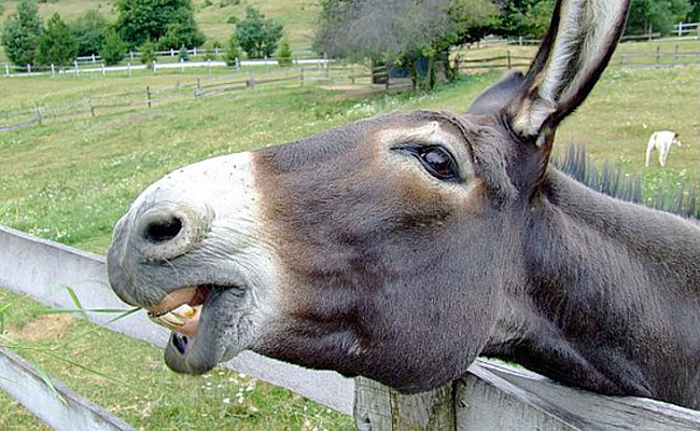 This week's joke was sent in by Cheryl Vergot, Tallahassee, FL. Thanks for sharing Cheryl!  
As is most often the case these days, a young farmer married a cute city-girl who grew up in a nearby town.  Soon after their fancy, country-club wedding, the farmer prepared for a visit by his city-bred mother-in-law, who demanded an inspection of this farm where her daughter now called home. The farmer had genuinely tried to be friendly to his new mother-in-law, hoping that it could be a friendly, non-antagonistic relationship. All to no avail though, as she kept nagging them at every opportunity, demanding changes, offering unwanted advice, and generally making life unbearable to the farmer and his new bride. While they were walking through the barn, during the forced inspection, the farmer's mule suddenly reared up and kicked the mother-in-law in the head, killing her instantly. It was a shock to all, no matter their feelings toward her demanding ways.
At the funeral service a few days later, the farmer stood near the casket and greeted folks as they walked by. The pastor noticed that whenever a woman would whisper something to the farmer, he would nod his head yes and say something. Whenever a man walked by and whispered to the farmer, however, he would shake his head no, and mumble a reply. Very curious as to this bizarre behavior, the pastor later asked the farmer what that was all about. The farmer replied, The women would say, "What a terrible tragedy" and I would nod my head and say, "Yes, it certainly was."  The men would then ask, "Can I borrow that mule?"and I would shake my head and say, "No. He's all booked up through the end of the year, and I don't have a 2017 calendar yet!'"
*************************************************************************************************************
If you enjoyed this week's joke, you might also enjoy others from previous weeks: Friday Funny
Farm folks always enjoy sharing good jokes, photos and stories.  If you have a good, clean joke, particularly one that pertains to agriculture, or a funny photo that you took on the farm, send it in and we will share it with our readers.

Latest posts by Doug Mayo
(see all)