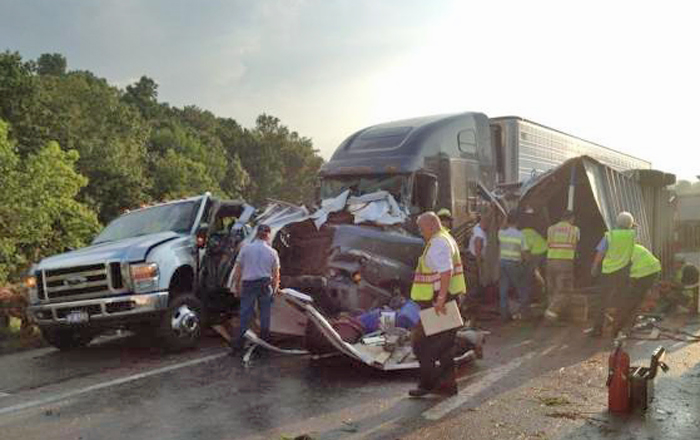 A cowboy drove his truck and horse trailer to town to pick up some vaccines and wormer the day he was planning to work his cows.  As he slowed down to turn off of the highway, he was struck from behind by a semi-truck.  Unfortunately, the cowboy, his horse, and his trusty cowdog were all seriously injured from the accident.
Some months later, the cowboy sued the truck driver's insurance company for damages in addition to the vehicle and trailer.  The lawyer for the Defense questioned the cowboy on the witness stand.
"At the scene of the accident, is it true that you told the police officer that you had never felt better in your life?"  "Yes, That's correct," the cowboy replied.  So the lawyer quickly turned on his heels with fire in his eyes and demanded, "Well then, how is it that you are now claiming you were seriously injured when my client's truck hit your trailer?"
The cowboy shared a recap of what took place at the scene of the accident.  He explained, "When the police office arrived at the scene, he saw my horse laying in the ditch in real bad shape. It's right front and back legs were broken, so he shot him.  Then he went over to Sooner, my dog, which had 3 broken legs, and put him out of his misery as well!"  Then the lawyer interrupted, "Sir I was not referring to your animals.  Did you or did you not tell the police officer at the scene that you never felt better in your life?"
The cowboy would not be rattled.  He said, "I had a broken pelvis, a broken arm, and a ruptured disc in my back.  But after watching what that officer had done to my poor horse and dog, I thought that was the wisest thing for me to say at the time?"
*************************************************************************************************************
If you enjoyed this week's joke, you might also enjoy others from previous weeks: Friday Funny
Farm folks always enjoy sharing good jokes, photos and stories.  If you have a good, clean joke, particularly one that pertains to agriculture, or a funny photo that you took on the farm, send it in and we will share it with our readers.

Latest posts by Doug Mayo
(see all)