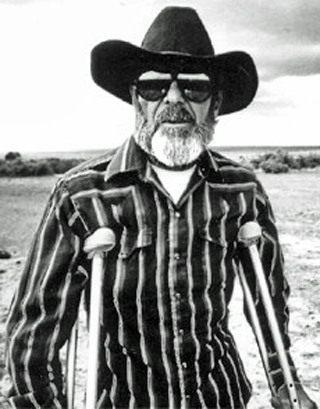 A rancher needed a new hand, so he went to the feed store, the farm supply dealership, and the coffee shop to spread the word that he was looking to hire a cowboy.  A few days later he got a call from a fellow who was interested in the position, so he set an appointment for an interview at the ranch.
When the cowboy arrived, the rancher watched him get out of his truck very slowly and then pull out some crutches.  The cowboy slowly hobbled over to the rancher and introduced himself, "Hello, my name is Dave, I talked with you over the phone about hiring on as a ranch hand."
The rancher was pretty sure this was not going to work out.  He said, "This job requires a lot of physical labor:  feeding, mending fences, working cattle, etc. Do you have an illness or have you had an accident?"
The cowboy quickly responded, "Nope.  No illnesses or accidents."  Puzzled by this answer the rancher said, "But you're on crutches, you must have had an accident?"
The cowboy smiled and said, "Oh no sir!"  Then the cowboy began to explain,  "I have been out of work for the past month.  I was working down at the Rafter T.  One of their bulls caught me in the cowpen.  He mashed on me, stomped on me.  I am just thankful that in his rage, that bull flipped me over the fence with his final blow.  Otherwise he might have killed me.  But that was no accident.  No Sir.  He did that on purpose!"
*************************************************************************************************************
If you enjoyed this week's joke, you might also enjoy others from previous weeks: Friday Funny
Farm folks always enjoy sharing good jokes, photos and stories.  If you have a good, clean joke, particularly one that pertains to agriculture, or a funny photo that you took on the farm, send it in and we will share it with our readers.

Latest posts by Doug Mayo
(see all)