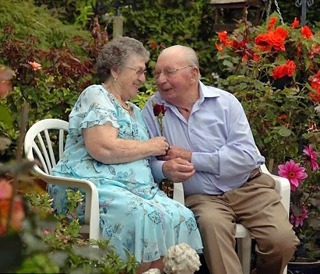 A farmer and his wife enjoyed a wonderful celebration with their family on their 40th wedding anniversary.  After everyone left the couple was putting things away and stopped to reminisce about how things were so different when they got married.  The wife picked up one of their wedding photos from the head table of their celebration and said, "You were so handsome, with a beautiful full head of hair."  She looked over at him and rubbed his now nearly-bald head and then said, "But I do think a man looks more distinguished when he is bald."  The farmer replied, "You were quite a looker back then too, with a Coke-bottle figure!" 
She waited for him to say more, like the compliment she had given him, but he said nothing else.  She glared at him waiting, and still he added nothing.  Finally she threw the old photo in a box, turned and looked him square in the eyes and growled,
"I still have a Coke-bottle figure.  It's just a 2-litter bottle now!"
*************************************************************************************************************
If you enjoyed this week's joke, you might also enjoy others from previous weeks: Friday Funny
Farm folks always enjoy sharing good jokes, photos and stories.  If you have a good, clean joke, particularly one that pertains to agriculture, or a funny photo that you took on the farm, send it in and we will share it with our readers.

Latest posts by Doug Mayo
(see all)