Harold and Jenny live on a farm in the Florida Panhandle.  Though they have been married for many years, and raised three children to adulthood together, their marriage has been challenging for Jenny.  Harold has worked hard his whole adult life to provide for his family, and take care of the family farm that had been passed to him from his father.  While Harold takes care of every detail on the farm, he has not always been as attentive as he needed to be when it came to Jenny.  Jenny knew Harold was not the romantic type when she married him, but did expect him to take care of the important things like birthdays and anniversaries.
Their 30th anniversary was coming up in the second week of June, so Jenny decided not to say anything to see if Harold remembered this milestone for their marriage.  Poor Harold was so busy getting his peanuts and cotton planted and the pre-emergence herbicides sprayed, that he never even thought about the important anniversary that occurred that year.
When their anniversary day arrived, Jenny fixed Harold an extra special breakfast, but said nothing when he commented, "Now this is really nice, thank you."  At lunch he noticed she kept looking at him funny, but he gobbled up the meal and headed back out to the fields.  Dinner too, was something very special, all the things he liked.  He said, "Wow, I guess this is my lucky day."  But his mind was still going over all the tasks that remained undone: the irrigation unit that needed repairing, the sprayer that needing new nozzles, and the fence with a tree limb on it that had allowed two herds to mix.  Not one time during that special day did Harold even glance at a calendar.  As the day drew to an end, Harold turned on the late news to watch the weather.  He noticed Jenny was fidgeting and piddling with different things, and was not at all relaxed.  She just seemed anxious and distracted.  Finally he said, "Honey you need to sit down and relax, its almost bedtime and you need to stop all of that or you're going to have a hard time going to sleep."  Harold was right, she tossed and turned, he knew something was not quite right, but figured it could wait until morning.   He was exhausted and fell fast asleep.
The next morning he noticed that Jenny was already up.  That was unusual.  He got dressed and headed for the kitchen hoping to find a deluxe breakfast like the day before.  This time there was nothing waiting for him but black coffee and burnt toast.  Jenny was very upset, and he could see it in her face.  He said, "Honey what is wrong with you?"  She snapped back and said, "As of yesterday Harold, we have been married for 30 years.  Yet you just seem to take me for granted.  If you want to stay married to me you had better get to town and come back with something really special.  When I come back from Mamma's house at 5:00 I expect something sitting in the driveway that goes from zero to 200 in 2 seconds flat!"
Jenny stormed out the door and headed to her mother's house.  She cried and vented to her mother who calmed her down and reminded her of Harold's positive attributes.  "He has been a very loyal husband for 30 years," she told her.  "Go back home and see what Harold has come up with to make amends for his forgetfulness."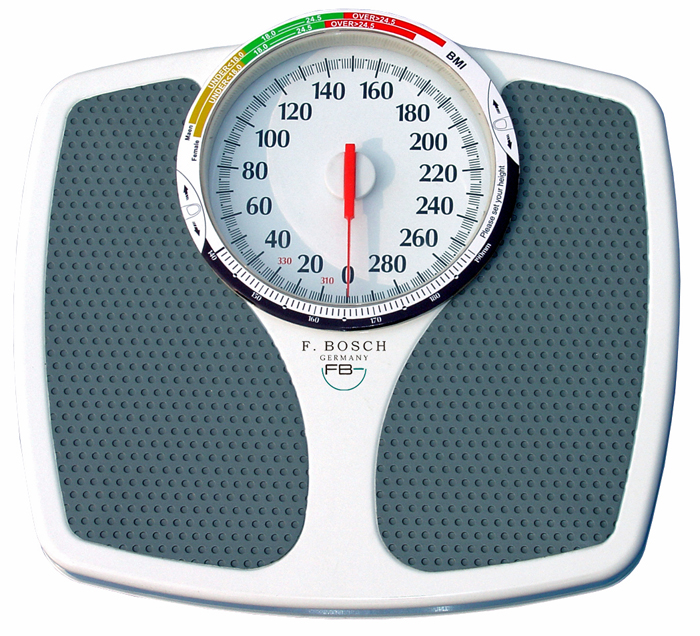 So Jenny headed home, and when she arrived she found a small square wrapped package in the driveway.  Jenny was really ticked off now and growled out to herself, "What is this?  I thought I made this very clear!"  Even so she bent down and picked up the small flat package, and was somewhat surprised by the weight of it.
She opened the package and to her surprise, it was a brand new bathroom scale!
Jenny was arrested for assault and battery with a bathroom scale.  Harold was transported to City Memorial Hospital and is the Intensive Care Unit with an unknown recovery date awaiting a brain transplant.
*************************************************************************************************************
If you enjoyed this week's joke, you might also enjoy others from previous weeks: Friday Funnies
Farm folks always enjoy sharing good jokes, photos and stories.  If you have a good, clean joke, particularly one that pertains to agriculture, or a funny photo that you took on the farm, send it in and we will share it with our readers.

Latest posts by Doug Mayo
(see all)