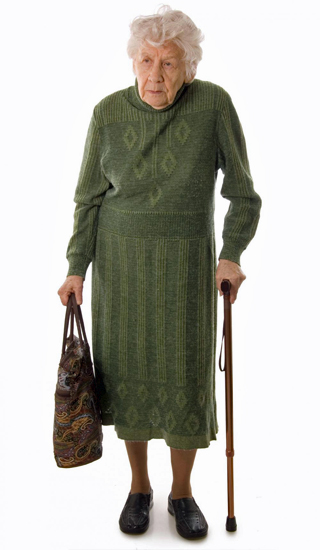 John and Mary were married for 56 years, and lived on the farm they cherished that had been in their family for three generations.  After John died in 2010, Mary decided to keep living on the farm, but passed the business operation on to her son and grandsons.  While her family was on the farm almost every day working the land, Mary was home alone nights and weekends, and became concerned for her safety.  She decided to purchase a pistol, and completed a concealed gun carry course, so that she could defend herself.  As time went on Mary grew more feeble and only traveled to town for church, doctors appointments, and groceries.  Wherever Mary went though, her snub-nosed 38 was with her in her oversized purse.
One afternoon, after Mary had finished her shopping, she returned to her car and found four males in the act of entering her vehicle. She dropped her shopping bags and cane, drew her handgun from her purse, and screamed at the top of her lungs, "I have a gun, and I know how to use it!  Get out of that car!
The four men didn't wait for a second invitation. They got out and ran like mad. Mary, somewhat shaken, then proceeded to load her shopping bags into the back of the car and got into driver's seat. She was so shaken that she could not get her key into the ignition.   She tried and tried, and then it dawned on her why? A few minutes later, she found her own car (that was the same color, make and model) parked four or five spaces farther down.
Frustrated and upset with herself, she loaded her bags into her car and drove down to the police station. She shared her embarrassing story with the police sergeant on duty at the front desk.  She said, "I swear it looked just like my car, and it was parked in the same area as mine!"
The sergeant chuckled and then couldn't stop laughing. He pointed to the other end of the counter where four pale men had reported a car jacking by a mad, elderly woman described as white, less than six feet tall in a green dress, curly white hair, with a cane, a rather large purse, and a handgun.  Not quite as amused as the sergeant, the men dropped all charges after hearing her story.  The sergeant just smiled at Mary and said, "Well If you're going to have a 'Senior Moment,' make it a memorable one!"
*************************************************************************************************************
If you enjoyed this week's joke, you might also enjoy others from previous weeks: Friday Funnies
Farm folks always enjoy sharing good jokes, photos and stories.  If you have a good, clean joke, particularly one that pertains to agriculture, or a funny photo that you took on the farm, send it in and we will share it with our readers.

Latest posts by Doug Mayo
(see all)