This week's the featured video is not a pleasant topic, but it is a message that needs to be shared with every farmer, family member, and farm worker who may work with loose grain and feeds stored in bulk bins.  Bulk grain and feed bins, or large grain carts can become very dangerous, especially if workers are unaware of the hazards.  This video shares the tragic, true story of two teen-aged boys who lost their lives in a grain bin accident.  The video is 14 1/2 minutes long, but shares a very important message.
The Grain Handling and Safety Coalition presents "Seconds to Tragedy-Grain Safety for Young Workers". In 2010, two young workers were engulfed and killed inside a grain bin in Mt. Carroll, IL. This tragedy inspired a group of individuals to form the Grain Handling and Safety Coalition. Working with the University of Illinois, their mission is to create a heightened awareness on the dangers of working in and around grain bins and prevent accidents, injuries and fatalities.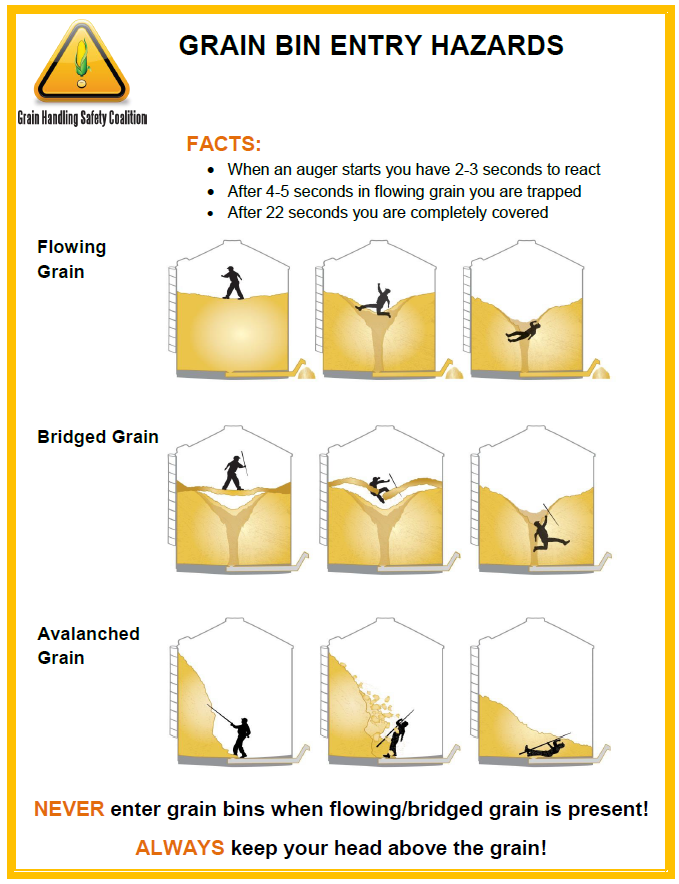 Source: Grain Handling Safety Coalition.  Click on the graphic above to download a printer friendly pdf version of this poster.
Additional employee training materials on this subject are also available on the Grain Handling Safety Coalition website.
**************************************************************************************
If you enjoyed this video, you might want to check out the featured videos from previous weeks:  Friday Features

In the past, we have shared old farm jokes each week on Panhandle Ag e-news.  Starting in 2017 we will be sharing interesting videos and stories related to agriculture.  If you come across a neat video or story, please send it in so we can share it with our readers. 
Send a link to a video you found interesting or humorous to:  Friday Features
Latest posts by Doug Mayo
(see all)