Peter C. Andersen University of Florida North Florida Research and Education Center
A one and one quarter acre (0.5 hectare) peach orchard was established during March 2015, at the North Florida Research and Education Center, Quincy. The cultivars included in the trial were as follows: Gulfking, Suncoast, Flordacrest, Flordaking, Gulfcrimson, GulfPrince, Gulfsnow, GulfAtlas and Gulfcrest.  Flordaking and Flordaking are melting flesh peaches, Suncoast is a melting flesh nectarine, and the remaining Gulf series are non-melting flesh peaches.
The chilling requirement of peach and nectarine cultivars is measured by the cumulative amount of hours below 45°F required to break bud and flower. Approximately 625 chill units were recorded for 2018, and most of that total occurred during the month of January. February 2018 was extremely warm with 20+ days above 75° F, which promoted early bloom. The chilling requirement, the bloom date, and the number of fruit per tree measured in 2018 were as follows: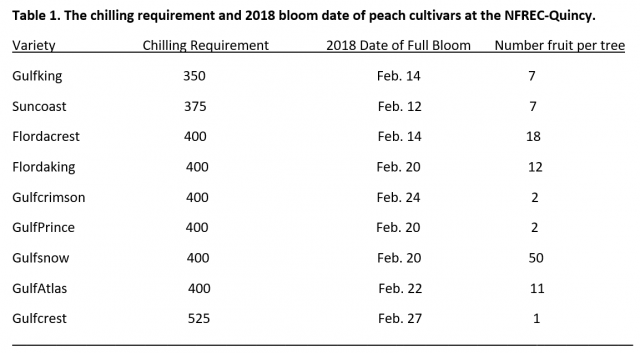 There was a compressed bloom period in 2018, with all cultivars blooming from February 14 through 27. Freeze events occurred on March 9 and 15, which almost eliminated the entire peach crop. The temperature at the NFREC-Quincy dropped to 27°, and was 28° at a nearby weather station.  All varieties were well passed full bloom and had small fruit when the freeze events occurred.
Peach trees at nearly full size in the fourth year should produce at least 300 fruit per tree.  The only variety that could justify a commercial harvest was Gulfsnow,  which set an average of 50 fruit per tree. Unfortunately, in 2017 we also lost the entire peach crop to a March 15 freeze. Thus, despite a general warming trend for winters during the last two decades, erratic winter temperatures remain a potential problem for the culture of peaches in North Florida.
Latest posts by Peter C. Andersen
(see all)