A few weeks ago I was lucky enough to attend North Carolina State's Tomato Field Day, at the Mountain Horticultural Crops Research and Extension Center in Mills River, NC.  Every summer crowds flock from all over the Southeast to learn what's new in the world of tomatoes.  Since it's not always convenient for you to drop what you're doing to make a road trip to North Carolina, I'll highlight something I learned from the field day.
New Varieties with Dr. Randy Gardner and Dr. Dilip Panthee
Dr. Randy Gardner is a retired tomato breeder from NC State with more than 30 years of experience.  Dr. Dilip Panthee is NC State's newest tomato breeder.  Both are working on developing new cultivars with both disease resistance and an added emphasis on flavor.  The three main diseases they are focusing on for resistance and/or tolerance are Late Blight, Bacterial Spot, and Verticillium Wilt Race 2.  See the list below of some of their newest releases.  Just remember that these varieties were developed for North Carolina growing conditions, so it's recommended that you give them a try on a small scale to evaluate them for your area.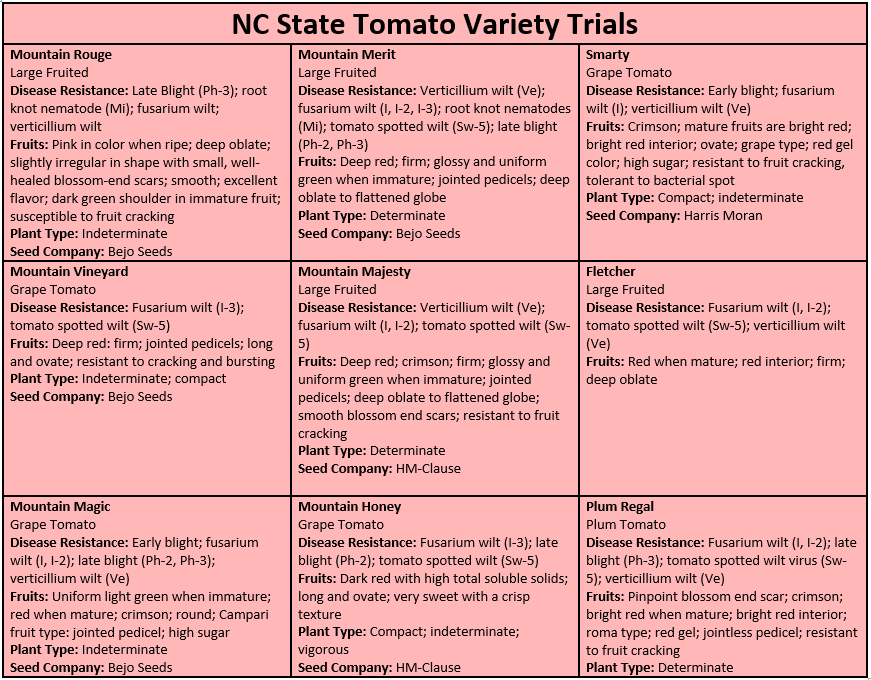 The varieties listed in the table above are available in the market.  For a sneak peak of what's in store for the future, check out this poster developed by Dr. Panthee:  NC State Tomato Variety Replicated Trials 2018.  More details on NC State's tomato research can be found at the Mountain Horticultural Crops Research and Extension Center website.  Thanks to NC State for an excellent field day!
Latest posts by Matt Lollar
(see all)