As winter settles in, many ranchers are utilizing hay and/or supplemental feeds to provide nutrition for their cow herd. Although many areas of Florida produce hay throughout the summer, quality and volume varies with each cutting. When areas receive excessive rainfall that prevent nutrient application and harvest, fewer cuttings and lower quality of hay occur. As winter continues to linger, many ranchers are looking for alternative feed resources to meet the nutritional needs of their herd.
In 2017, a pilot project was conducted by the University of Florida/IFAS Extension in the Tri County Agricultural Area (TCAA: St. Johns, Putnam and Flagler Counties) to evaluate ensiling low-quality bahiagrass hay and spring harvested cull potatoes to develop a feed resource that could possibly be used to meet the nutritional requirements of cattle during the winter months. Potatoes are harvested in this region from late April to early June, with large amounts of cull potatoes being discarded. Cull potatoes, like many other culled vegetables, are typically fed to cattle at harvest; unfortunately, potato harvest for this region does not occur in the winter months when other feed resources are not available. The first year's data indicated that this project should be upscaled to see if real-world application was possible.
On May 17, 2018, a second project began in which twenty-three thousand pounds of silage was prepared using a mixture of 70% potato and 30% bahiagrass hay (Figure 1).  Low-quality bahiagrass hay, an undesirable winter feedstuff, was used to determine if when ensiled with cull potatoes, a nutritional, palatable, value-added product could be developed. Hay and potato samples were tested independently of each other to determine the nutritional value of each feedstuff used at ensiling. The bahiagrass hay was 6.5% CP and 49% TDN and cull potatoes tested 11.5% CP and 82% TDN prior to ensiling (Table 1).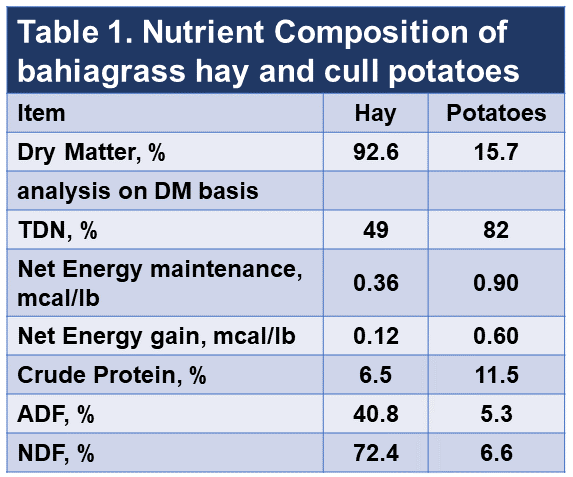 Silage samples were taken on September 14 (120-days after ensiling) and tested for nutrient composition and mycotoxins. Some mycotoxins were detected, but were well below acceptable thresholds. The finished silage feed tested 7.3% CP and 57% TDN. Compared to hay alone, the silage resulted in an increase of 2.05% in CP and an 4.75% increase in TDN (Table 2).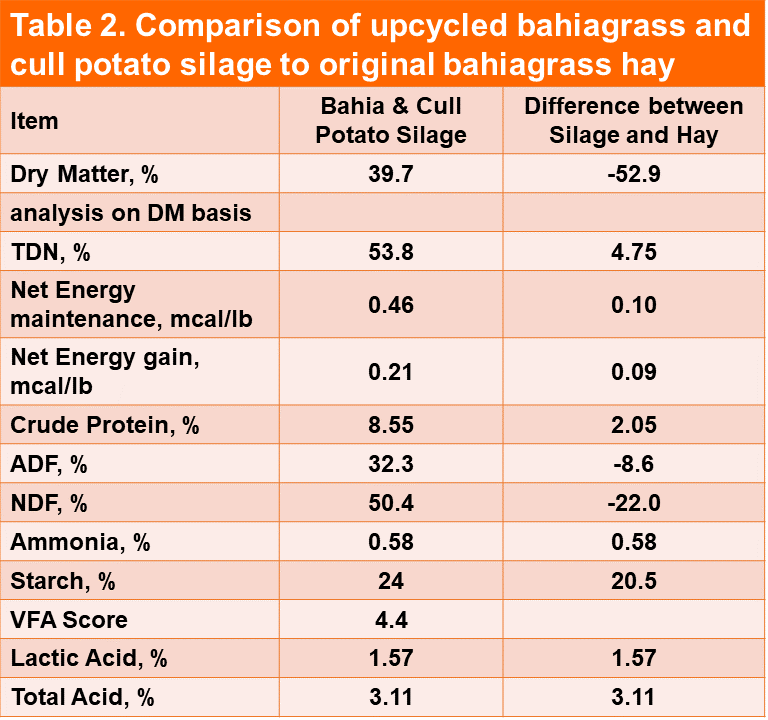 Although this silage does not meet all the nutritional needs for cattle during the winter months, it does provide an improvement compared to bahiagrass hay alone. Because of the nutritional increases, plans are being developed to feed this silage along with additional protein to cattle during the winter of 2018 – 2019. Cattle will be weighed before being fed, and at the end of the project to determine weight gains. An economic assessment will be summarized to determine the feasibility of this management practice. If successful, this feedstuff could be an alternative option for commercial potato and beef producers, by adding value to a product that otherwise would be discarded. Research funding for this project was provided by Hastings Agricultural Extension Center, supported by a grant from the St. Johns County Board of County Commissioners. Additional in-kind contributions were made by collaborating partners, (Chance Clay, Teddy Siehler and Acme Barricades) that included concrete barricades, land use, hay, equipment use and labor.
Contributors to this project and article:Tim Wilson, UF/IFAS Extension St. Johns County – Production Agriculture Agent, Gary England, UF/IFAS Extension Hastings Agricultural Extension Center – Director, David Baggett, UF/IFAS Extension Hastings Agricultural Extension Center, Wendy Mussoline UF/IFAS Extension Flagler and Putnam Counties – Agriculture Agent, T. Hines, UF/IFAS Extension St. Johns County – Intern, G. Laibl, UF/IFAS Extension Flagler and Putnam Counties – Intern.
Latest posts by Matt Hersom
(see all)