The 2018-19 Florida Bull Test Sale was successfully completed on January 19, 2019 at the University of Florida, North Florida Research and Education Center. This year marked the 19th edition of this valuable extension program, with an excellent turnout and a very dynamic sale of 59 bulls from 4 different breeds. This year's test was marked by the arrival of Hurricane Michael exactly half way through the test. Despite the impact of this massive storm on NFREC facilities and the community, the bulls' performance and health was unaffected. The sale grossed $153,650 with an average of $2,604 per lot.  Angus bulls averaged $2,619 on 29 lots, while SimAngus bulls averaged $2,659 on 22 lots. Simmental bulls averaged $2,371 on 7 lots.  The only Simbrah bull in the sale sold for $2,600.  The high-selling bull was lot 60 (Angus), LHH Blacksmith 4010 Z02 E30, selling for $6,700, and was consigned by Hubert Hightower, from Monticello, Florida.
Overall Performance and Bull Test Winners
Results of the 2018-19 Florida Bull Test showed an overall average daily gain (ADG) of 3.35 lb/day, with a feed intake (DMI) of 23.46 lbs of DM/day. Feed-to-gain ratio averaged 7.39. It was measured on the first 56 days of the test while the bulls were in the Feed Efficiency Facility. Table 1 shows a summary of the top performing bulls from each breed. The overall top indexing bull was CUR RESOURCE E632 (SimAngus), consigned by Phillip Currid.  The index used to rank bulls is calculated as the sum of average daily gain (ADG) and weight per day of age (WDA).  The Top Feed Efficiency Bull, based on the lowest value of residual feed intake (RFI), was the Simmental bull E921, consigned by the Sara G Ranch.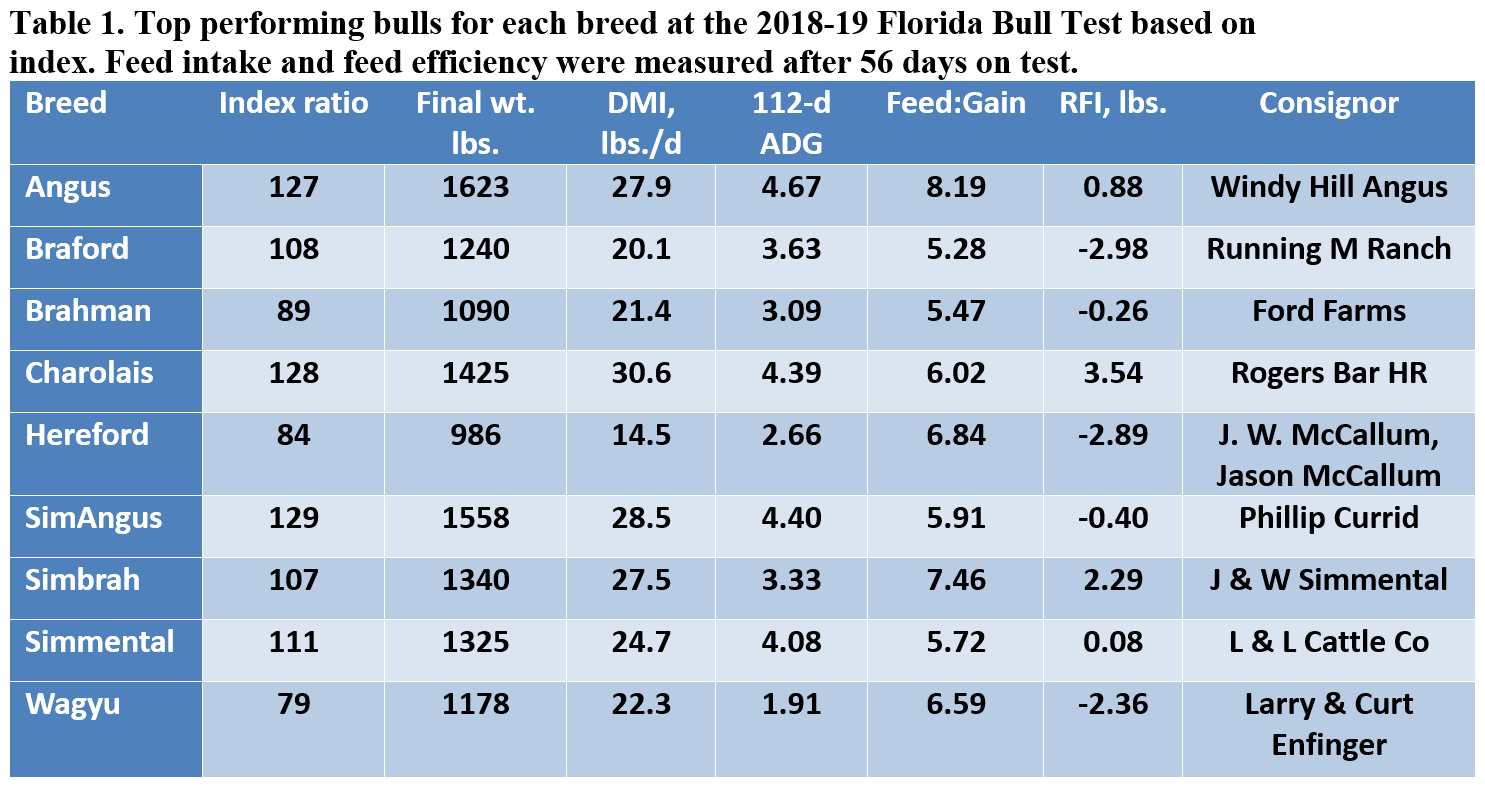 –
Test Rules and Additional Information
To qualify for the 2018-19 Test, bulls had to be born between August 15 and December 31 of 2017. For the complete set of rules, to enroll bulls in the 2019-20 Florida Bull Test, to access the full results of the 2018-19 test, and view videos of each bull that participated in the sale, use the following link: http://nfrec.ifas.ufl.edu/florida-bull-test .
Nominations are currently being accepted for the 2019-20 Florida Bull Test. If you would like to nominate bulls, please submit the Florida Bull Test Nomination Form by June 15. Rules and entry forms, and the 2019 schedule are available on the Florida Bull Test web page, or by calling 850-526-1611 for additional information.
Latest posts by ndilorenzo
(see all)