Sorghum and corn silage are not new to the Florida Panhandle – several producers have been using these conserved forages for a long time. There are some technologies emerging, particularly in sorghum, which could be real "game-changers" for the crop in the Florida Panhandle.
Breeding efforts in sorghum have led to the development of brown mid-rib (BMR) hybrids. The fibrous fraction of the forage in these hybrids is more digestible than in hybrids without the BMR trait.  Corn hybrids used for silage have been taking advantage of this technology for years.
While the nutritional quality of sorghum silage has improved over the years, it is still behind that of corn. However, an advantage of sorghum resides in its drought tolerance, which is far superior to that of corn.  Compared to corn, sorghum can provide more reliable forage production under the drought conditions. Drought conditions during the growing season seem to be more prevalent every year; for example, in May of 2019 the total rainfall in Marianna, FL was only 0.44 in. This "May drought" seems to be a common condition when looking at year to year data.
Even considering drought tolerance and improved digestibility, sorghum in Florida is not without its challenges – sugarcane aphids, army worms and warm season weeds, are all potential issues producers will have to deal with. However, with proper scouting, and the use of new technology including hybrids with tolerance to sugarcane aphids, a sorghum crop in Florida chopped for silage can yield on average 13 to 20 tons of green-chopped forage per acre, or 4.4 to 6.8 tons of silage DM/acre. Even with the cost of herbicide and insecticides included, these yields can provide a cost-effective forage for beef cattle operations.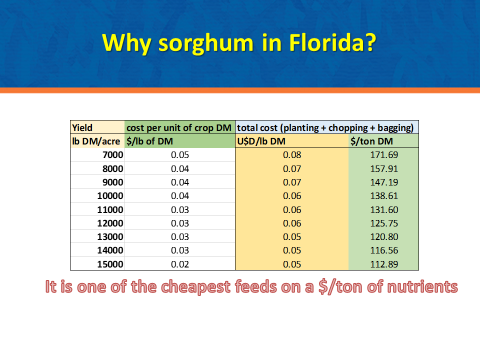 In addition to the crop technologies, recent advances in the processing of the crop when chopped for silage have led to a potential increase in the availability of starch from the sorghum kernels. These new silage processing technologies, when applied correctly, can increase the energy of the crop harvested per ton of green chopped forage, making it more competitive with corn.
The University of Florida, NFREC has begun research on the potential of the newer sorghum materials to provide a high-quality and cost-effective winter feed for beef cattle operations. More information on yield and feeding quality will be provided later in the year. If you have questions about sorghum silage, want to stop by to discuss this crop potential, or take a tour through our sorghum fields, feel free to contact Nicolas DiLorenzo at 850-526-1615 or ndilorenzo@ufl.edu.
Latest posts by ndilorenzo
(see all)