–
On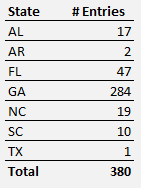 Tuesday, October 15 the category and overall winner of the 2019 Southeast Hay Contest were recognized at the Sunblelt Ag Expo, in Moultrie, Georgia.  There were 380 forage samples entered in the 2019 Hay Contest from farmers in seven states .  Georgia farmers submitted 284 entries, but 47 entries came from Florida farmers.  Entries were ranked by Relative Forage Quality, or RFQ score which is a single index that incorporates estimated intake, protein (CP), energy (TDN), and fiber digestibility.
Four Florida Farms and a County Agent were recognized at the Southeast Hay Contest awards ceremony.
1 – Bill Conrad, Malone won the Perennial Peanut Hay Category with his hay that had an RFQ score of 216, CP 15.7%, and 69% TDN.  Bill was also third in the alfalfa category with an entry with a 231 RFQ, 21.2% CP, and 71.4% TDN.
2 – Williams Farm, Graceville was recognized for the 3rd place Perennial Peanut entry with a 176 RFQ, 15.1% CP, and 67% TDN.
3 – Charles Snell, Graceville was recognized for his 3rd place mixed grass hay entry with a 155 RFQ, 7.1% CP, and 68% TDN.
4 – George Fisher, Chipley was recognized for his 2nd place legume baleage entry with a 139 RFQ, 17.3% CP, and 62.3% TDN.
5 – Mark Mauldin, UF/IFAS Washington County Agent was recognized as the agent from Florida that sent in the most entries from a single counties into the Southeast Hay Contest from Florida.  Mark collected 18 samples from farms in his county for this years contest.
2019 SE Hay Contest Overall and Category Winners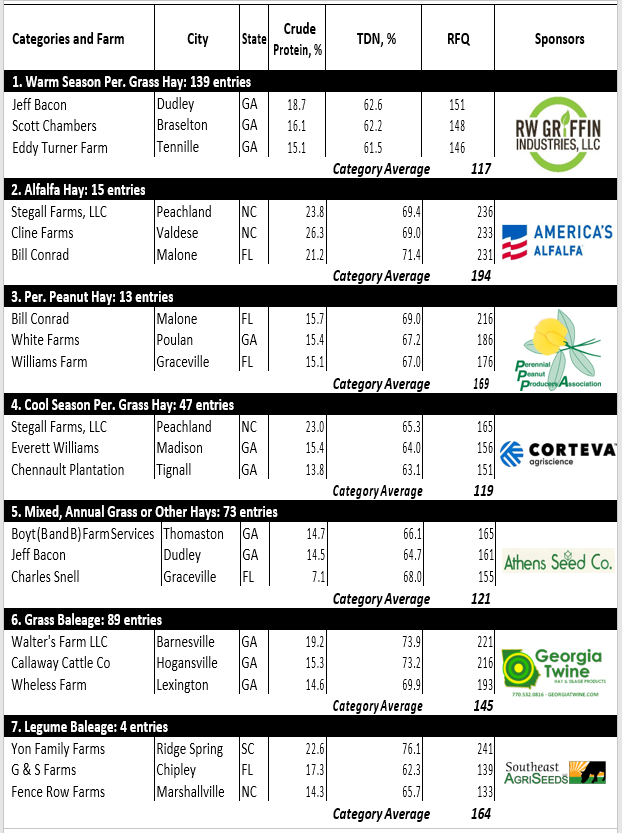 –
Marcello Wallau, UF/IFAS Forage Extension Specialist shared the following information about the 2019 Southeast Hay Contest:
The 2019 Southeastern Hay Contest (SEHC) presented by Massey Ferguson celebrated its 15th year with a record of 380 entries vying for the top spot. Since 2004, the SEHC, a partnership between Auburn University, Clemson University, The University of Florida and The University of Georgia has been a key tool for promoting hay quality in the Southeast United States. Producers from 7 states – Georgia, Florida, North Carolina, Alabama, South Carolina, Arkansas and Texas – competed in seven categories of hay and baleage: warm season perennial grass hay (bermudagrass, bahiagrass), alfalfa hay, perennial peanut hay, perennial cool season grass (tall fescue, orchardgrass, etc.) hay, mixed and annual grass hay, grass baleage, and legume baleage. In each of the categories, the highest three entries in terms of relative forage quality (RFQ) received cash prizes, proudly sponsored by our industry partners. First place received $150, second received $100, and the third place entry received $75. The best of the best also receives a choice of the use of a new Massey Ferguson DM Series disc mower or RK Series rotary rake for the 2020 hay production season plus $1000 in cash!

–

More than a competition, the SEHC is a tool to gauge the progress of hay farmers, who learn and improve their operation from each sample submitted. Although winning entries always have impressively high RFQ, the important point is that category averages are also high. According to Bill Conrad, who won the perennial peanut category and placed in the top 3 in the alfalfa category, good hay is a combination of proper cutting time and good agronomic practices, especially split fertilization after each cut. He says that it is great having the recognition for the hard work especially from fellow producers, but he would like to see more attention from hay consumers for the value of high-quality hay. When purchasing hay by quality, the buyer knows the nutrient content of that material and can more accurately balance the supplement required. This can result in less cost for the operation and increased efficiency of production, and the capacity of paying a bonus for a product of known quality. More information on how to enter future editions of the SEHC can be found at www.sehaycontest.com.
Latest posts by Doug Mayo
(see all)