–
Celebrating 500 Years of Cattle & Horses in Florida
The Florida Cow Culture Preservation Committee invites Florida cattle producers to once again be a partner in a historic event. Participants will drive 1000 head of Cracker type cattle through historic central Florida cattle country. They will be on the trail for 6 – 7 days and end with a big celebration that will be open to the public.
Each County Cattlemen's Association that provides 20 head of cracker type cattle can send free of charge…
One Cow Hunter for each 20 head supplied
One wagon & driver if County Association Sponsors
Participants are requested to dress as an 1880's Florida Cow Hunter
County should be prepared to deliver and pick up their cattle
All cattle will be vetted for suitability and must receive shipping fever vaccine.
Cattle will be marked with the Drive Brand, F500 or an old Spanish type brand
Drive will provide food for all participants & livestock
Cattle are limited to 1000
Participants are limited to 500 at this time
Committee intends to:
Invite cattlemen from Spain to participate (they started it all)
Get the most press coverage possible for this 500th anniversary celebration
Promote the 2016 Drive Documentary Film & Book to fire up interest
Custom Painted life size Cracker Steer statues to promote industry, ranches & businesses that live the lifestyle. Will be sold at auction like cattle.
Host programs across the state during 2021 to promote the industry & Drive

Cowboy Poetry, Music, Story Telling, Cracker Art Shows, Clinics and History Gatherings
Cattle Symposium & Book like the FCA did in 1995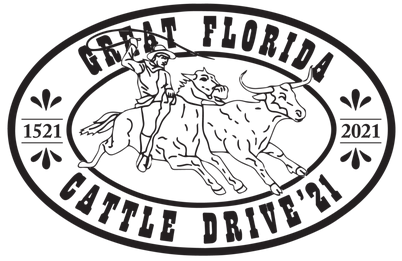 It is time to start getting excited about the historic quincentennial celebration of Florida ranching. If you have any questions, check our website or call Doyle Conner Jr at (850) 410-0956. Please check out the 2021 Drive Facebook page and DVD to get a feel for the absolute delight of the participants of the 2016 Drive. Bring your family on the adventure of a lifetime. This opportunity to promote our industry and heritage does not come around every day, so get fired up and help us make this song a hit.
–
Latest posts by Doug Mayo
(see all)