Over the last several years, many states across the Midwest and South have received extensive calls related to dicamba injury of sensitive crops from drift when it was used in over-the-top applications to fields of tolerant cotton and soybean. In 2018, the EPA called for mandatory training of all applicators using new dicamba products (XtendiMax, Engenia, and FeXapan) possessing over-the-top labels for cotton and soybean. This training requirement carried over into 2019, and despite the continued training some states (such as Illinois) still experienced record high numbers of dicamba related drift complaints.
With 2020 upon us, states are once again holding auxin stewardship trainings which are required for all applicators using the above products in cotton and soybean. This year, a new dicamba product called Tavium from Syngenta will also be available on the market.
Florida is set to host it's annual Dicamba Stewardship Training on February 18th from 9-11 am CST (10-12 EST), with a similar format as the previous years. Participating Extension offices around the state will once again serve as host locations for a live stream of the training taking place in Gainesville. This training is overseen by the Florida Department of Agriculture and Consumer Services (FDACS), who has determined that the CEU form received from completion of this training will serve as the official documentation of attendance (as in previous years). If applicators desire to use the form for CEUs towards renewal of their pesticide license, they are required to keep an additional copy in their possession as proof of completing the dicamba training.
The training will be recorded and made available to host locations after the event. Applicators who are unable to attend in person on the 18th can view the recording later at the Extension office. This must be done in person at the office, with the Extension Agent signing the CEU form as proof of training completion. The training recording will not be made available to the public online.
These products labeled for cotton and soybean are restricted use, and all applicators must have THEIR OWN restricted use pesticide license.
All applicators using these products in 2020 must receive this 2020 training prior to any applications being made.
We recognize that applicators in the Panhandle may live in Florida, Georgia, or Alabama and potentially farm in two or all three states. Applicators can attend a 2020 training in another state, and have it recognized by Florida, if they provide proof of training (copy of certification form) to FDACS, or to a Florida Extension staff to pass along to FDACS.
Most, but not all, host locations will be the county Extension office.  Contact your local agent to confirm the training site location in your county. Participating counties include:
| | | |
| --- | --- | --- |
| Alachua County | Hamilton County | Okaloosa County |
| Calhoun County | Holmes County | Santa Rosa County |
| Columbia County | Jackson County | Walton County |
| Gadsden County | Jefferson County | Washington County |
| | Lafayette County | |
–
For more details, use the flowing link for a printer friendly flyer:  2020 DicambaTraining Flyer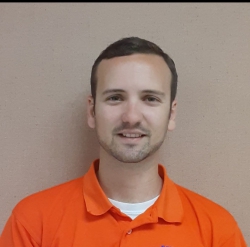 Latest posts by Ethan Carter
(see all)