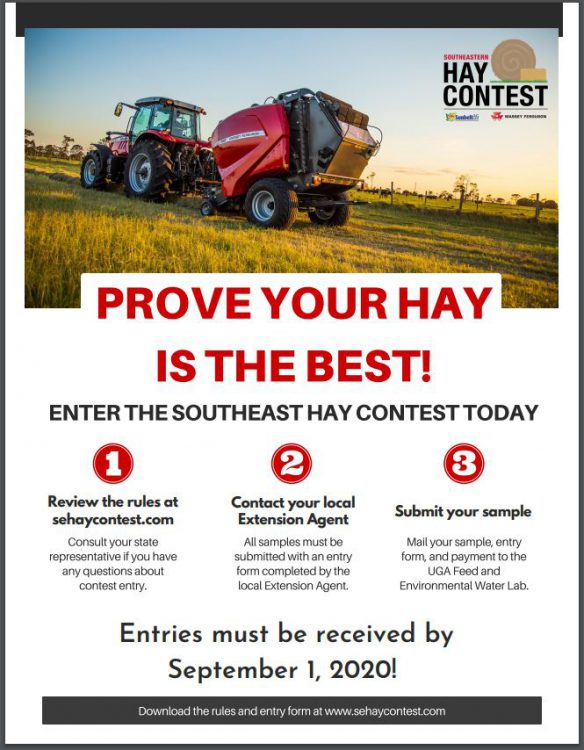 –
It is always recommended that producers sample their hay, and have it analyzed to determine the nutritional value. This enables producers to make the most efficient usage of their various cuttings and be able to better plan and deliver any needed supplementation.
As part of an effort to encourage producers to have their hay analyzed and to recognize those who are producing high quality hay and baleage the Southeastern Hay Contest was created. There are seven categories recognized in the Southeastern Hay Contest:
Warm Season Perennial Grass Hay
Alfalfa Hay
Perennial Peanut Hay
Cool Season Perennial Grass Hay
Mixed Annual Grass or Other Hay
Grass Baleage
Legume Baleage
Hay and/or baleage samples must be collected and submitted in cooperation with your county's UF/IFAS Agricultural Extension Agent. Contact your agent soon about collecting samples, the contest deadline is approaching. To be eligible for the 2020 contest, samples must be received by the FEW Lab (in Athens, GA) by September 1, 2020. Entry in the contest costs $22 per sample; the regular lab fee to have a sample analyzed is $20, so in actuality entering the contests only costs $2 per sample. Complete rules and entry forms are available on the Southeastern Hay Contest webpage. If you have any questions about the contest or producing high quality hay or baleage contact your county's UF/IFAS Agricultural Extension Agent or Dr. Marcello Wallau, UF/IFAS Forage Specialist and Florida's representative on Southeastern Hay Contest board of directors. 
In the past, the overall and category winners have been recognized at the Sunbelt Agricultural Expo. The 2020 Sunbelt Ag Expo has been cancelled but the Southeastern Hay Contest is still happening. The awards ceremony has simply been delayed to a later date.
–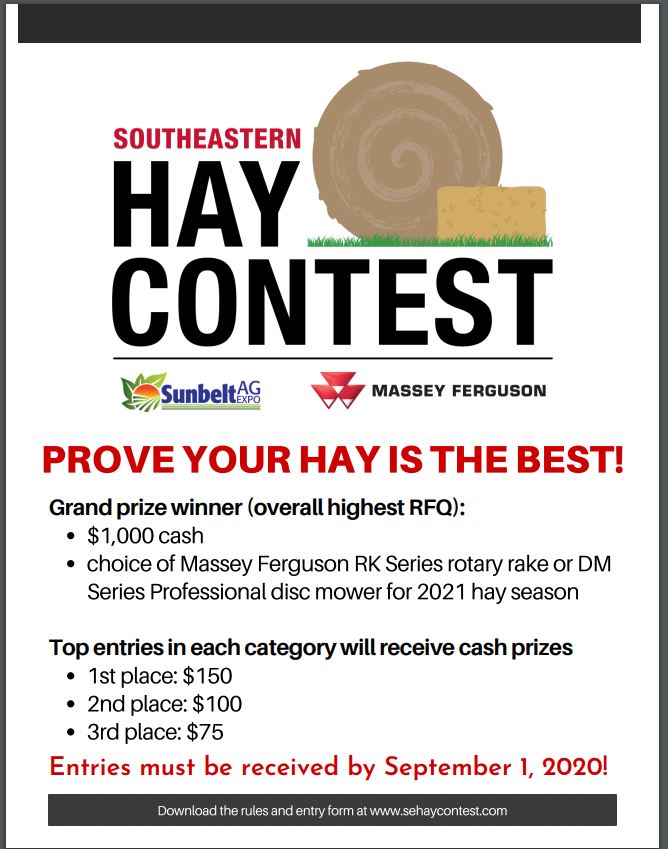 Latest posts by Mark Mauldin
(see all)