Unfortunately, Panhandle farmers have grown accustomed to setbacks during harvest season in recent years. Cotton and peanut harvests this fall have been disappointing again, with 2020 being the third straight year of pest and weather-related issues just prior to harvest. This year, Hurricane Sally dispersed large amounts of rain all over the Panhandle, including Jackson County, adding heavy rainfall to an already wetter than usual September. Standing water and excessive rainfall impacted peanut disease programs, created harvest delays, and damaged lint quality of cotton.
Fortunately, corn was one crop that was largely harvested before Sally's rains reached the Panhandle. As a matter of fact, 2020 was a great year for corn in the area due to timely rains earlier in the growing season, when water was needed most. Ag Extension Agents work with local farmers to offer annual corn yield checks. These checks gauge performance of different varieties on-farm, and also let the grower know how individual fields and varieties performed each year.
–
This year, 19 yield checks were provided for farmers in Jackson County. To keep yield checks fair and standardized, they all followed the rules for the National Corn Growers Association (NCGA) Yield Contest Rules (although most growers did not participate in that NCGA contest). A minimum of 1.25 acres was harvested for each check and after a set of rows were combined, three times that number were skipped before another set was combined). Weights and moisture were obtained using certified scales and moisture readers at local buying points.
–
Table 1 provides information collected from all 19 checks and is grouped by variety.  All of the checks were done in irrigated corn except for one. Our highest irrigated check in 2020 set a record at 289.91 bu/ac, as did our only dryland check at 104.49 bu/ac. In the past, dryland growers have been reluctant to participate in yield checks since dryland corn yields are so dependent on rain that often doesn't come at the right times. Luckily, this year had adequate moisture and one dryland grower was interested in performing a check.
Table 1:  2020 Jackson County Corn Yield Evaluation Summary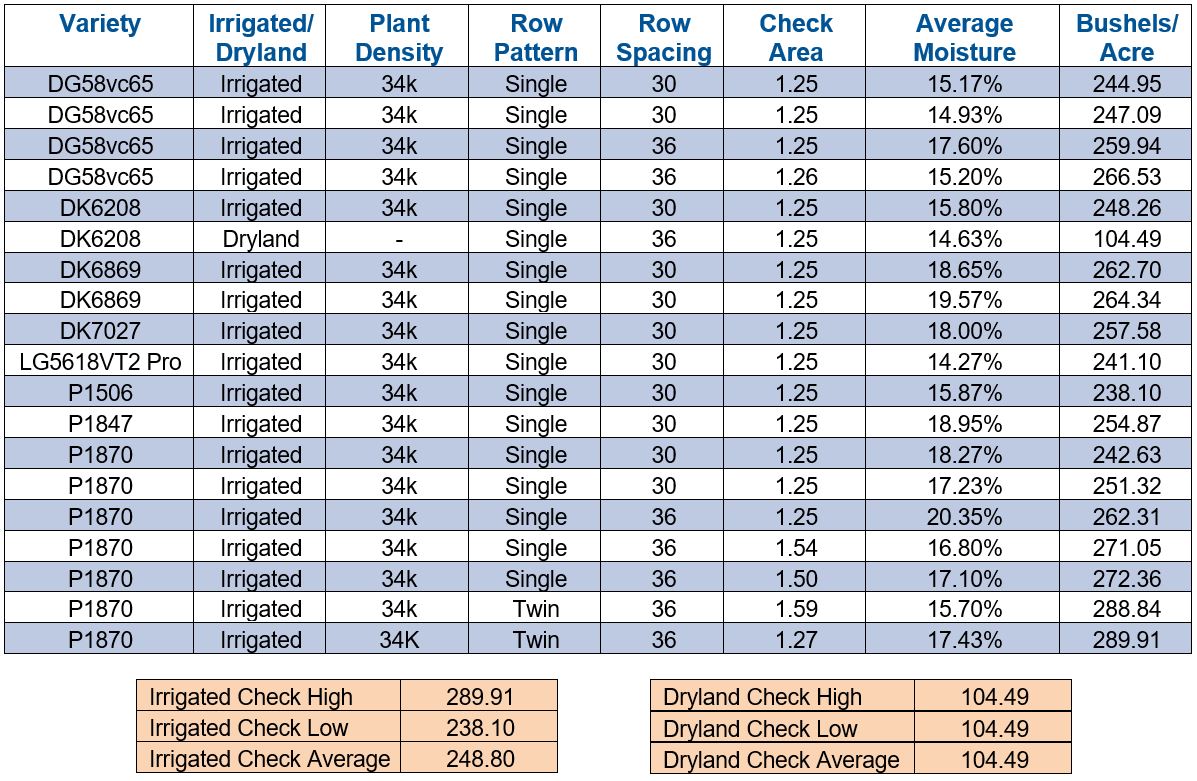 –
If you think you may be interested in having a yield check done on your farm next year, please reach out to your local extension office to request this service in advance of corn harvest. Most corn checks in the Panhandle occur during the first 2 weeks of August, so advanced scheduling is important .
Latest posts by Ethan Carter
(see all)