Dr. Pete Vergot, Northwest District Director &

Doug Mayo

, Jackson County Extension Director
On Friday, November 6, 2020, Shepherd "Shep" Eubanks lost his battle with cancer at the age of 58.  He spent 32 years working for UF/IFAS Extension in Columbia, Holmes, and Gadsden Counties.  Shep was a County Agent that made a real impact on the lives of farmers and extension faculty all across North Florida.  This article provides a tribute to the legacy of a man that worked every day to help people be better stewards of their land and resources.  More importantly, he was a friend you could rely on.
In 1982 Shepard "Shep" Eubanks began working for the University of Florida as a student in Animal Science where he completed his bachelor's degree in Animal Science in 1985, then a master's degree in Animal Science at the University of Florida in 1988. After graduation he started his first position with the University of Florida IFAS Extension as the Livestock Extension Agent I for Columbia County. During this time, Shep cultivated his knowledge and experience working with farmers and ranchers and introduced his knowledge and love for natural resources and the outdoors.
In 1993 Shep was promoted to Extension Agent II and moved to an open position in Holmes County Florida as the County Extension Director and Agricultural and Natural Resources Agent where he continued to develop his skills of consulting with farmers, ranchers, and homeowners and a new audience of local county officials. As the County Extension Director, Shep was instrumental in moving from a small three-room office in the Holmes County courthouse to a recently renovated Agricultural Center and Extension Office in Bonifay, Florida. In 1997, Shep was promoted to Extension Agent III and in 2003 he was promoted to Extension's highest rank of Extension Agent IV.  During his time in Holmes County he managed a staff and worked closely with the county administration.  One of the things he was most proud of was the opportunity to work with landowners, specialists, and the Florida Fish and Wildlife Commission to restore the wild turkey population in Holmes County.  This would not have happened without Shep's leadership and persistence.
In 2015, Shep took the opportunity to move "back home" to Gadsden County, with his wonderful wife Genea and their two grown sons, John and Justin, to become the University of Florida IFAS County Extension Director and Agriculture and Natural Resources Extension Agent for Gadsden County. Shep worked with farmers, ranchers, large landowners, and homeowners, assisting them in all areas of agriculture and natural resources providing educational programming leadership and individual consultations to all Gadsden County residents. As the County Extension Director, Shep provided leadership for other Extension Agents and support staff. Shep worked with the former County Extension Director, Dr. Henry Grant, along with the Gadsden County Commissioners and administrators, to continue to secure funding to build a new Gadsden County Agricultural Center and convert the older building into the Inman Livestock Pavilion.  While he was not able to enjoy the fruits of his labor due to his extended illness, Shep took great pride in the new facility built to serve as the new home of the Gadsden County Extension staff in Quincy.
–
A Day in the Life of Shep Eubanks
Shep blew me away the first day I met him. He had been appointed as the sole county faculty member to serve on my mentoring committee. Shep embraced this responsibility immediately, allocating a whole day to introduce me to the responsibilities expected of him as a county agent. We began that day with a driving tour of Holmes County, where he served as CED at the time. The planned tour quickly deviated into a series of stops as clientele called to request advice and assistance. The only part of the day that went as originally planned was the delightful lunch we shared with his family. The rest of the day was spent traversing the county to respond to unplanned inquiries. My mind was blown by the depth and breadth of Shep's knowledge as he was peppered with one question after another at each stop. He was able to diagnose problems, recommend treatments, and explain why alternative options were unwise. No question stumped him, regardless of the topic. That day we spent together 13 years ago instilled in me a sense of awe of Shep's knowledge, and a deep sense of respect for the degree of trust folks placed in his hands.   Holley Ober, UF/IFAS NFREC Wildlife Specialist
–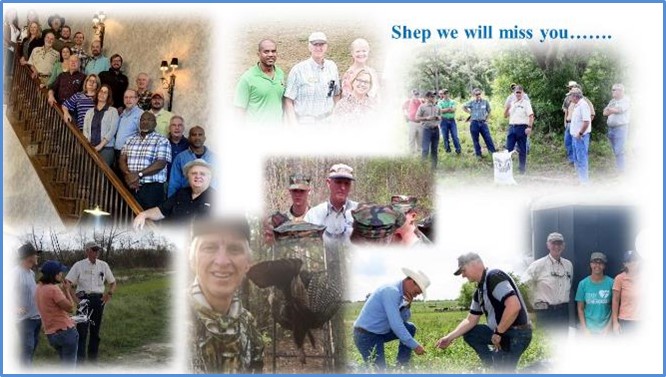 Shepard "Shep" Eubanks will always be remembered as a humble, kind and thoughtful person, willing to help and assist everyone he met. He meant a lot to UF/IFAS Extension.  Shep was a mentor to many County Agents and State Specialists across Florida.  Not only was he ever dedicated to serving the citizens of the counties where he served, but he always carved out time to help his colleagues.  Shep was always willing to take time to listen and give wise counsel.  He was the same every day, as he cared about people and wanted the best for everyone.  He mentored numerous people over his career, so his legacy will live on in us.  Shep took the opportunities he was given and made a difference in the lives of people all across Florida.  We will all miss him, but we can cherish the memories of the time we spent with Shep Eubanks.
–
Latest posts by Doug Mayo
(see all)