–
Marcelo Wallau

, UF/IFAS Forage Extension Specialist
On Jan 5th, 2021, during the American Forage and Grassland Council annual conference in Savannah, GA, the winners of the 2020 Southeastern Hay Contest (SEHC) were recognized. Traditionally, the winners of the contest are announced during a ceremony at the Sunbelt Ag Expo. Unfortunately, the expo, which should have been held last October, was canceled due to COVID19. A video of the event in Savannah and much more content relating to the SEHC is available through our team's Facebook page.
–
Can we produce quality hay in Florida? Yes we can!
There are seven categories in the SEHC (Warm Season Perennial Grass Hay, Alfalfa Hay, Perennial Peanut Hay, Cool Season Perennial Grass Hay, Mixed/Annual/Other Grass Hay, Grass Baleage, and Legume Baleage). The 16th edition of the SEHC featured five Florida producers placing in the top 3 in one of the categories. Bill Conrad, of Bascom, submitted the second-best overall hay sample in the entire contest and placed first in the perennial peanut hay category. Bill's sample was second only to Brian Johnson's (McKenney, VA) Grand Prize winning alfalfa hay. Along with Bill, McGehee Farms, High Springs, and Williams Farms, from Graceville placed second and third, respectively, in the perennial peanut hay category. The Perennial Peanut hay category is sponsored by the Perennial Peanut Producers Association. Sewell Farms, Chipley, and Rob Woods, Vernon, placed second and third place in the legume baleage category, sponsored by Southeast AgriSeed. Florida forage producers submitted samples in five of the seven categories. The table below shows the top three entries from Florida in each category. Video interviews with some of Florida's winners are include at the bottom of this article.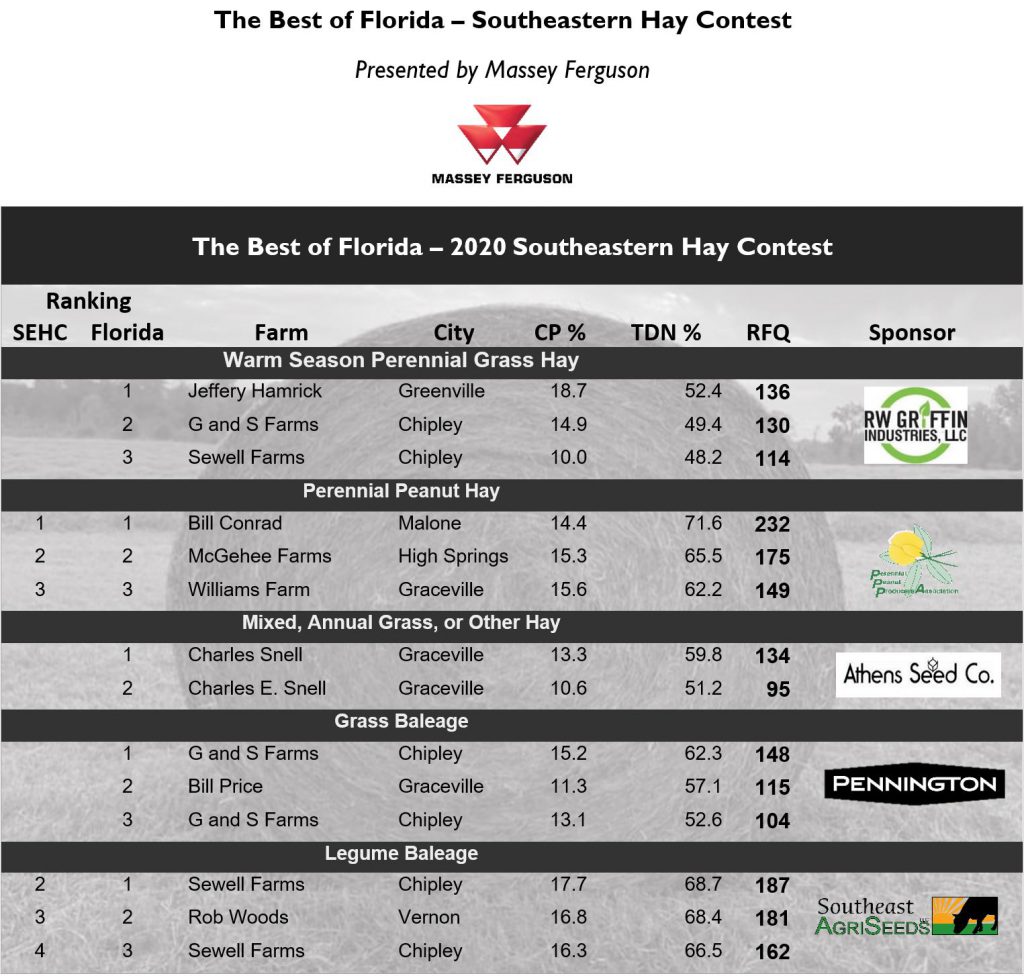 –
Overall Winners of the 2020 Southeastern Hay Contest
The SE Hay Contest is presented by Massey Ferguson and is a partnership between Sunbelt Ag Expo and Cooperative Extension in 13 states throughout the Southeast. The top three entries in each category receive a plaque and cash prize. The grand prize winner, the overall highest quality sample from any category, receives $1,000 and the use of a new Massey Ferguson DM Series disc mower or RK Series rotary rake for the 2021 hay production season. This year's contest featured 370 forage entries from 9 states, including 37 samples from Florida. All SEHC hay and baleage samples were collected by extension agents and submitted to the University of Georgia's Feed and Environmental Water Lab for analysis. After analysis, the samples were ranked based on relative forage quality (RFQ). RFQ is an index that includes nutritive value and estimated dry matter intake of the feed. The table below shows the top three placings in each category, along with the RFQ values, and some other key nutritional information for the samples.
This year's contest results show that we can, indeed produce high quality conserved forages in Florida. Again, congratulations and thank you to all of our 2020 winners and participants. UF/IFAS Extension and everyone associated with the SEHC are looking forward to more high quality samples from Florida in 2021.  If you would like to see how your hay or baleage stacks-up, enter the 2021 SEHC. Entries can be submitted year-round, just contact your local extension office and ask about submitting forage samples. More information on the contest, winners, and entry forms can be found at www.sehaycontest.com.
–
Interviews with some of Florida's 2020 SEHC winners: 
–
Bill Conrad, Bascom, FL, who won 1st place in the Perennial Peanut category, shares how he produces top quality hay.
–
William McGehee, from High Springs, FL, placed 2nd in the Perennial Peanut category, and was a first-time participant.
Rodney Sewell, Chipley FL, won 2nd place in the legume baleage category, and shares of the importance of high-quality hay for his seedstock operation.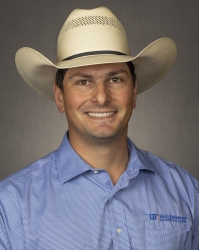 Latest posts by Marcelo Wallau
(see all)