Mark Mauldin

,

Ag & Natural Resources Agent Washington County, Dr. Barry Tillman Peanut Breeder UF/IFAS NFREC, and Camila Ichazo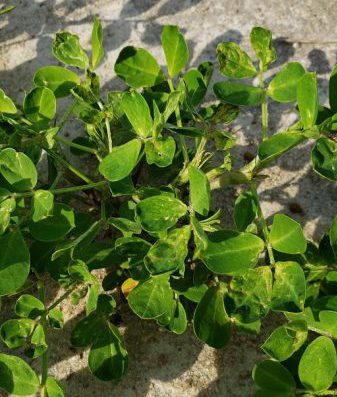 Peanut planting is well underway across the entire peanut producing region of Florida. Some of the earliest planted peanuts have been in the ground for 60+ days, but there are still many acres to be planted, especially in the Panhandle, where before this week many fields were too wet to plant.
–
A few points to consider at this point of the peanut season:
In general, reports of poor stands due to lower than average germination and seedling vigor have been down considerably as compared to last year. However, every year, for a variety of reasons, some growers are faced with making hard decisions about replanting. The super short version – if the area in question averages 2.5 plants per foot of row (single row) to 3 plants per foot of row (twin rows) replanting is probably not the most economically prudent decision. For a much more comprehensive discussion on replanting decisions see Stand Issues – Should You Replant Your Peanut Field , by Dr. Mike Mulvaney (UF/IFAS) and Dr. Scott Tubbs (UGA).


–

Young peanut plants are likely facing considerable thrips pressure. Monitor them closely to ensure that in-furrow insecticide treatments are providing adequate protection. If an in-furrow treatment was not used, an application of acephate will likely be necessary. See Thrips Season 2021 by Dr. Mark Abney (UGA) for more information.


–

Over the next week, high temperatures will bring a greater urgency for early-season disease control of Aspergillus crown rot and white mold.


–

Aspergillus crown rot  is more of a threat during early-season periods of hot and dry weather.  It occurs more commonly in non-irrigated fields where irrigation cannot be used to cool the soil; irrigation will not spread this disease. It also occurs more commonly where poor seed quality is an issue. Use a good fungicide seed treatment at planting (preferably Rancona over Dynasty PD specifically for Aspergillus crown rot), fungicides with fluopyram (Velum & Propulse) also have good activity against crown rot (better than azoxystrobin). Prevention is essential, once present there are no treatment options.


–

White mold can be identified by white, thread-like fungal growths along the developing limbs of the peanut plant and subsequent wilt and death.  Early-season threat from white mold can be more problematic in conservation tillage than in conventional tillage as the sclerotia that initiate infection are more likely to be in the upper few inches of the soil surface.  Growers with short peanut rotations (every year or every other year) are at risk to early-season outbreaks. For high-risk fields, Proline fungicide in a concentrated band (6 inches for single rows and 10 inches for twin rows) 3-5 weeks after emergence can provide good activity. Using it in-furrow at planting may have some benefit, though limited, in the management of early-season white mold. It is important to use a fungicide effective against white mold between 30 and 45 days in a spray program instead of chlorothalonil only (which has no activity on white mold). For example, Priaxor and Lucento have both shown activity on white mold when applied during that spray timing for leaf spot.
Comments courtesy of Dr. Bob Kemerait (UGA) and Ethan Carter (UF/IFAS)
–
aGDD Tracker for the Florida Peanut Producing Region – 5/20/21 edition 
–
Use the Tracker to approximate how your fields are progressing by following the fields on the Tracker that are the most similar to yours in terms of planting date, location and irrigation status. For more precise tracking of your fields got to PeanutFARM.org and set up your fields in the system. You will be able to enter field specific rainfall/irrigation data and soil type. Temperature data will come from the closest FAWN weather station.
–
More Resources on the significance of aGDDs and Peanut Maturity:
Latest posts by Mark Mauldin
(see all)