UF/IFAS Extension Suwannee Valley Weekly Watermelon Crop Update. These updates are summarized by Bob Hochmuth with input from Suwannee Valley Extension Agents: Mark Warren, Tyler Pittman, Tatiana Sanchez, Luke Harlow, Jay Capasso, Sylvia Wills, Dan Fenneman, Keith Wynn, Danielle Sprague, Kevin Athearn, and Charles Barrett.
–
Heat and Drought Stress
The main thing we are seeing all over the region is heat/drought stress (See photos below). The older leaves turn yellow with no disease lesions, and eventually those affected leaves become completely dry. My observation has been those fields with light vegetation cover over the plastic mulch are most affected. Without full vegetative cover over the plastic last week, the soil temperatures in the bed have been extremely high adding to the stress of the plants. These fields may initially look like a disease issue, but the leaves are generally clean of pathogens but dry or burned appearing. I know pivots have been used to supplement irrigation, which I normally am not a big fan due to increased disease pressure. But, in these conditions, it may be necessary if there is no other option. Let's hope we get some relief with rain later this week. Several fields with good cover are being maintained well with drip irrigation only, but require multiple events in a 24-hour period. There certainly is no leaching going on at this time of the season (Hochmuth).
–
Disease & Insect Update
There have been no major changes in diseases over the past two weeks. Several of us who see a lot of fields each week are in agreement, we are just not seeing much movement of downy mildew. I am sure good fungicide programs have really helped, but we feel like there are situations where growers may be able to reduce intensity of downy mildew sprays IF, the past 2-3 weeks have included Orondis Ultra or Ranman AND if the field looks clean from downy mildew symptoms. Powdery mildew and gummy stem blight are also around, but good fungicide programs have helped manage these diseases. If any disease has increased this past week, it is powdery mildew, so do not eliminate your powdery materials if you still have a few weeks to keep picking. As noted last week, as you get to 10-14 days from final harvest, and if the field is relatively clean from disease, you should choose fungicide options wisely and consider eliminating sprays that final week if things look clean. Please feel free to contact us with questions, as the needs are highly varied from farm to farm, so I hesitate to make blanket recommendations.
Rindworms are definitely still active, so stay on a good preventative program up to that last week. Last week we also noted concerns of "yellowing foliage," and we often summarize the symptom with heat stress and perhaps temporary water stress. In those cases, the yellow leaves are the older leaves and are "just yellow", not caused by diseases. One common factor we see with these symptoms is that much of the symptoms in the field are where you can see the black plastic (not much vine cover). I see a correlation with the yellowing and poor vine cover resulting in the soil temperatures being higher than in other fields with good vine cover. It is also more prevalent on the outside rows (rows next to drive roads), if vines have been turned back too completely leaving the black plastic more exposed (Hochmuth).
–
New Watermelon Field Guide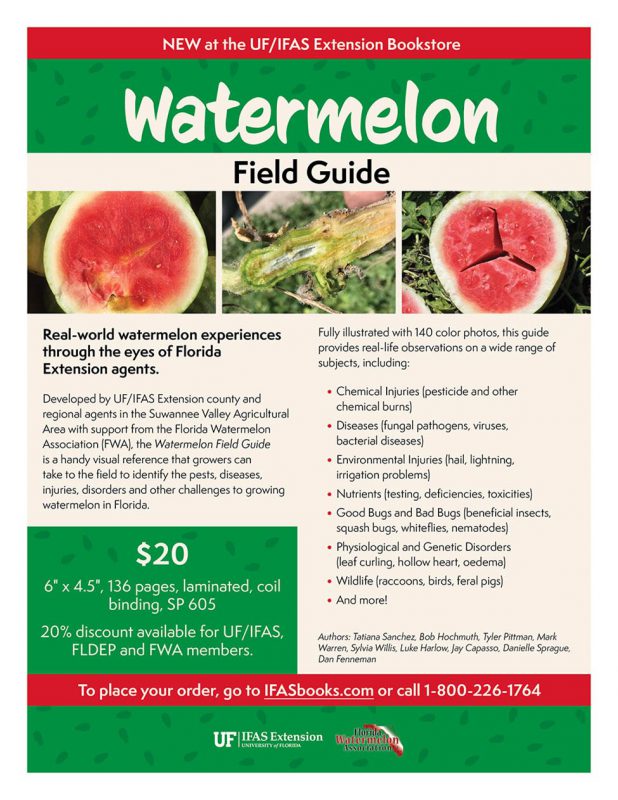 Many of you have seen the new Field Guide developed by UF/IFAS County Extension Agents in the Suwannee Valley and we hope you find it useful and of high quality. This guide is the collective work of the agents in this region. It is full of 140 photographs, almost all taken by the agents in the Suwannee Valley region, and in fact, you will likely see photos from your farms. Each photo has a short summary of important points related to that photo. We are all very proud to get this "for sale" publication available through the UF/IFAS Extension Bookstore (see flyer above). We would not have been able to complete the printing without the sponsorship provided by the Florida Watermelon Association. We say THANK YOU to FWA for their support and collaboration on this unique field guide; the only one like it in the country! If you have any questions regarding the guide, contact your local Extension Agent.