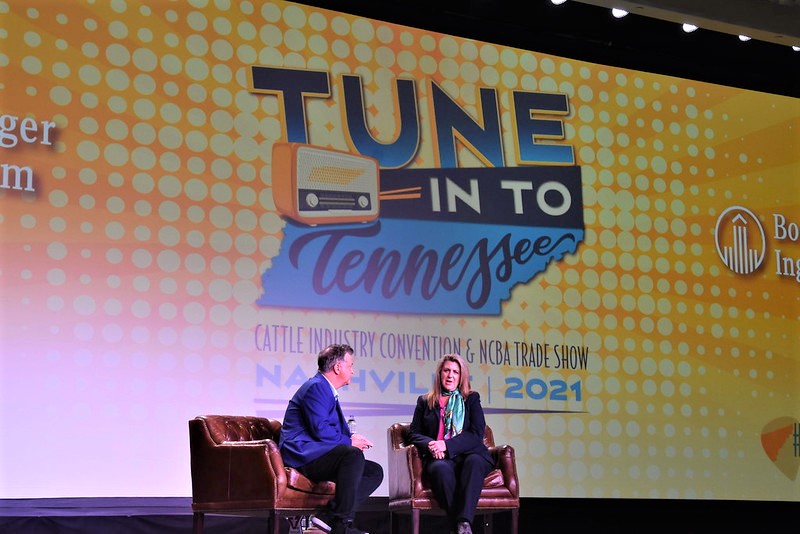 Last week I had the privilege to attend the 2021 National Cattlemen's Beef Association (NCBA) Convention & Trade Show in Nashville, Tennessee. Initially scheduled for January, this year's convention was the premier showcase of all things related to the beef cattle industry. Leaders from all areas of the beef livestock industry shared up-to-date information pertaining to cattle markets, domestic and international trade, innovative technologies, and animal handling techniques. Nearly 6500 cattle producers, educators, and allied industry partners gathered to take part in the event.
The NCBA Trade Show is the centerpiece of the convention, hosting more than 350 vendors from across multiple areas of livestock animal agriculture. Companies such as Boehringer Ingelheim, Zoetis, Priefert, John Deere, and others showcased new and innovative tools and technology they are bringing to the industry this year. Live cattle demonstrations by Dr. Ron Gill of Texas A&M and Curt Pate showed low stress cattle handling in various situations when backgrounding cattle. Many cattle equipment companies squared off in the "Chutes and Scales Showdown" to demonstrate how their equipment can make processing cattle easier and more efficient. Overall, one area that was highlighted was new technology to track and monitor cattle's performance. One company is using drones to keep tabs on cattle numbers in feedlots with new analytical software that uses picture and videos from drone flights. Globalstar with GSE, a satellite and GPS company, has developed solar powered ear tags to help track movement of cattle over grazing lands.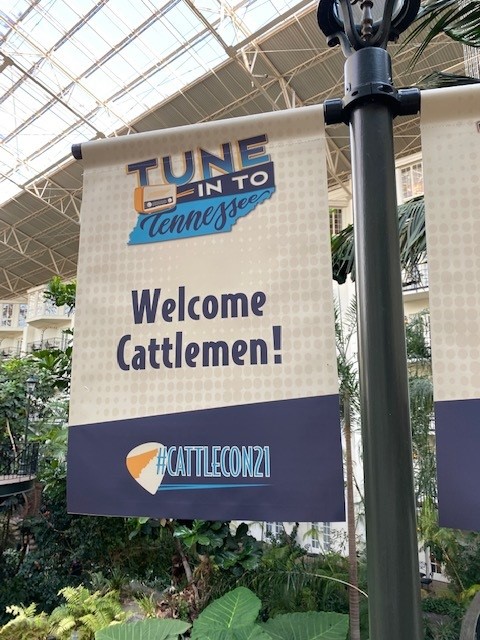 One of the highlights of the event took place at the general session on Wednesday morning, with a market outlook presentation provided by CattleFax. Kevin Good, vice president of industry relations and analysis at CattleFax, reported that the most recent cattle cycle saw cattle inventories peak at 94.8 million head. Those numbers are still in the system due to the COVID-19 induced slowdown in harvest over the past year. Global protein demand has increased, and U.S. beef exports have posted new record highs for two consecutive months, even with high wholesale prices. Significant, year-over-year gains led to the increases, with China, Japan, and South Korea remaining strong trade partners for protein. "The tightening of global protein supplies will support stronger U.S. red meat exports in 2022. U.S. beef exports are expected to grow 15 percent in 2021 and another 5 percent in 2022," Good said.
The Beef Checkoff celebrated its 35th year of providing outreach, research, and education in the consumer market. The first chair of the Cattlemen's Beef Board, the committee that oversees the check-off, awarded its first-ever Checkoff Visionary Award. Jo Ann Smith of Wacahoota, Florida, was the recipient of this year's award. Smith was the founding chair of the Cattlemen's Beef Board in 1986.
Annually, NCBA Awards producers from various beef industry sectors for their work to create a wholesome, sustainable operation in the supply chain. This year's recipient of the BQA Cow-Calf Award was Desert Cattle & Citrus, St. Cloud, Florida.
The 2022 NCBA Cattle Industry Convention and NCBA Trade show will be held in Houston Texas, February 1st -3rd. Registration can be found on the NCBA website.
–
Featured articles and technology from the 2021 NCBA Convention:

Cattle Quants Drone based Inspection
Latest posts by Nick Simmons
(see all)