Nicholas Dufault, UF/IFAS Plant Pathologist,  Mathew Cullen, UF/IFAS Plant Pathology Dept., &

Kevin Athearn

, Regional Specialized Agent.
As we move into the cooler months of fall, many of us are thinking about hunting, catching up on much need repairs, rest, and the upcoming holidays. However, this is also the perfect time to start planning your 2022 Watermelon Fusarium Wilt management program.
Management related to Fusarium wilt of watermelons is limited and can be improved through prior knowledge of a field's disease risk. To assist with assessing this risk, researchers at the University of Florida, in collaboration with AgroClimate, have developed a watermelon wilt risk calculator:  Watermelon Wilt – AgroClimate. This tool is designed to assess the preseason risk for Fusarium wilt based on the field's history, location within Florida, and possible management tactics.
Producers can reduce risk of Fusarium Wilt by delaying planting or by using a fumigant such as chloropicrin (Figure 1). Planting date is also important as early (February 15 to March 4) plantings are more likely to have Fusarium Wilt than mid (March 5 to 21) and late (March 22 to April 5) plantings. The tool can be used to find which options have the lowest risk of Fusarium wilt and assist with pre-plant decisions.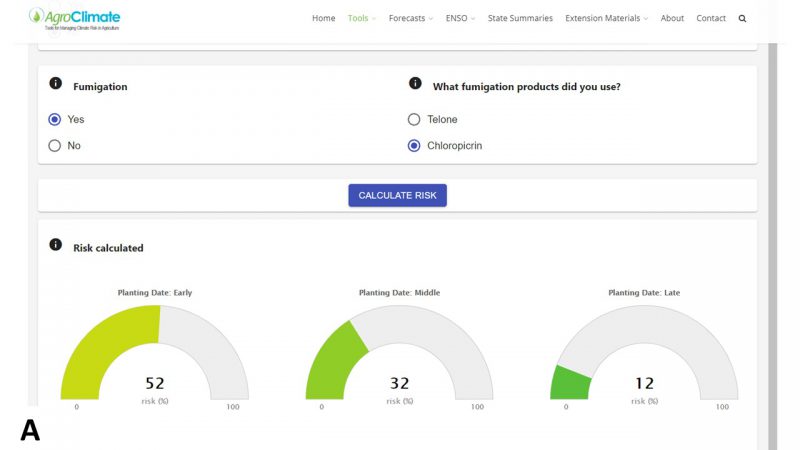 –
Recent economic analysis by Dr. Kevin Athearn has shown that a slightly delayed planting (March 11 to 17) in fields with high and medium Fusarium risk will likely provide the best economic returns. Earlier planting may be favorable in fields with low risk for Fusarium wilt. Late plantings (March 28 to April 3), while substantially reducing the risk for Fusarium Wilt, often had reduced economic returns, due to reductions in market prices.
Other important factors to consider when assessing Fusarium Wilt risk are variety and grafting. Both techniques can substantially reduce the disease's impact on watermelon production. While grafting techniques were included in the tool as a means to reduce disease, variety has not yet been included. Varietal resistance effectiveness is highly dependent upon the pathogen population present and grafted plant resistance is not. As more tools become available for Fusarium Wilt identification in the future, it may be possible to add a variety component to the tool.
Feedback is always appreciated as we hope to continually modify the tool to meet the needs of Florida producers, and provide them with the best possible estimate of preseason Fusarium Wilt risk. If you are interested in learning more about the tool or determining Fusarium Wilt risk, feel free to contact Dr. Nicholas Dufault or your local extension ag agent.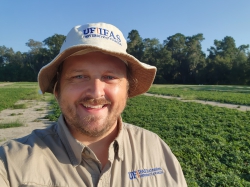 Latest posts by Nicholas Dufault
(see all)