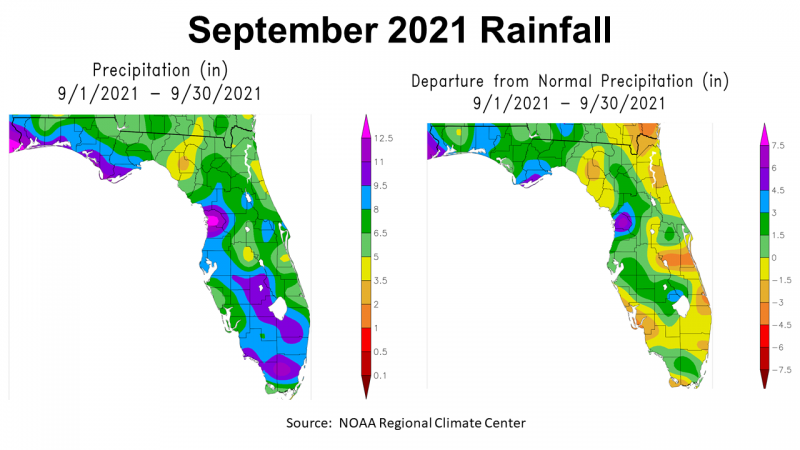 Rainfall
September was yet another wet month for much of the Panhandle, but at least there was a break in the rain at the end of the month that was ideal for hay and peanut harvest.  Even so, the Panhandle received between 5 to 12.5″ in September, with most of the heavy rains along the Gulf Coast.  The map to the left above shows the rainfall estimates for Florida, and the map to the right compares this year's rainfall with historic average for the month.  Only a small pocket (yellow) in Santa Rosa County was below historic average, in the Panhandle.  Much of the region was 1.5″- 3″ above normal (dark green), but there were pockets that were 3″- 4.5″ (blue), and even a few areas 4.5″- 6″ (purple) above normal.
–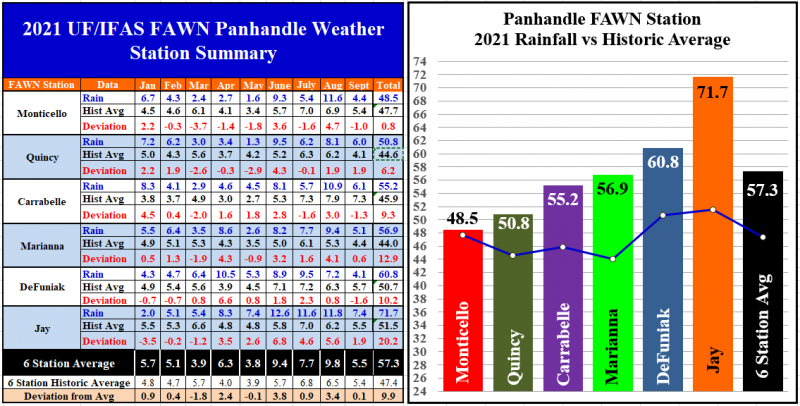 The Florida Automated Weather Network (FAWN) stations showed more specific variations in September 2021 rainfall.  The FAWN station in Jay recorded 7.4″, which was 1.9″ above average.  The driest location was in DeFuniak Springs with 4.1″, but even that was 0.6″ above average for the month.  Only the Carrabelle station recorded below average rainfall in September.  The average of all six FAWN stations in the Panhandle was 5.5″, which was only slightly above average (0.1″).
Through 3/4 of 2021, the wettest location has been Jay with a whopping 71.7″ thus far, 20″ above normal for that location.  The lowest total this year has been collected in Monticello, where only 48.5″ has been recorded.  The average for all six stations this year was 57.3″, which is almost 10″ above average.
–

Temperatures
Unusually, September had some cool weather near the end of the month.  It did not last long, but it did create a general cooling trend through the month.  The high of 91° came on September 1,6,7, & 21.  The low of 54° occurred on the morning of September 24.  The average 6′ air temperature was 77°.
–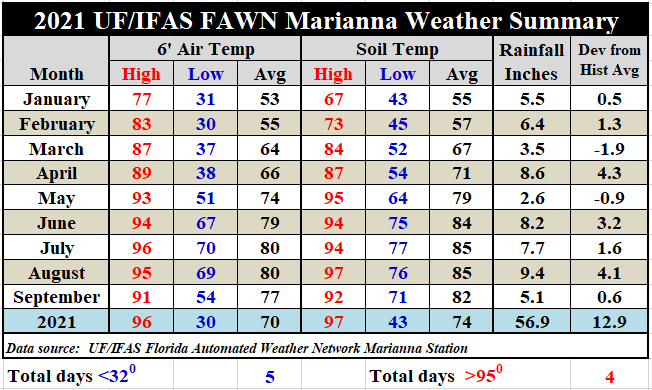 The short cool spell had more impact on the air than the soil.  As compared to August, the September average 6′ air temperature was 77°, versus 80° in August.  The soil also cooled from and average of 85° to 82°.  The 56.9″ of rainfall at Marianna is the highest 9-month total since 1991 (62.8″), so this year has been the wettest year in 30 years.  However, this is well short of the record of 63.4″ set in 1974.
To review the daily high and low temperatures and rainfall data from the Marianna FAWN station, and the monthly rainfall totals from all six FAWN stations in the Panhandle, use the following link:  Jan-Sept 2021 Jackson Co Weather Summary
–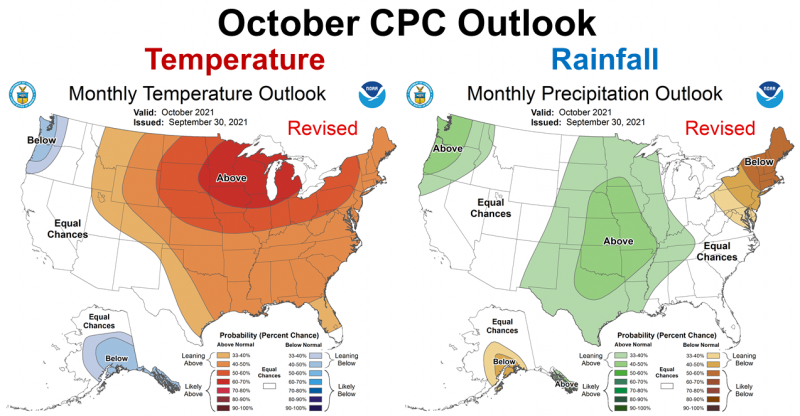 Last Quarter Outlook
The October Climate Outlook (above) was revised on September 30.  The Climate Predication Center (CPC) is currently expecting a warm month in October, but makes no prediction for rainfall, as compared to normal.  October is normally one of the direst months of the year, so it seems we can expect the gradual drying trend to continue.  That is good news for hay, peanut, and cotton harvest.
–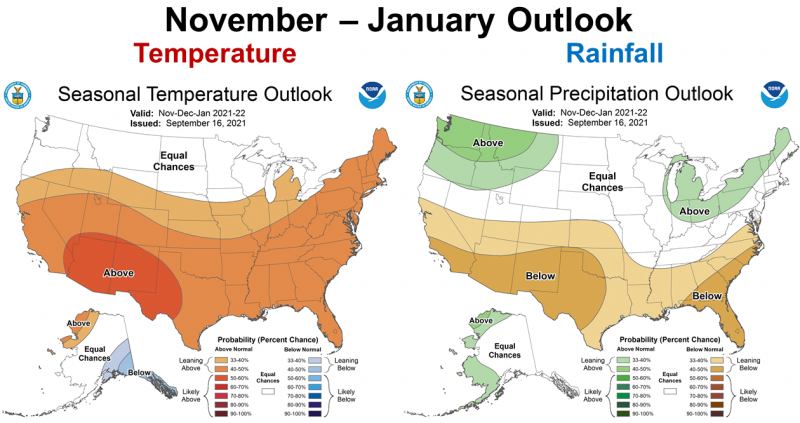 In the graphic above, you can see that the CPC is still expecting La Niña to take affect at the close of 2021.  The November through January Outlook calls for a 40-50% chance of above average temperatures and 40-50% chance of below average rainfall .  During La Niña, cold fronts tend to bypass southern states more than in normal years.
–
La Niña Watch
The CPC has not yet made the announcement of a change from ENSO Neutral to La Niña, but they are leaning hard in that direction.  Forecasters are expecting a weak La Niña this winter.
ENSO-neutral conditions are present.  Equatorial sea surface temperatures are near-to-below average across most of the Pacific Ocean. A transition from ENSO-neutral to La Niña is favored in the next couple of months, with a 70-80% chance of La Niña during the Northern Hemisphere winter 2021-22. Climate Prediction Center October 4 ENSO Report

–
What does this mean for farmers and ranchers in the Panhandle?
It does appear that the wet, well above average rainfall pattern is coming to an end.  This should be helpful as crops and forages are harvested over the next few months.  The best prediction we have is that we will have a warm, dry winter.  This is sort of hard to imagine with the high rainfall totals this past week, but dry falls have been a more regular occurrence lately.  This does suggest that cool-season forages and cover crops should be planted as soon as possible, to take advantage of current soil moisture.  There are numerous acres of peanuts, cotton, and hay to be harvested, but it may be wise to carve out at least some time for winter crop planting where possible.  The later you wait, the drier the soil may get.  These climate outlooks predict general trends, so pay close attention to short-term forecasts and plant with moisture when possible.  The CPC made no prediction for October moisture, so there may be more planting windows later in the month, but it does not look favorable for delayed planting in November and beyond.  Planting winter crops in fields with good moisture holding capacity or irrigation is advised.  This may also not be a good year for overseeding on permanent pastures, as even dormant forages compete for soil moisture.  Hopefully, October will provide the best of both, and offer some dry windows for harvest and some moisture for planting.  Be prepared to take advantage of both when available.
Latest posts by Doug Mayo
(see all)