Bob Hochmuth

with input from Suwannee Valley Extension Agents: Mark Warren (Levy), Tyler Pittman (Gilchrist), Tatiana Sanchez (Alachua), Luke Harlow (Union), Jay Capasso (Columbia), Dan Fenneman (Madison), Keith Wynn (Hamilton), Danielle Sprague (Jefferson), Emily Beach (Lafayette), Amanda Phillips (Suwannee), Kevin Athearn (RSA-Agri- business), and Sudeep Sidhu (RSA- Water Resources).
General Observations This Week 
Watermelon crops generally had good, warm growing conditions this past week after a windy and cold weekend last week. The healthy windbreaks really showed their value last week. Food for thought, we may get frost damage from year to year, but we ALWAYS have wind problems, every year. There were areas with surprising frost last Sunday morning. There was a pretty significant frost at the NFREC-SV, Live Oak, but no permanent damage is expected. Wind and sand blasting damage dominated the scene last week (see below for details). Crops where wind and sand has blown look rough, but are growing past the damage, however those old rough leaves will look that way all season. We are beginning to see Fusarium wilt in some fields as plants get to the point of vigorous fines and fruit set. Fusarium becomes more visible at this point because there begins to be more water demand then can be satisfied through the Fusarium clogged water vessels, resulting in wilt. Squash bugs are active and may justify sprays in certain fields, but not all fields by any means. We are seeing significant fruit set this past week, so make sure you have pollinators in place and be sure to protect them from any spray applications that can harm bees. Read the labels to look for warnings related to negative impacts on bees. For the most part, the crops look pretty clean from disease, but begin to be on the lookout for disease issues this week. Petiole sap testing began in full swing last week. Let your County Extension know if you need that service. In general, potassium levels were on the mark; and nitrogen levels were very good, but some N levels were very high. Remember nitrogen levels that are too high in early fruit set can have a negative impact on fruit set and result in too much vine growth.  (Bob Hochmuth)
–
Early Season Wind Damage and the Prolonged Effects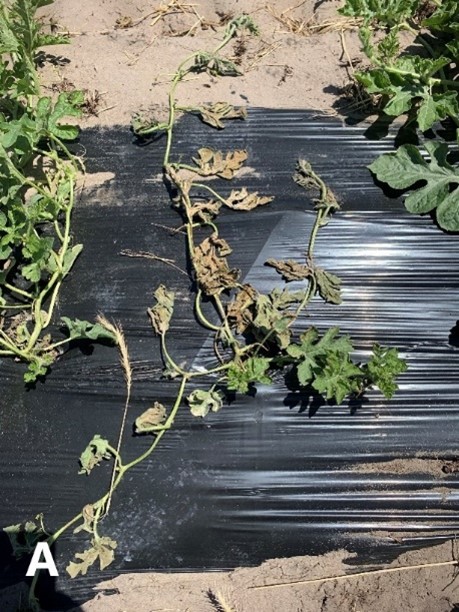 As you are well aware, we have had considerable sustained winds this year not typically seen in the Suwannee Valley in late March and early April. We have already seen impacts of wind through physical damage on young seedlings and sand blasted leaves. However, the effects of these strong winds on young plants are likely to persist further into the season. Recently, we have observed at first glance wilted and dying watermelon vines from 1 ft up to 3 ft in length that looked suspiciously like Fusarium wilt (Picture A).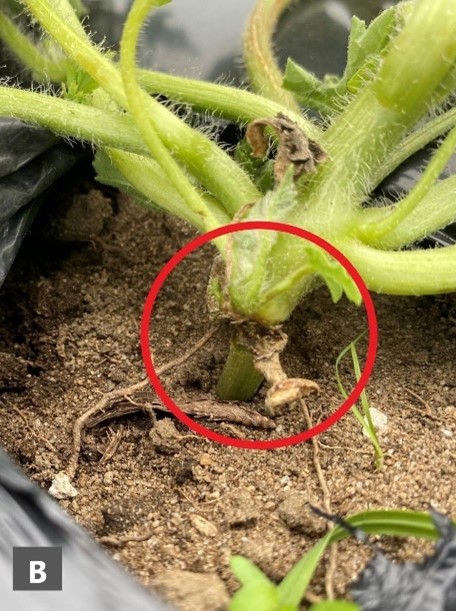 In some fields, the wilted and dying vines have been very common leaving us thinking the worst-case scenario, Fusarium. Upon further investigation many of these vines appear to be affected by wind damage. In most cases the damage is visible on the plant stems just above the soil and at or below the plastic (Picture B).
This is not visible without pulling the plant and plastic back. The damage usually takes the form of browning and yellowing of the stems and burst or abraded stem in less severe instances (Picture C). In severe instances that eventually lead to plant collapse, stems are brown, twisted in appearance and in some cases completely detached from the root system.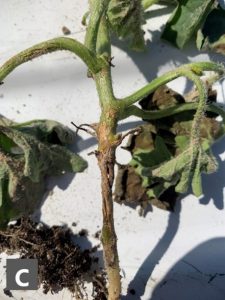 To date, damaged stems in fields affected by wind range from these most severe to rather minor cases. In some cases, severely damaged plants are beginning to sprout new runners and leaves below where the stems have been injured. So not all may be lost. We believe some of this damage may have been exaggerated by mowing or plowing rye middles and drive rows prior to the extreme cold event a few weeks ago. We did this to increase air movement across the fields that had already been planted to help prevent frosting conditions. In doing so we may have increased these young plants susceptibility to the high winds and sand blasting we have seen recently. It has been clear, however, where windbreaks were still intact, the wind damage was less, especially in the leeward rows nearest the windbreaks. Unfortunately, there was not a winning scenario in when to remove the windbreaks.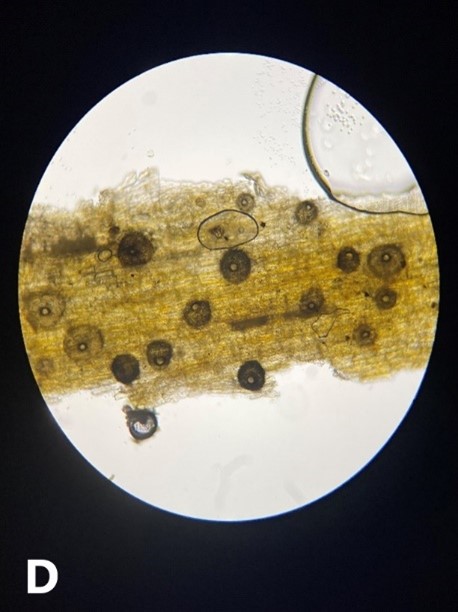 It's important to note with this widespread wind damage that many plants have physical injury that will likely not be lethal. Unfortunately, the physical injury sites present a great entry point for pathogens. In some instances, we have seen infections of Gummy Stem Blight (Picture D) on some of the severely damaged stems. We believe the pathogen was present in the field but could only infect once there was an open wound. This reminds us of the importance of good coverage in our sprays and keeping up with a regular spray program that rotates modes of action. (Tyler Pittman, Tatiana Sanchez, and Bob Hochmuth)