These past few months have been very dry. Perfect weather for harvesting cotton, but not so great for planting cool-season crops. Many have been waiting for the weather to break to get sufficient soil moisture to plant. I have received a number of calls about the timing of cover crop planting, especially since the light rain we received from Hurricane Nicole: "When should I plant cover crops this year?" "Will there be enough continued precipitation?"  "Is it too late to plant cover crops at this point?" To answer these questions, I looked to two of our experts in the field for some guidance. Dr. David Zierden, Florida State Climatologist, and Dr. Ann Blount, UF/IFAS NFREC Forage Breeder, provided some input and suggestions I think farmers need to be aware of to help them make the right choices on cover crops.
=
–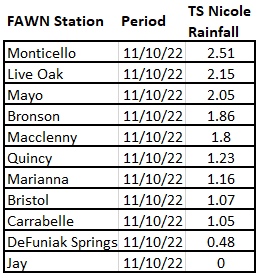 Over the past week, Hurricane/Tropical Storm Nicole brought some much-needed rainfall to the Suwannee Valley area, but the Panhandle only received a slight amount of rainfall not enough to replenish what we lost during many weeks of drought . According to Dr. Zierden, the next several days should remain colder and relatively dry. There is a chance for some isolated showers, but not a widespread rain. The Panhandle is still in a D2 Drought (severe drought) of D1 (moderate drought). Dr. Zierden also points out that NOAA predicts drought in the Panhandle will persist at its current level or it may get worse.
–
Looking forward to winter, the Panhandle is still going to be in a La Niña ENSO phase for the third winter in a row. The La Niña phase affects the climate in the Southeast creating a relatively warm and dry winter. Therefore, planting winter cover might be a bigger gamble for those without irrigation than it has been in past years. Dr. Zierden says that while the past two years were in a La Niña phase also, we did get better-than-expected rainfall and relatively mild weather. This is not typical, but even with La Niña, there is a 30% chance this will happen again. This correlates to three out of every ten years of La Niña, where winter precipitation will trend better than expected. However, landowners should be planning for a warmer and drier winter this year. However, due to winter storms and weather patterns, the western side of the Panhandle may eek out some better-than-expected levels of precipitation, due to seasonal storm patterns. The seasonally expected light rain on the Western Panhandle may be enough to sustain cover crops. This is usually expected each year. However, Dr. Zierden says weather prediction is complicated for our upcoming winter, so farmers need to plan accordingly.
–
–
Circling back to the question, "Should we forego planting cover crops for this winter?" The short answer is NO. Also, it is not too late to plant cover crops, but your selection options and cover crop management will be different. Ideally, UF/IFAS recommends that cool-season forages should be planted between October 15th and November 15th. These grazed cover crops should be seeded at a higher rate than cover crops not intended for grazing. We just passed this window, but they can still be successfully established (the sooner, the better). For cover crops utilized over cultivated land for basic soil erosion control, UF/IFAS recommends seeding between November 15th to December 15th. You also can seed at roughly 30 to 50% lower rate than for grazed cool-season forages. When limited to later plantings, we need to be looking at cover crop options that grow well during the shorter, winter days. Dr. Ann Blount, UF/IFAS Forage Breeder at the NFREC, recommends landowners use Florida 401 rye, Legend Oat, TriCal 342, or TriCal 1143 triticale. These varieties have more vigorous growth than other options even with shorter days.
–
–
Dr. Blount's recommendations are limited to small grain crops that were bred to tolerate fewer management inputs than other cover crops. The recommended varieties were also bred to have low vernalization (cold conditioning) requirements, so they should germinate well in warmer weather. They typically can handle drier soil conditions than some other cover crop options, and they are relatively more disease resistant, thereby potentially resulting in less input costs over the season.
While small grains may be a better option than annual ryegrass this year, for non-irrigated land, some landowners may still want to include ryegrass. Annual ryegrass seed is often more affordable, and it can often be broadcast rather than drilled, as is recommended with the small grain species. Annual ryegrass is quite daylength sensitive, however, so it will be growing extremely slow during the shortest days (December through January). Also, you need to consider an application of glyphosate in early spring to terminate the ryegrass before planting your production crop in 2023. The relatively late seasonality of ryegrass makes it an excellent option for extending the grazing window of cool-season forages but it may be problematic when used solely as cover in a cropping system.
Cover crops can be a valuable tool for farmers to improve their commercial agriculture production. We depend on our soil microbiome so much; we need to make sure we are keeping it healthy. Keeping living roots in the soil through cover crops is a great way to achieve this. However, there is a cost associated with planting cover crops, but the long-term benefits through building and improving topsoil should outweigh the input costs. Landowners wanting to utilize cover crops are also eligible for cost share from USDA Natural Resource Conservation Service (NRCS). However, you must report your cover crop acreage for this winter to your local Farm Service Administration (FSA) to be eligible for the following year's program.
So, is it too late to plant cover crops? No, it is not, and it is still as important as ever for you to maintain your soil health. However, with the recent weather patterns and what we are anticipating, it is important to be selective in what you plant. You must make sure you are using variety lines best suited for the situation you are in. Also, even though you got some rain, you did not get enough, and the long-range outlook forecasts predict that we will stay dry and warm through the winter of 2023. Therefore, drought tolerance is essential for your cover crop varieity/cultivar choice. With the right choices, you can still have some success with cover crops this winter, but you likely will not get the vigorous growth you have seen in past years.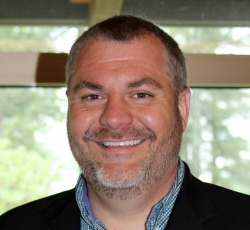 Latest posts by Robbie Jones
(see all)