Bob Hochmuth, Regional Specialized Extension Agent- Vegetable Crops – Published April 10, 2023
Welcome to the 2023 growing season, weekly issue of the UF/IFAS Extension Suwannee Valley Watermelon Crop Update. These updates are summarized by Bob Hochmuth, Regional Specialized Extension Agent- Vegetable Crops, with input from Suwannee Valley Extension Agents: Mark Warren (Levy), Tyler Pittman (Gilchrist), Tatiana Sanchez (Alachua), Luke Harlow (Bradford), Jay Capasso (Columbia), Dan Fenneman (Madison), Keith Wynn (Hamilton), Emily Beach (Lafayette), Jim Devalerio (Union), De'Anthony Price (Jefferson), Bob Hochmuth (for vacant Suwannee position), Kevin Athearn (RSA-Agri- business), and Sudeep Sidhu (RSA- Water Resources).  If you know someone who wants to be added to this weekly notice, contact your Extension Agent or Mark Warren (352-949-8288) if you want to be added to the regional watermelon group text app.
General Observations
The last week was a period of rapid growth with plenty of fruit set overall.  Anthony Drew and I were discussing how unusual it is to see so much fruit set this early in the season. Last week we also noted a significant increase in water demand, as the fruit were setting or expanding in size. Keep a close eye on soil moisture sensors in the upcoming weeks to adjust water events as needed.
We were also discussing how we need to be prepared shortly for powdery mildew preventative sprays. For me, each year, as we approach baseball to softball-sized fruit, it is time to think about initiating sprays for powdery mildew. Last year, the first confirmed case of powdery mildew was noted on April 22nd.  We recommend you rotate between Quintec and Procure. This weekly rotation worked well last year when started early in the season. Research results last year in the Suwannee Valley showed these two materials were still effective and showed low resistance levels. Switch may be another option later in the season, but we suggest you start with Quintec and Procure rotated and one or the other sprayed weekly along with your broad-spectrum fungicides (mancozeb or chlorothalonil). Intensify your scouting regimen from now until harvest. Otherwise, fields are still very clean and disease-free, and we are still recommending cover sprays of chlorothalonil for very young plantings. (Bob Hochmuth and Mathews Paret)
–
 An Old Enemy Lurking in Watermelon Fields
We are beginning to see symptoms of Fusarium wilt in some fields. You may notice a runner or two starting two wilt, but as the season progresses, the entire plant may succumb to the disease. Mild soil temperatures are conducive for the fungus to grow, so in general, conditions will remain good for pathogen growth this week (disease incidence is maximum at around 80.6-84.2F). When soil temperatures increase, conditions are no longer favorable for this pathogen, but the infection has already occurred. As the demand for water increases after fruit set, you will notice more plants exhibiting symptoms resulting from the clogging of the vascular system responsible for transporting water. If you notice plants with low vigor, wilting during the hottest parts of the day and with a grayish-green appearance you can test in the field for Fusarium (see photo).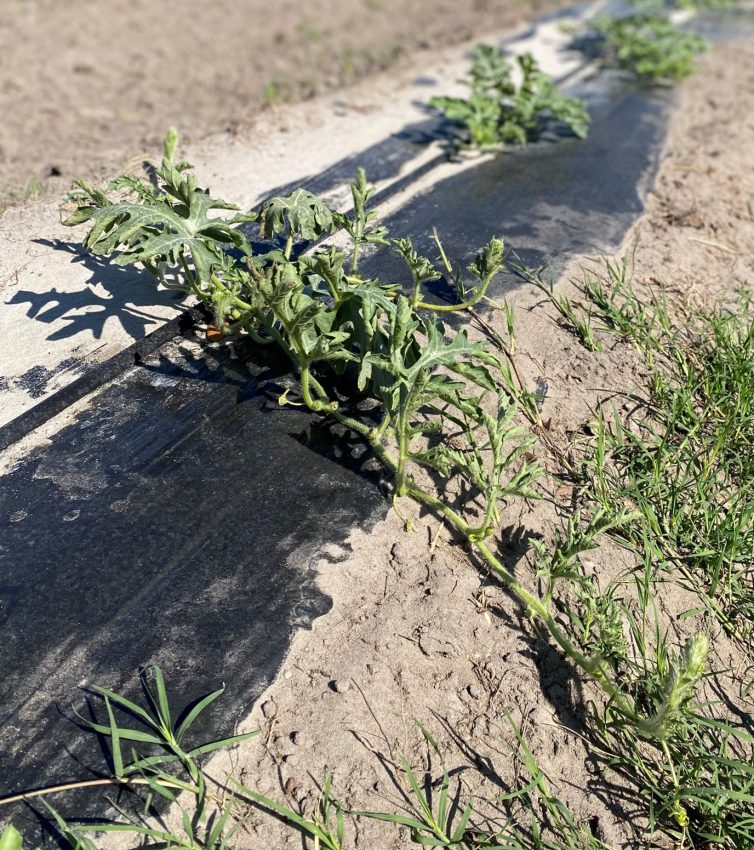 –
Sample plants that exhibit these symptoms but that have the crown area intact (the area around the soil line that separates roots from above-ground growth). Avoid vines that have rolled in circles with the wind or stems affected by ants. Once you sample, cut downward through the middle of the crown and inspect the color of the vascular system (see photo below).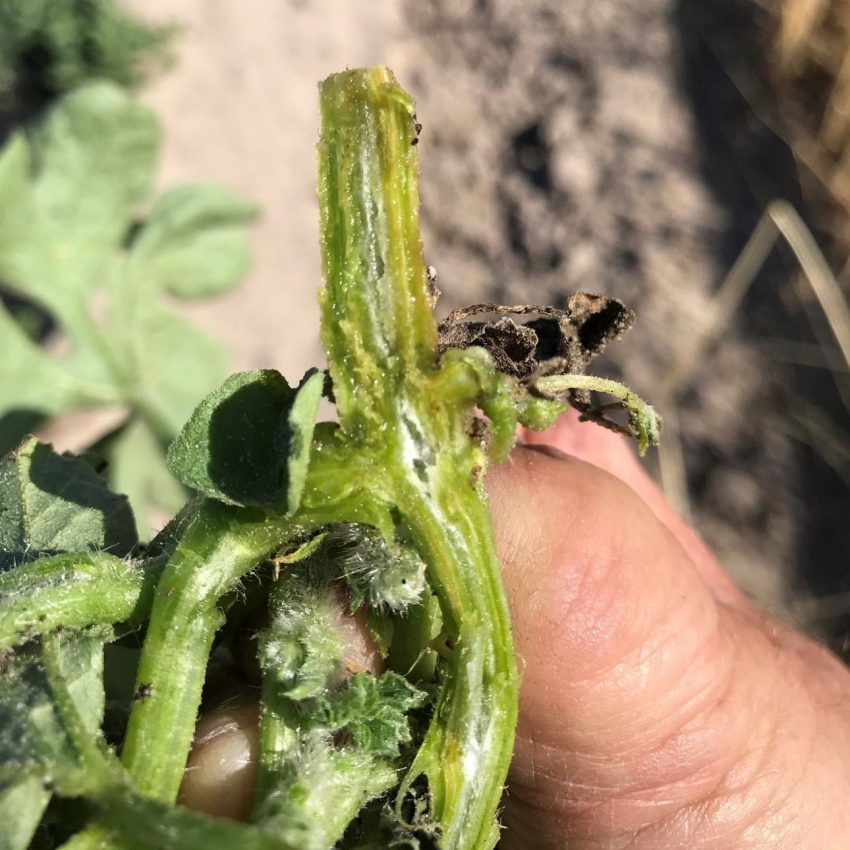 If the plant is infected, you will notice discoloration along the vascular vessels, if healthy, it will look whitish. As you may know, there are no controls available for this disease after the crop is established. If you suspect you have Fusarium and want confirmation, reach out to your local agent to submit a sample. Check page 33 of the Watermelon Field Guide for more information.  (Tatiana Sanchez-Jones)
…………………………………………………………………………………………………………………………………………………………
 Reminder: A watermelon field day is planned for the Suwannee Valley region on Thursday, April 20th, at UF/IFAS NFREC-Suwannee Valley.

 …………………………………………………………………………………………………………………………………………………………